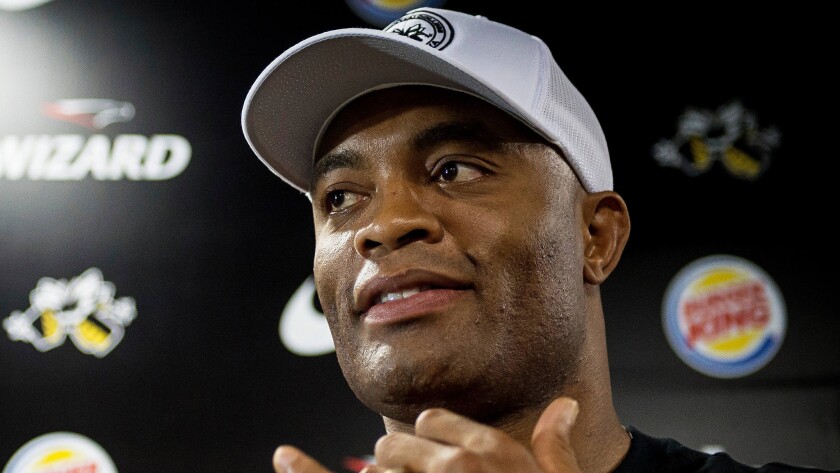 Anderson Silva said the grotesque leg injury he suffered in December is 95% healed, and should be at full strength by the time of his Jan. 31 middleweight fight against Nick Diaz in Las Vegas.
Not that the bout is expected to be a kick-fest.
Both Silva, the Ultimate Fighting Championship's ex-longtime middleweight champion, and Diaz, a former welterweight title challenger, have spoken of longing to box former light-heavyweight champion Roy Jones Jr.
Those aspirations have never come to reality based on existing contracts and other obstacles.
But now Silva and Diaz have each other, and when asked Friday about the potential for this fight to be nothing more than a boxing match in UFC gloves, Silva said, "I believe it's going to be one of the best stand-up battles in the UFC.
"Nick Diaz is a guy who walks forward, has great boxing skills."
The 39-year-old Silva (33-6) suffered a nasty broken left leg Dec. 28 when middleweight champion Chris Weidman blocked Silva's kick with his own leg. The Brazilian crumpled to the canvas and writhed in pain before being carted off to surgery at a Las Vegas hospital.
Weidman had previously, in July 2013, scored a second-round technical knockout of Silva, ending his reign as middleweight champion that dated to October 2006.
Diaz, 30, of Stockton, has also been out of action for a significant period after declaring he was retired following his loss to then-welterweight champion Georges St-Pierre in April 2013.
Former Strikeforce champion Diaz (27-9-1) attended the Johny Hendricks-Robbie Lawler welterweight title fight in March, and told The Times weeks before that his detachment from the UFC was perplexing.
"I'm the No. 1 draw in this weight division, that's just the way it is," Diaz said. "I win by submissions, knockouts. There's guys ranked above me, but no one's interested in seeing them fight. They want to see me fight.
"People aren't stupid. You can't ignore their real, ultimate understanding. They know what's going on. It's mixed martial arts. The real fans of martial arts understand intuitively … there's a connection with me. You know when I fight, I'm going to sell out the show. … I feel I'm a better stand-up fighter than Anderson Silva … If you want a good MMA-boxer boxing match, there you have it."
Diaz's loose mouth and erratic behavior didn't help his cause for a quick return to the UFC, but he ultimately signed a new deal last month and landed the Silva fight.
Silva said he's undergone extensive physical therapy after breaking two leg bones and having a steel rod inserted. He said he never considered ending his career following the injury, despite some objections from his family, and has tested the leg with kicks in the gym.
While time permits him another chance to collect his old UFC belt – he has seven fights remaining on his contract – Silva said the Diaz fight is about proving he's back.
"I'd be more than glad to [fight for the title again]," Silva told reporters in a conference call. "At this point, I want to feel my legs, see how I perform. That's my main priority.
"I'm just dying to return to the octagon and do the thing I love the most: fighting. Right now, I'm as good as always. I'm just getting back to my training routine, and in a little while I'll be training hard, doing what I like the best."
Silva made himself arguably the greatest fighter in UFC history by developing a universal skill set, including jiujitsu, which could also elevate the fight with Diaz, who's been schooled by the famed Gracie family in that discipline.
"He's one of the best fighters in the UFC. I never thought I'd face Nick Diaz," Silva said. "I've watched all his fights. This has all the ingredients to be one of the best fights of all time."
---