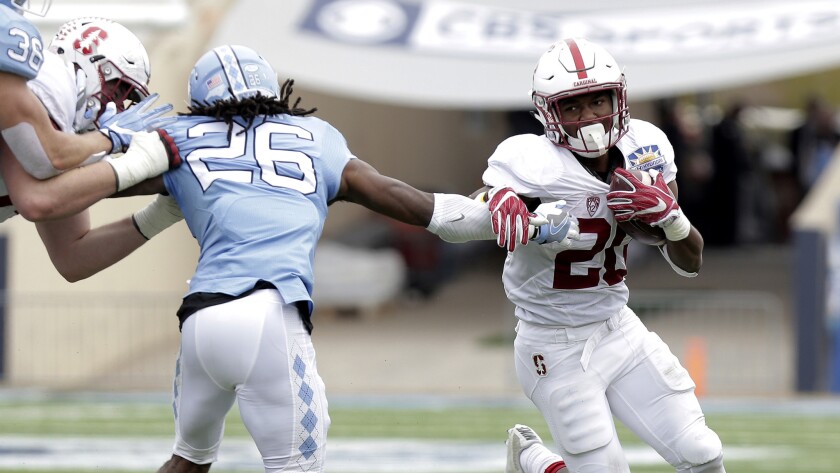 Reporting from El Paso, Texas —
Bryce Love took over for the absent Christian McCaffrey in the Stanford backfield, running for 119 yards and catching a 49-yard touchdown pass to help the No. 16 Cardinal beat North Carolina, 25-23, on Friday in the Sun Bowl.
Stanford (10-3) held on after North Carolina (8-5) pulled within two with 25 seconds left on Mitch Trubisky's two-yard pass to Bug Howard, sacking Trubisky on the two-point conversion try.
McCaffrey skipped the bowl game to focus on his NFL career.
Stanford took a 25-17 lead on Conrad Ukropina's 27-yard field goal with 3:23 left. North Carolina was forced to punt on its next series, but used two timeouts to get the ball back.
After taking over at their own three-yard line, the Tar Heels drove 97 yards in 10 plays and 1:11. After competing passes of 44 and 27 yards, Trubisky capped the drive with the two-yard scoring pass to Howard.
Stanford then sacked Trubisky on the two-point try, a rush led by Solomon Thomas forcing the quarterback to retreat before being taken down. Thomas was selected the game's MVP, and the Cardinal defense also got a big game from safety Dallas Lloyd.
Lloyd intercepted Trubisky's pass in the first half, then again early in the fourth quarter. He returned that one 19 yards for a touchdown to give Stanford a 22-17 lead.
That stalled a North Carolina rally that saw it go from being down 13-7 at the half and 16-7 early in the third to taking a 17-16 lead. That came after a 37-yard field goal by Nick Weiler and a five-yard TD run by Jordon Brown.
---