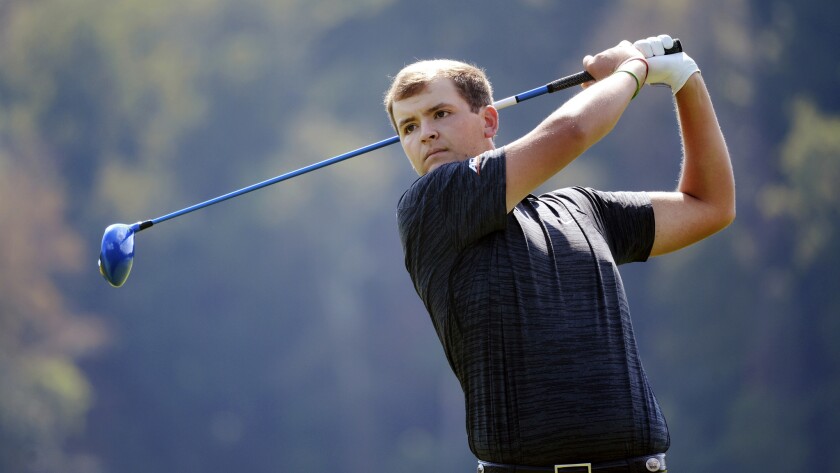 Doug Ghim said his match was "grueling." Mark Lawrence Jr. called his match "a grind." Theo Humphrey and Doc Redman both said their matches were "stressful."
And those were the winners in the four quarterfinal matches of the U.S. Amateur golf championship at Riviera Country Club on Friday. At stake is the championship in the world's most prestigious amateur golf tournament as well as possible spots on the U.S. Walker Cup team, which could be announced as soon as Sunday.
Ghim, the Big 12 Conference player of the year at Texas, defeated Connor Syme of Scotland, 2 and 1, in a match featuring the highest-ranked players remaining in the field. Ghim is No. 7 in the world amateur ranking, Syme is 13th.
Lawrence, the Virginia State Amateur champion, outlasted Dawson Armstrong, 3 and 2, after breaking away with wins on holes 10, 11 and 12. Armstrong was struck with food poisoning hours before the match but "toughed it out," Lawrence said.
Humphrey, who completed his junior season this spring at Vanderbilt, beat Chun An Yu of Taiwan and Arizona State, 1 up.
And Redman, runner-up in the Western Amateur from Clemson, beat Travis Smyth of Australia, 1-up.
The wind, blowing continually from the west, and firm conditions of the greens made the course as difficult as it has been this week.
"It was playing tough," Lawrence said. "The first five, six holes on this golf course with the wind are very difficult holes. You're trying to make birdie, but you're accepting pars."
Humphrey was the only quarterfinalist to break par.
It is the first time since 2012 that four American players have reached the Amateur semifinals.
Ghim never trailed Syme, who is a probable choice for the Great Britain and Ireland Walker Cup team, but it wasn't until a 25-foot birdie putt on the par-four 13th that he went 2 up. Syme got it right back on the next hole, but when he double-bogeyed the par-three 16th, Ghim needed only to halve the next hole to win the match. He did.
"I have tremendous respect for him," Ghim said of Syme. "I feel like if we were to play another match tomorrow it would be 50/50.
"It's just the way it goes. It's unfortunate to see such a good competitor have to leave early. I'm definitely happy to be still standing here."
Spider Miller, the coach of the U.S. Walker Cup team, has been following players at Riviera this week and saw a good deal of Ghim's match Friday. Miller, who won the U.S. Mid-Amateur championships in 1996 and 1998, is not on the selection committee for the team, though as captain he clearly has a voice.
The 10-man team will in all likelihood be composed of players who were in the original field of 312 in the Amateur. Miller was looking to see how potential team members handle themselves under pressure, how they stick to their routines on all kinds of shots, and said he quietly rooted for U.S. players.
Ghim and Syme had long second shots into the 15th green, and Ghim lofted what looked like a solid shot toward the pin. Looking into the sun, Miller couldn't see the ball land but a small crowd around the green gave him good news.
"I hear applause," Miller said. "I like that. The old cat likes applause."
Syme got up and down from in front of the green to tie the hole.
It's quite possible Ghim and Syme will be on opposite sides when the Walker Cup is played at Los Angeles Country Club on Sept. 9-10.
"I would love it very much," Syme said of a spot on the British team and of meeting Ghim again. "I'm sure he'll get picked, and hopefully I do as well and we can have another go at it."
Ghim, 21, will play Humphrey, 21, and Lawrence, 20, will meet Redman, 19, in today's semifinal matches. The 36-hole final is Sunday.
---