Allyson Felix shifts into high gear to win the women's 400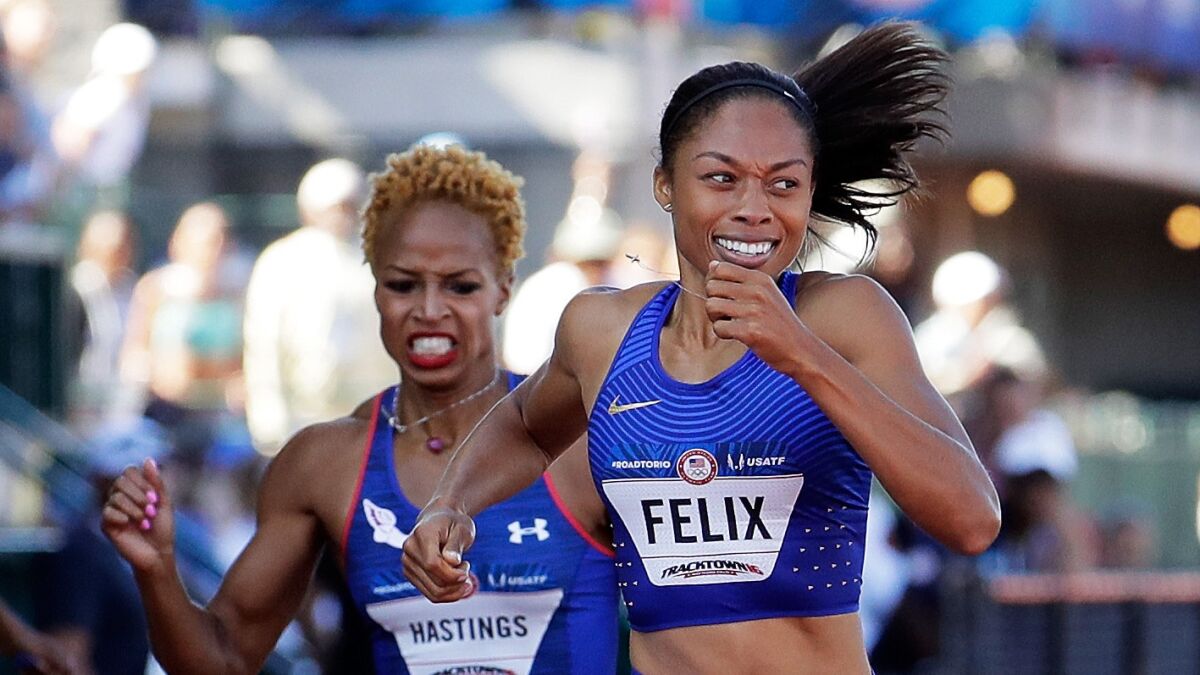 Reporting from Eugene, Ore. —
Two months ago, Allyson Felix couldn't walk, hobbled when she descended from a pull-up and landed on a medicine ball instead of on the gym floor. Her right ankle collapsed. So, it seemed, did her dreams of a 200-400 Olympic double.
"My first thoughts were, 'I can't believe this is happening,'" she said. "It seemed like everything was over."
On Sunday, the Los Angeles native and USC alumna blazed off the final curve and won the women's 400 meters at the U.S. Olympic trials in 49.68 seconds, the fastest time in the world this year.
She has had smoother runs in winning four Olympic gold medals, including the 200 at London in 2012. She has had races that were more comfortable than she did Sunday, when adrenaline masked her pain.
Allyson Felix runs to victory ahead of Natasha Hastings in the Women's 400 Meters Final.
(Andy Lyons / Getty Images)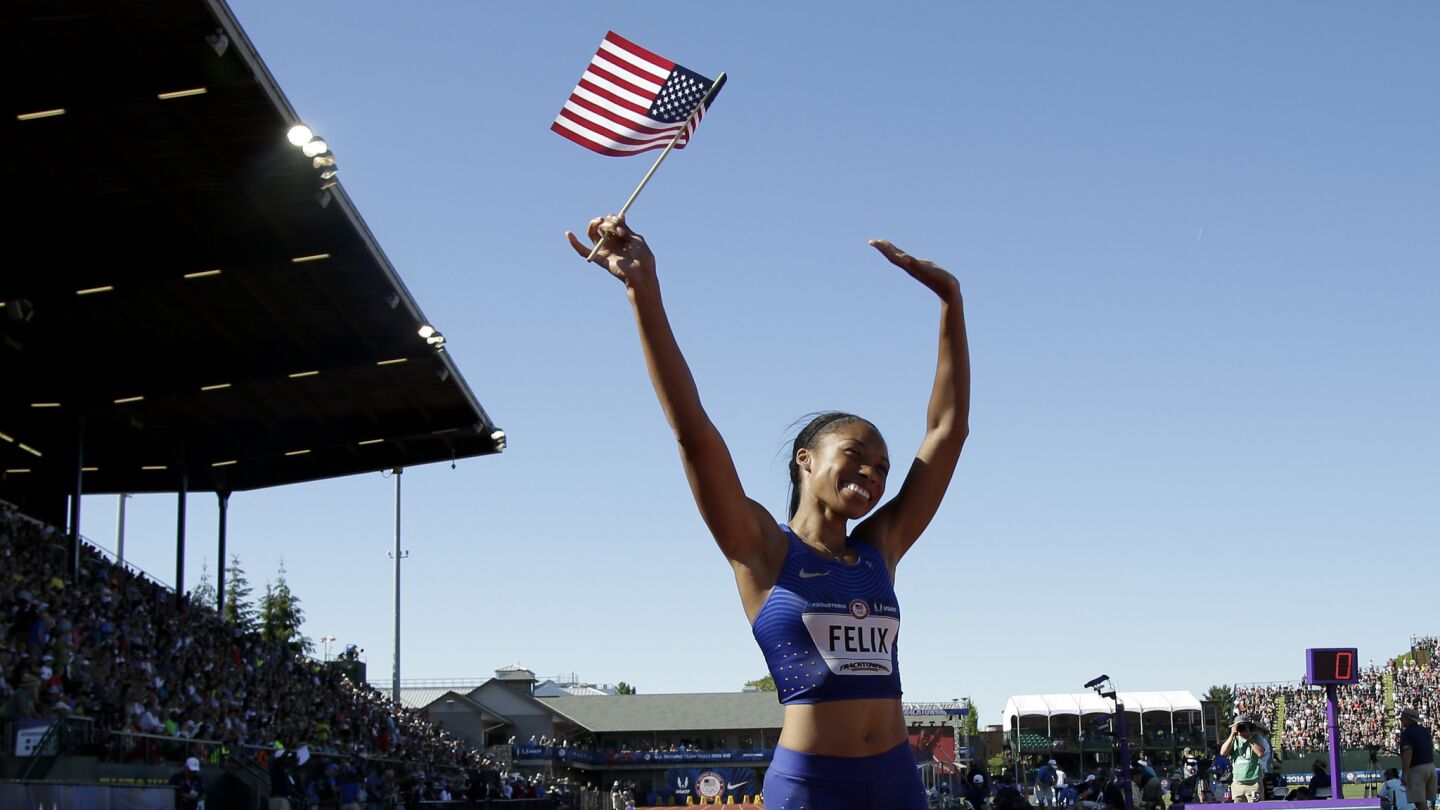 Allyson Felix waves tp the crowd after winning the women's 400-meter final.
(Marcio Jose Sanchez / Associated Press)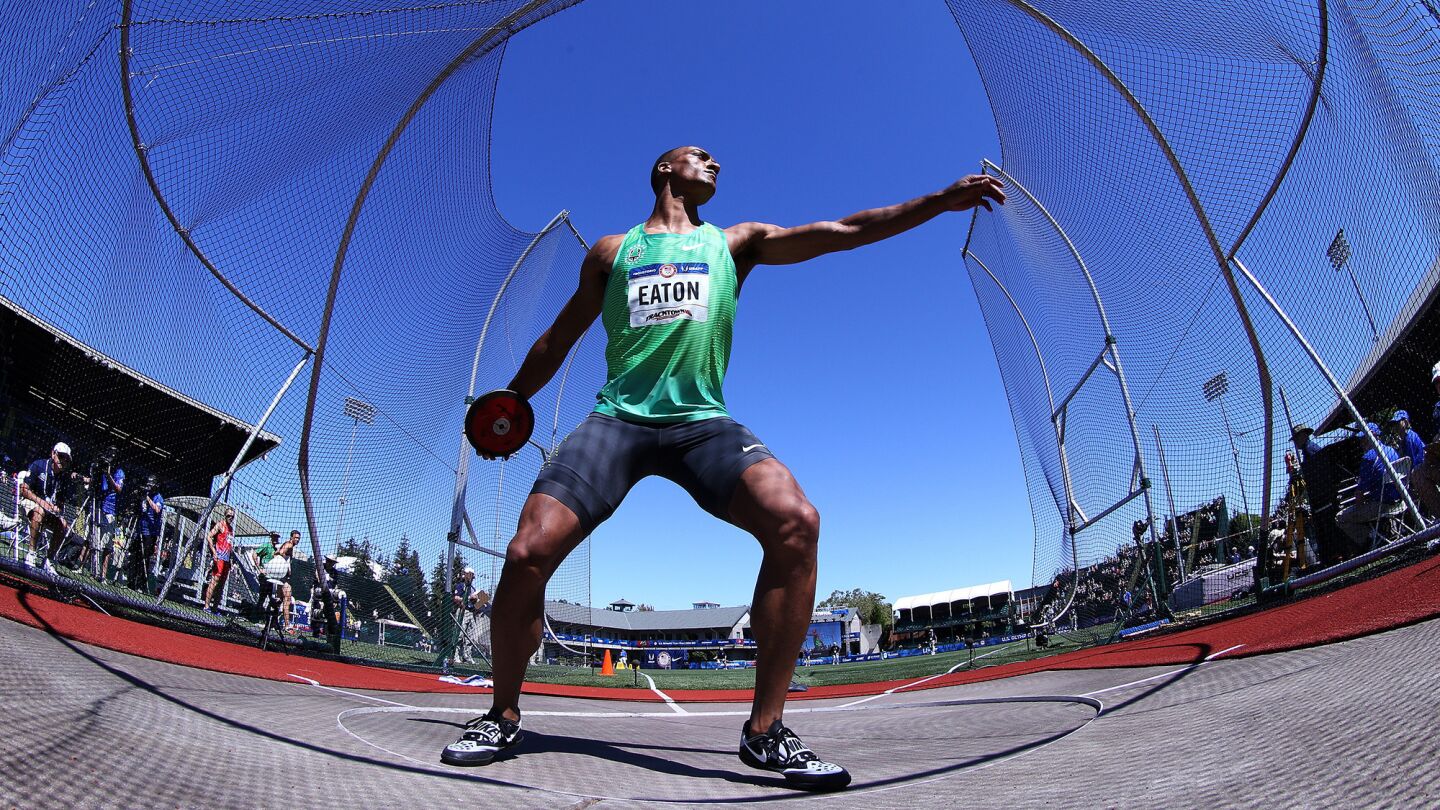 Ashton Eaton competes in the Men's Decathlon Discus Throw.
(Andy Lyons / Getty Images)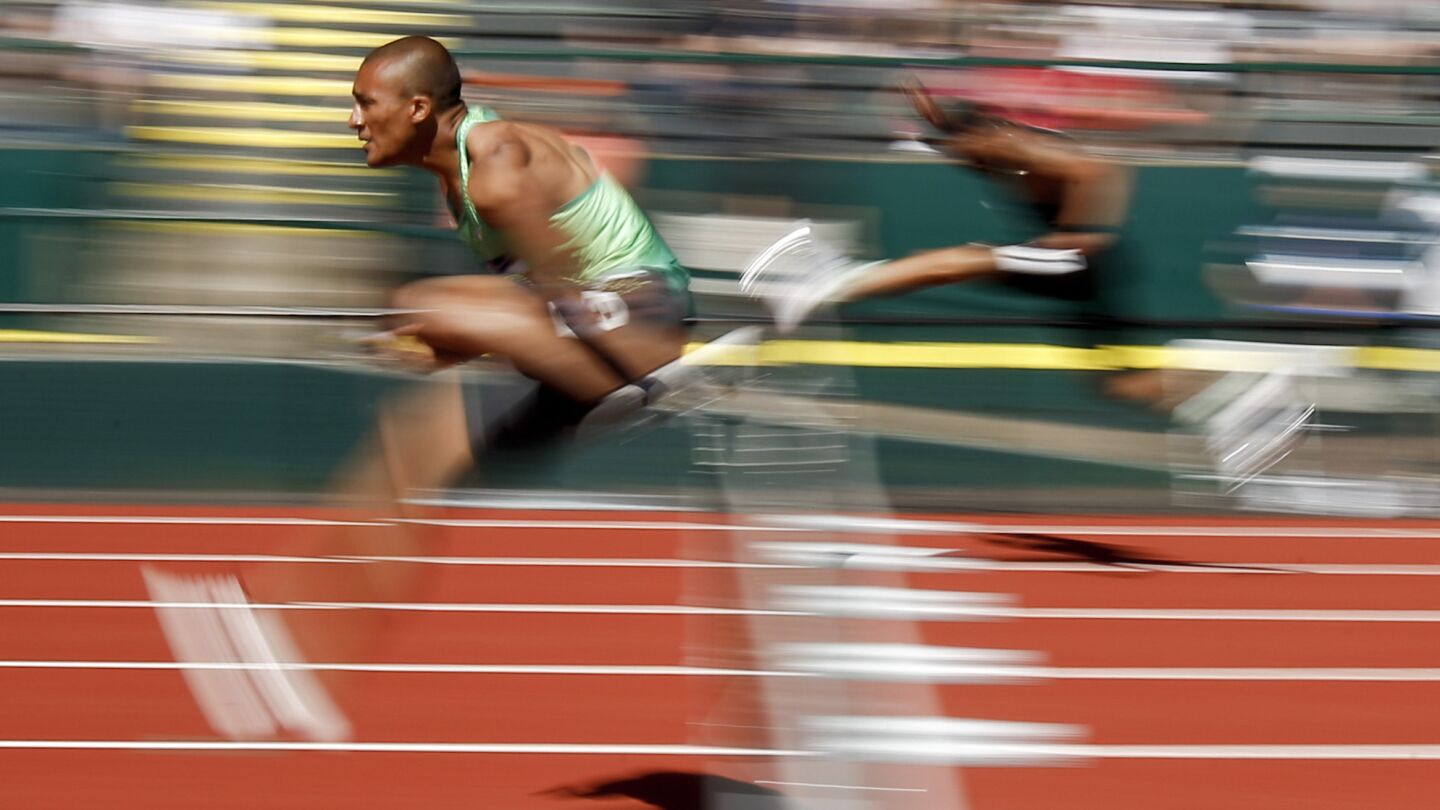 Ashton Eaton competes during the decathlon 110-meter hurdles.
(Matt Slocum / Associated Press)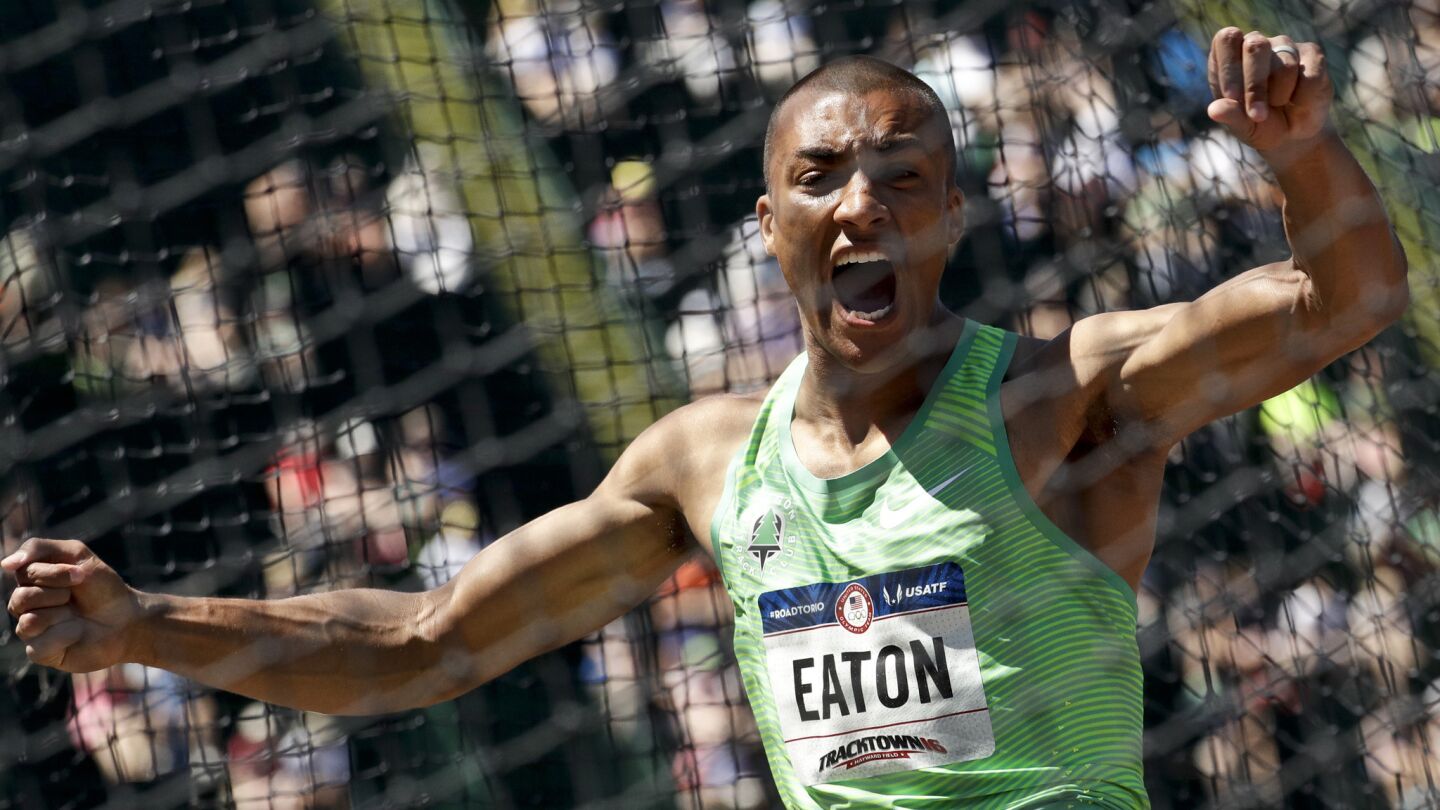 Ashton Eaton reacts during the decathlon discus event.
(Charlie Riedel / Associated Press)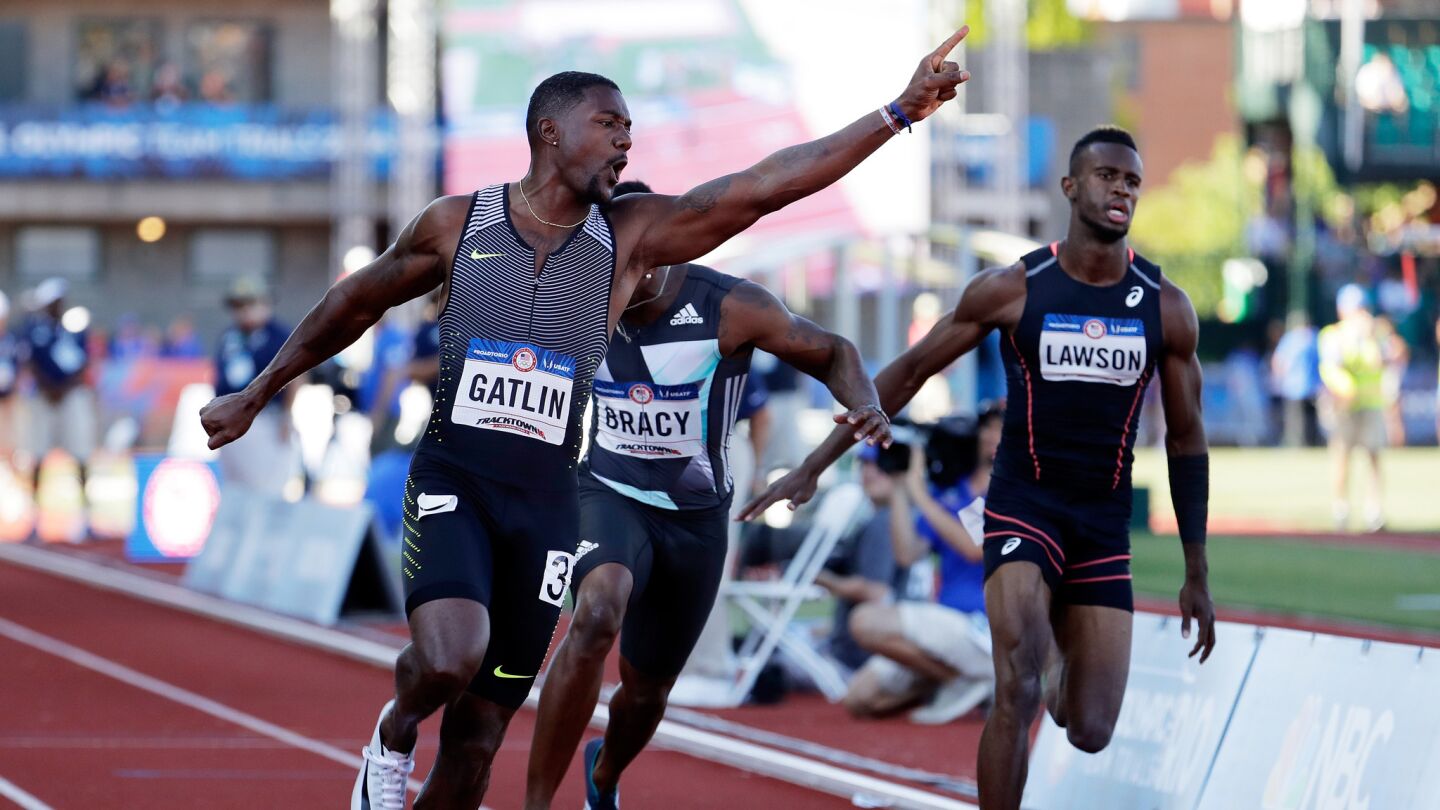 Justin Gatlin celebrates victory in the Men's 100 Meter final.
(Andy Lyons / Getty Images)
Chaunte Lowe clears the bar during the women's high jump final.
(Charlie Riedel / Associated Press)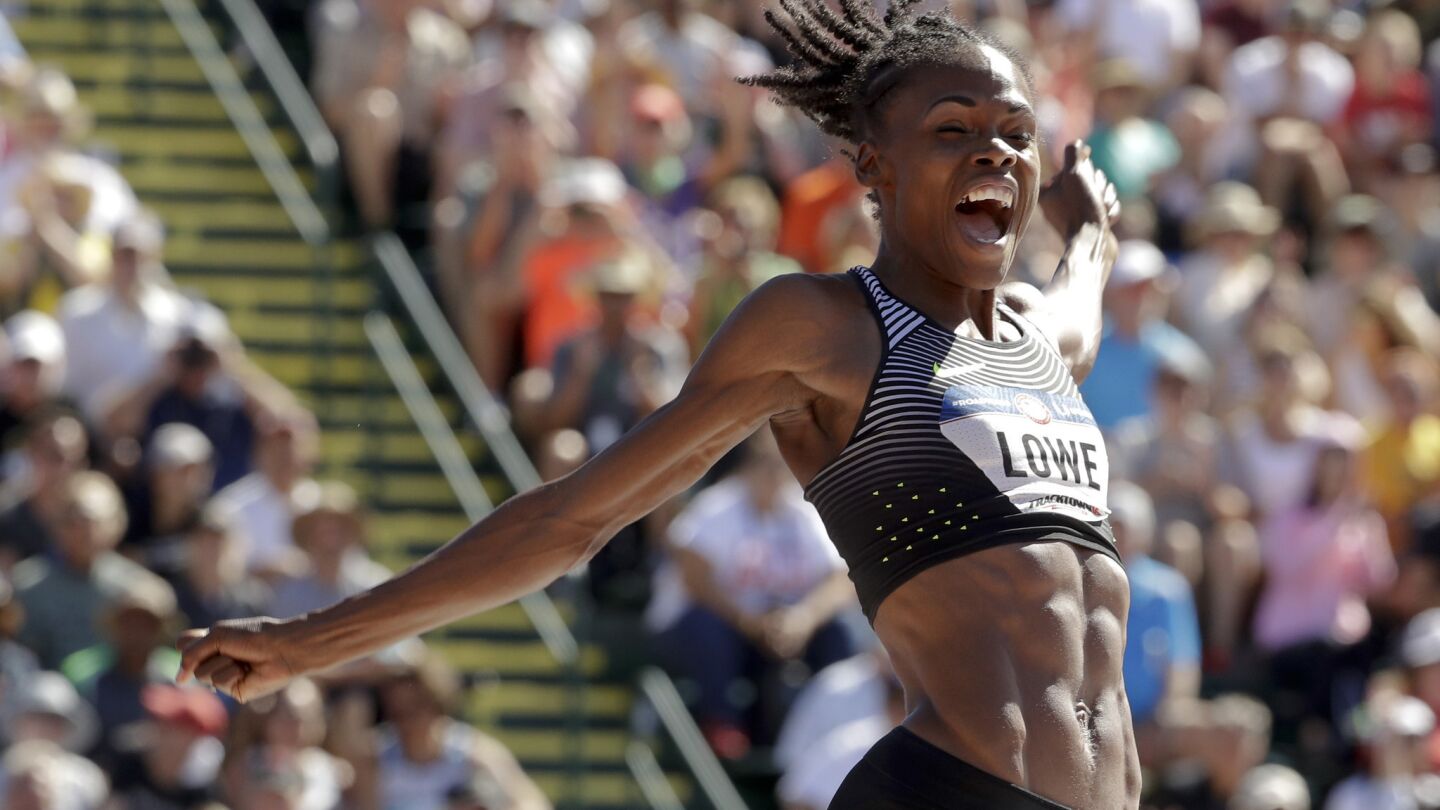 Chaunte Lowe reacts during the women's high jump final. She went on to defeat Vashti Cunningham to win the event.
(Charlie Riedel / Associated Press)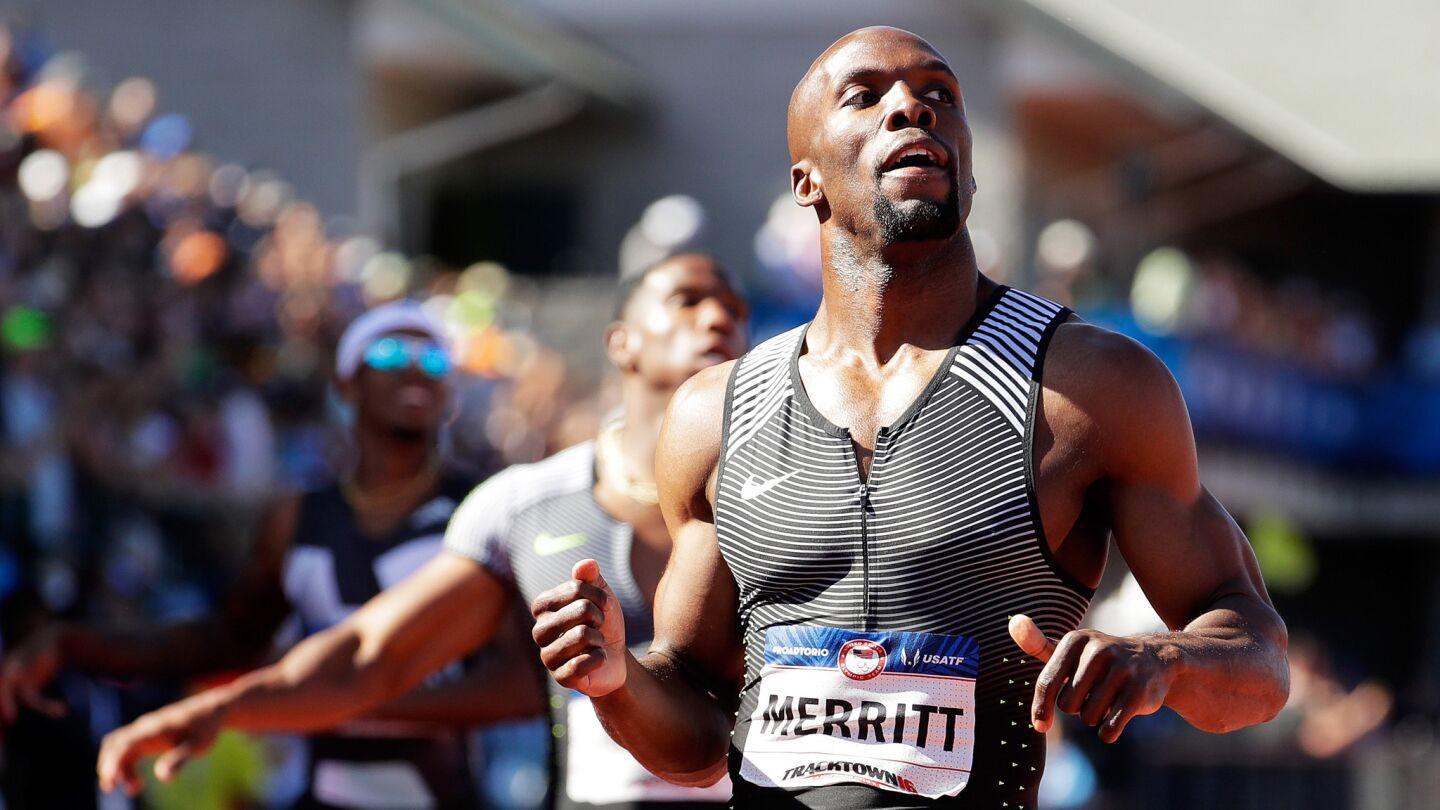 LaShawn Merritt reacts to his victory in the Men's 400 Meter final.
(Andy Lyons / Getty Images)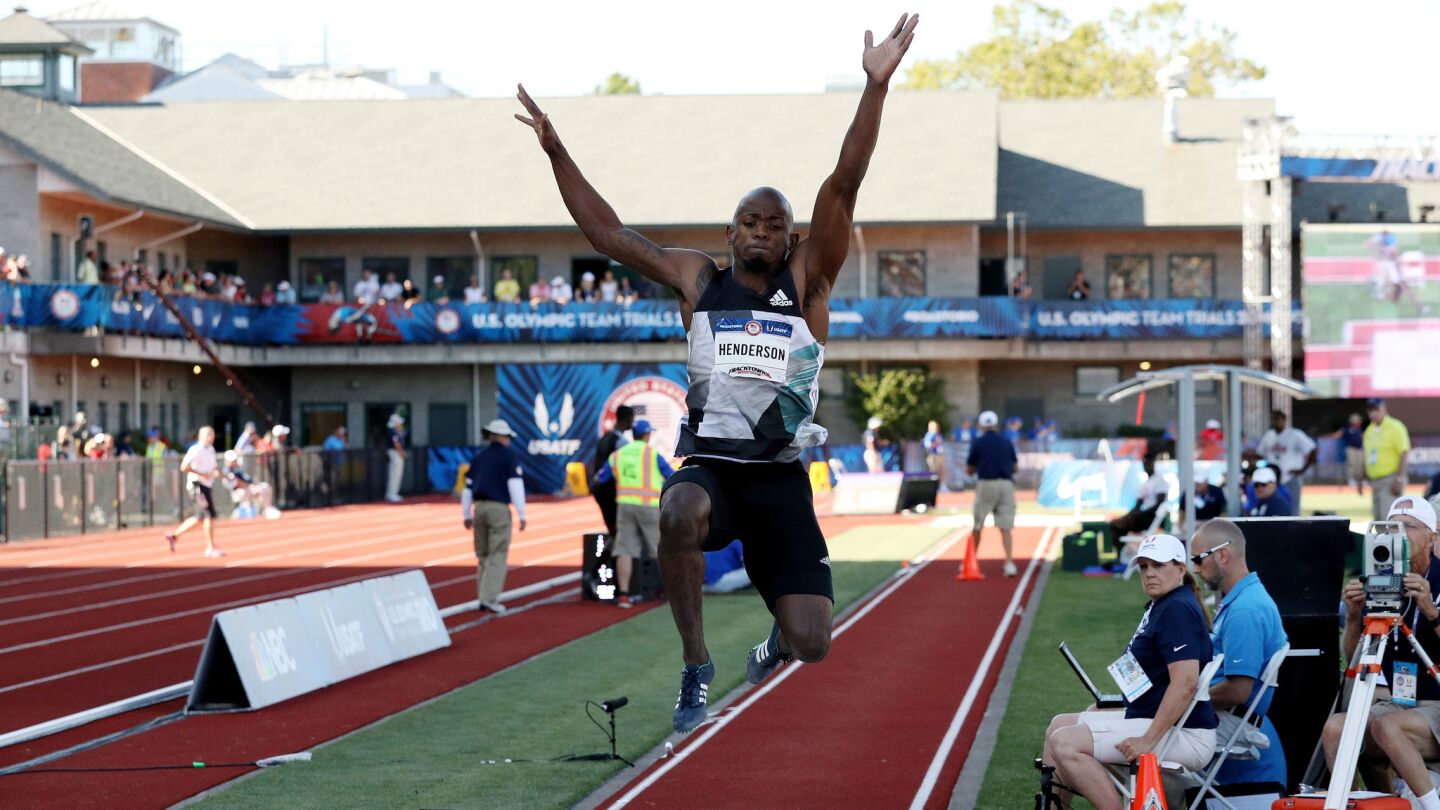 Jeffery Henderson jumps to victory in the Men's Long Jump final.
(Patrick Smith / Getty Images)
But she had never needed or found as much grit as she did in coming from fifth place at that curve, a performance that her coach, Bobby Kersee, justifiably called her greatest ever.
"She really had a tough time the last couple of months. A lot of emotional things," Kersee said, referring also to the death of Felix's beloved dog, Chloe. "She wanted to make this Olympic team."
And so she did, qualifying for the Rio Games — her fourth Olympics — in one of six world-leading efforts Sunday at noisy, sun-splashed Hayward Field.
"It was probably not my most fun but it was one that probably means the most. It seems like things were hitting me left and right," said Felix, who beat out Phyllis Francis (49.94) and Natasha Hastings (50.17). "I can't put it into words. Somehow, some way, it happened. ... Bobby believed in me more than I believed in myself."
Felix's effort was the highlight of a day dotted with noteworthy results on the track and in the field.
Justin Gatlin won the men's 100 in a world-best 9.80, improving on his 9.83 in the semifinals. He will go to his third Olympics, with first-timers Trayvon Bromell (9.84) and Marvin Bracy (9.98), a trio of Floridians. Bracy, 22, said he was in fourth grade when Gatlin prevailed in the 100 in Athens, but Gatlin didn't look old Sunday.
"It's a little relief," said Gatlin, who won gold in the 100 in 2004 and three other medals between two drug-related suspensions. "I know I'm motivated to get stronger and faster."
LaShawn Merritt pulled away from the field to win the men's 400 in a world-leading time of 43.97 seconds, with Gil Roberts second (44.73) and David Verburg third (44.82).
"I did the rounds, did what I came here to do," Merritt said. "I just wanted to keep my composure and rely on my strength and my talent."
Also setting world-best marks were defending Olympic decathlon gold medalist Ashton Eaton, who racked up 8,750 points, and women's high jump winner Chaunte Lowe, a mother of three and four-time Olympian who leaped 6 feet 7 to edge out 18-year-old Vashti Cunningham, who cleared 6-51/2 . Cunningham became the youngest track and field Olympian since Carol Lewis, who was 16 in 1980.
"I think she's a tremendous girl," said Lowe, who grew up in Riverside. "Don't pit us against each other."
Cunningham, who is coached by her father, Randall, the former NFL quarterback, missed badly at 6-61/4 and said her legs had lost strength.
"It was a relief to qualify and just know I was top three but at the same time I wanted to win," she said. "I'm just so grateful."
The pressure was on Eaton, whose wife, Canadian heptathlete Brianne Thiesen-Eaton, had already qualified for Rio.
"It's pretty cool," he said. "I'm very happy for her and she's a massive supporter of me. In our marriage, the success of our athletic dreams comes first."
Jeffrey Henderson's winning long jump of 28-21/4 was wind-aided but he's going to Rio because he previously met the Olympic qualifying standard. Runner-up Jarrion Lawson (28-13/4), had the longest wind-legal jump in the world this year; third-place finisher Will Claye's best jump was wind-aided, and since he doesn't have a legal jump that meets the standard, he didn't make the team. Fourth-place finisher Marquis Dendy 27-71/2 will be the third U.S. entrant.
English Gardner's winning time of 10.74 in the women's 100 wasn't a world-leading time — it was second-best — but it was the seventh-fastest all-time in that event. The New Jersey native, who trains in Southern California with John Smith, had predicted she'd do something special and that followers "would see it rain," and she was true to her word. At the finish she made a gesture as if she were eating, having told Smith that if he set the table and prepared her, she'd eat. She's poised for a banquet.
"I remember in 2012 I sat in the car and cried," she said of making the trials final but not the London Olympic team. "I never wanted to feel that feeling again."
Tianna Bartoletta, who previously secured a Rio long jump berth, finished second in 10.78 seconds. Tori Bowie was third, also in 10.78 seconds.
Felix has until Friday to rest for the 200.
"I've definitely faced the most adversity," she said. "The 200 is icing on the cake but definitely a part of my plan."
Twitter: @helenenothelen
---
Get our high school sports newsletter
Prep Rally is devoted to the SoCal high school sports experience, bringing you scores, stories and a behind-the-scenes look at what makes prep sports so popular.
You may occasionally receive promotional content from the Los Angeles Times.