A decade that began with the 2010 death of basketball legend John Wooden ended with the birth of a true intra-city hoops rivalry, the dynamic duos of the Lakers' LeBron James and Anthony Davis and the Clippers' Kawhi Leonard and Paul George rekindling excitement, interest and intrigue at Staples Center.
While the retirements of legendary broadcasters Vin Scully (Dodgers) in 2016, Bob Miller (Kings) in 2017 and Ralph Lawler (Clippers) in 2019 left voids on the local airwaves, the Rams filled a gaping NFL hole by returning from St. Louis in 2016.
The Dodgers emerged from bankruptcy to reach the World Series twice but haven't ended a 31-year championship drought. The Angels employed the best player in baseball for most of the decade but couldn't win a playoff game.
Neither USC nor UCLA produced a championship-caliber football team or a basketball team that got beyond the Sweet 16 in a decade that ended with both athletic departments ensnared in a college admissions scandal.
Los Angeles did produce some winners, the Kings skating to Stanley Cup titles in 2012 and 2014, the Galaxy winning three Major League Soccer titles in four years from 2011 to 2014, and the Sparks taking the WNBA championship in 2016.
An entertaining and unconventional UCLA women's gymnastics team won an NCAA title in 2018. Chino Hills High followed the bouncing Balls — brothers Lonzo, LiAngelo and LaMelo — to an undefeated season and state basketball title in 2016.
Sign up for Full-Court Text with NBA reporter Dan Woike
Receive SMS texts about the Lakers, Clippers and the rest of the NBA and text back with your questions.
Los Angeles was awarded the 2028 Summer Olympics, its bid buoyed in part by the most expensive sports venue ever built — Inglewood's $5-billion SoFi Stadium, which will open in 2020 — and a spectacular new soccer venue next to the venerable Coliseum, which hosted the 1932 and 1984 Olympics.
The Los Angeles sports scene should be even more vibrant in coming years, but before moving on to the next decade, let's take a look back at the top local storylines of the last 10 years:
Purple haze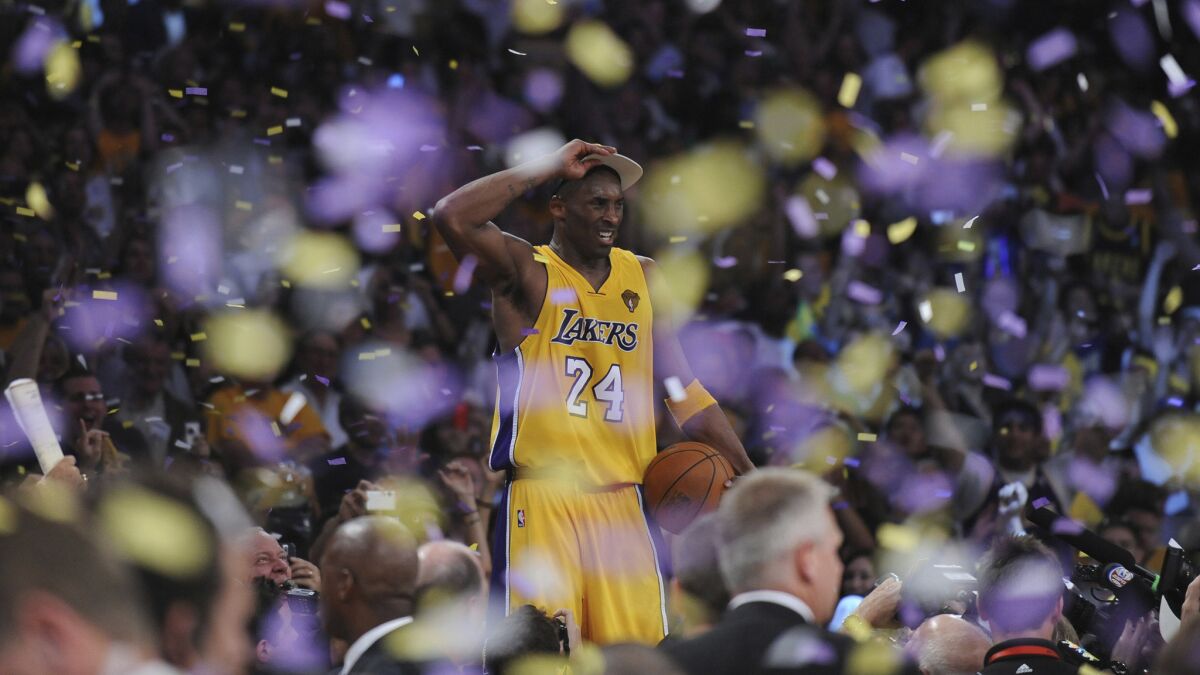 The Lakers opened the decade winning their 16th NBA title, defeating the longtime rival Boston Celtics in a seven-game series in 2010, and closed it with a 26-7 start to a season that has fans dreaming of another Larry O'Brien Trophy.
In between, they blazed a trail of dysfunction and soap-opera-style drama, from Kobe Bryant's awkward farewell tour to controlling owner Jeanie Buss thwarting a coup attempt by older brothers Jim and Johnny Buss, to Magic Johnson's impromptu hallway resignation as president of basketball operations.
The Lakers missed the playoffs five times from 1948 to 2013. Then they went six straight seasons without making the playoffs during this decade, going 163-329 during the dreadful stretch.
The decline began in 2011 with the retirement of coach Phil Jackson, who guided the Lakers to five titles in 10 years. That started a carousel in which the team cycled through five coaches — Mike Brown, Mike D'Antoni, Byron Scott, Luke Walton and now Frank Vogel — in eight years.
In December 2011, David Stern, then the NBA commissioner, vetoed a three-team trade that would have sent star guard Chris Paul to the Lakers. On the rebound, the Lakers acquired guard Steve Nash from Phoenix and center Dwight Howard from Orlando before the 2012-13 season. Injuries limited Nash to 65 games in two seasons. Howard clashed with Bryant and left after one season.
The Lakers struggled to attract free agents. They signed Bryant to a two-year, $48.5-million extension in 2013, seven months after Bryant had surgery for a torn Achilles.
From Vin Scully's retirement to ESPN's documentary on O.J. Simpson, from cable mega-deals to the downfall of Donald Sterling, these moments are most memorable.
Bryant was limited to 107 games in his final three seasons, though he went out with a memorable 60-point game against Utah in 2016.
Jeanie Buss shook up the front office in February 2017, ousting general manager Mitch Kupchak and basketball operations head Jim Buss, replacing them with Johnson. Rob Pelinka, Bryant's agent, was hired as GM.
Johnson helped attract James to the Lakers before the 2018-19 season but abruptly resigned last May, accusing Pelinka of back-stabbing him. In June, the Lakers acquired star center Davis from New Orleans, and the pairing has the Lakers back in title contention.
Stan the man
Los Angeles was an NFL desert for two decades, as billionaire developers, corporate titans, Hollywood power brokers, four mayors and a host of A-list celebrities tried and failed to bring the nation's No. 1 sport back to the second-largest market after the Rams and Raiders left in 1995.
It took the financial clout and vision of a real-estate magnate and sports mogul from the Midwest to finally solve the riddle, and now Los Angeles has not one but two NFL teams, with the Rams and Chargers set to play in a luxurious Inglewood stadium next year.
Stan Kroenke, then-owner of the St. Louis Rams, got his ball rolling in January 2014 with a stealthy $101-million purchase of 60 acres next to the former Hollywood Park racetrack. A year later, he revealed plans to build a stadium.
On Jan. 12, 2016, during an 11-hour meeting in the ballroom of a Houston airport hotel, NFL owners chose Kroenke's plan by a 30-2 vote over a competing Carson stadium proposal submitted by the owners of the San Diego Chargers and Oakland Raiders.
The Rams, Southern California residents from 1946 to 1994, returned in 2016, ending L.A.'s 21-year NFL drought by using the Coliseum as a temporary home. Two years later, under whiz-kid coach Sean McVay, they reached the Super Bowl, losing to New England, 13-3, in January.
The Chargers were given an option to join the Rams in Inglewood, which they exercised in 2017. As they finish their third season playing home games in a cozy Carson soccer stadium and vying for relevance in a more crowded market, the jury is still out on whether the Chargers made the right move.
It was clearly the right move for the Rams, whose franchise value has jumped from $1.5 billion in their last year in St. Louis to $3.8 billion, according to Forbes.
"It's been a long road back," Kroenke said, fighting back tears at a 2016 news conference, "but we made it."
Rags to riches
Frank McCourt bought the Dodgers in 2004 with "not a penny" of his own cash, according to one of his divorce attorneys. He and ex-wife Jamie spent so lavishly on themselves that Major League Baseball took over the team in 2011, and McCourt took the Dodgers into bankruptcy later that year.
The McCourts' rocky tenure as owners featured four managers and two general managers, the hiring of a Russian scientist named Vladimir Shpunt, who supposedly helped the Dodgers win by sending positive energy from his Boston home, and one of the costliest divorces in California history.
The turmoil forced the sale of the team. Guggenheim Baseball Management, led by controlling partner Mark Walter and Magic Johnson, bought the Dodgers for $2.15 billion in 2012, at the time the highest price ever paid for a North American sports franchise.
The new owners, fueled by a 25-year, $8.35-billion television deal with Time Warner Cable, boosted payroll each year, from $110 million in 2011 to a major league-high $291 million in 2015.
The Dodgers spent lavishly to sign free-agent pitcher Zack Greinke after the 2012 season and to retain ace Clayton Kershaw in 2014, and closer Kenley Jansen and third baseman Justin Turner after the 2016 season. They developed homegrown stars such as Cody Bellinger, Corey Seager and Walker Buehler.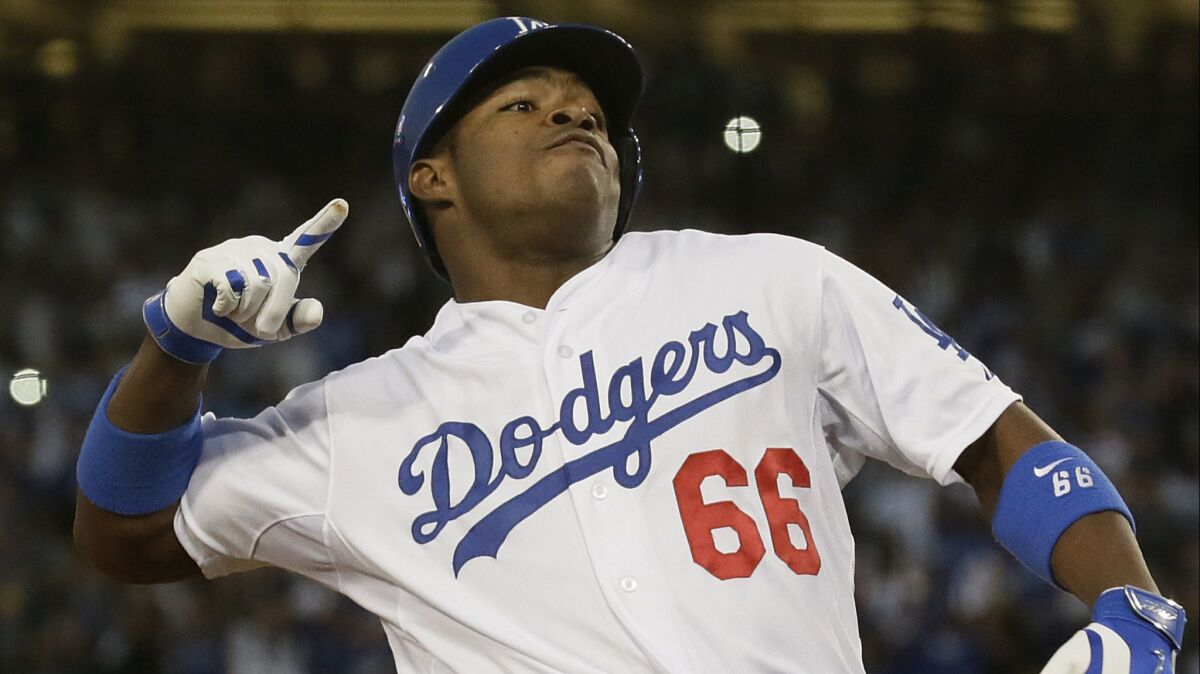 They invested in international players such as Hyun-Jin Ryu, Kenta Maeda and Yasiel Puig, and swung big trade-deadline deals for Yu Darvish and Manny Machado.
The upside: The Dodgers won seven consecutive division titles and played in back-to-back World Series. Kershaw won three Cy Young Awards, and the team draws nearly 4 million fans a year in a stadium that has undergone $300 million in renovations.
The downside: The Dodgers have the richest local TV deal in baseball, but because of a dispute between cable and satellite providers, the team's SportsNet LA broadcasts do not air in a majority of Southern California homes. Oh, and the Dodgers still haven't won a championship since 1988.
Fight on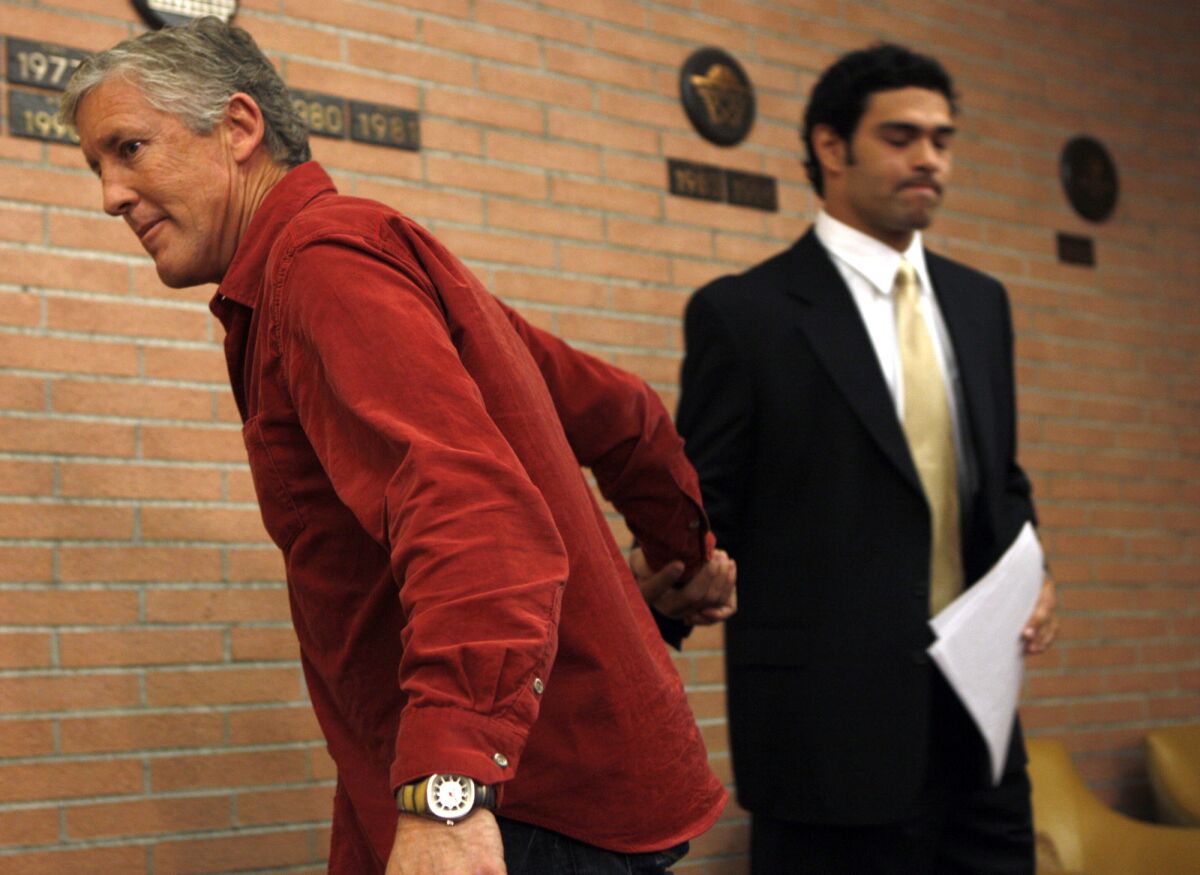 Eleven days into this decade, Pete Carroll left USC for the NFL's Seattle Seahawks. The Trojans spent the next 10 years trying to recapture the magic the charismatic coach created from 2001 to 2009 with little success, their efforts hampered by crippling NCAA sanctions and coaching tumult.
Carroll filled the NFL void in Los Angeles with an entertaining, free-wheeling style of football that produced two national champions, three Heisman Trophy winners — Carson Palmer, Matt Leinart and Reggie Bush — and an 83-18 record in nine years after sanctions stripped them of 14 wins.
Carroll left Jan. 11, 2010, and was replaced by Lane Kiffin. Six months later, the NCAA ruled Bush and his family received cash and perks from sports marketers while Bush starred at USC in 2004 and 2005. The Trojans were hit with a two-year postseason ban and the loss of 30 scholarships over three years.
Kiffin led USC to a 28-15 record in three-plus seasons but was fired on the tarmac at LAX by then-athletic director Pat Haden at 3:14 a.m. on Sept. 29, 2013, after a 62-41 loss at Arizona State dropped the Trojans to 3-2.
Ed Orgeron, USC's fiery defensive line coach with the gravelly voice and thick Cajun accent, guided the Trojans to a 6-2 record as interim coach.
When Steve Sarkisian was hired as USC's full-time coach Dec. 2, a jilted Orgeron left the school, leaving his players in tears. Clay Helton, then the offensive coordinator, coached USC's Las Vegas Bowl win over Fresno State.
Two weeks before the 2015 season, Sarkisian appeared to be intoxicated at a "Salute to Troy" event. When Sarkisian failed to show up for a midday practice in October, he was placed on an indefinite leave of absence and then fired. Helton took over and, five wins later, was named the permanent coach.
USC went 10-3 with a Rose Bowl win in 2016 and 11-3 in 2017, but dipped to 5-7 in 2018 and 8-5 this year in a season marred by injury and inconsistency. New AD Mike Bohn and school president Carol L. Folt decided to retain Helton early this month, to the chagrin of boosters howling for Helton to be fired.
Helton's recent recruiting class was considered the worst in the Pac-12. Orgeron, the one who got away, is the coach for top-ranked Louisiana State, which will play Clemson for the national championship.
Cardiac kids
While the USC and UCLA football and men's basketball teams failed to reach national prominence, the schools combined to win 32 NCAA Division I titles in the decade, highlighted by two dramatic comebacks — both by women's teams in 2018.
That April, the UCLA women's gymnastics team, led by floor-routine sensation Katelyn Ohashi, trailed two-time defending champion Oklahoma in the team finals by 0.175 points before the last event.
The Bruins needed a balance-beam score of 9.975 from Christine Peng-Peng Lee to win their seventh national championship. She went one better, capping her UCLA career with a perfect 10, setting off a wild celebration in St. Louis.
"I saw her 10 and said, 'What?' " said Ohashi, whose spectacular floor routine would go viral the following January. "It was so surreal."
Said Valorie Kondos Field, who retired after this past season, her 29th as UCLA's coach: "It was epic."
Two months later, on a rainy night in Eugene, Ore., USC runner Kendall Ellis sprinted into history with a comeback for the ages, flying from fourth place to a split-second victory on the final lap of the 1,600-meter relay to give the USC women's track and field team its second national title.
Kendall Ellis' stunning performance at the 2018 NCAA championships.
Ellis bobbled the baton handoff from Deanna Hill. She was still in third place entering the final 100 meters, at which point ESPN announcer Dwight Stones declared "there's no way" she could win.
Ellis passed Oregon's Hannah Waller halfway down the final straightaway. She caught Purdue's Jahneya Mitchell near the tape and lunged for the win, her 50.5-second split giving USC 10 points for the event and 53 total, one more than Georgia.
Kobe Bryant tweeted "Will Power" with the video of Ellis' stirring comeback, which went viral. Ellis and Hill appeared as guests on EPSN's "Pardon the Interruption."
And to think, without the nearly disastrous baton exchange, which Hill dubbed "the ka-bobble," USC likely would have won the race easily. Ellis' heroics wouldn't have been necessary.
"I think this is the best story," Hill said. "We wouldn't have it any other way."
Fish or cut bait
Number of American League most valuable player awards Mike Trout won this decade: three. Number of playoff games the Angels won in that time: zero.
Such is the futility and frustration of a franchise that spent most of this decade trying, and failing, to surround baseball's best player with enough talent to contend for a championship.
The Angels were dominant last decade, winning the 2002 World Series and five AL West titles from 2004 to 2009. Optimism surged in 2012 when Trout emerged as a force in his first full season and owner Arte Moreno spent $317.5 million on free-agent slugger Albert Pujols and pitcher C.J. Wilson.
Trout, 28, has been transcendent, finishing first or second in MVP voting in seven of eight years and accumulating a major league-best 72.5 wins above replacement. The Angels locked him up with a 12-year, $426.5-million contract last March.
But the team has been a flop. The Angels won 98 games in 2014 but were swept by Kansas City in the division series.
Plagued by bad free-agent signings (Gary Matthews Jr., Pujols, Wilson, Josh Hamilton, et al) and injuries, the Angels failed to reach the playoffs from 2010 through 2013 and closed the decade with four losing seasons, their 90-loss 2019 turned tragic by the drug-related death of pitcher Tyler Skaggs on July 1.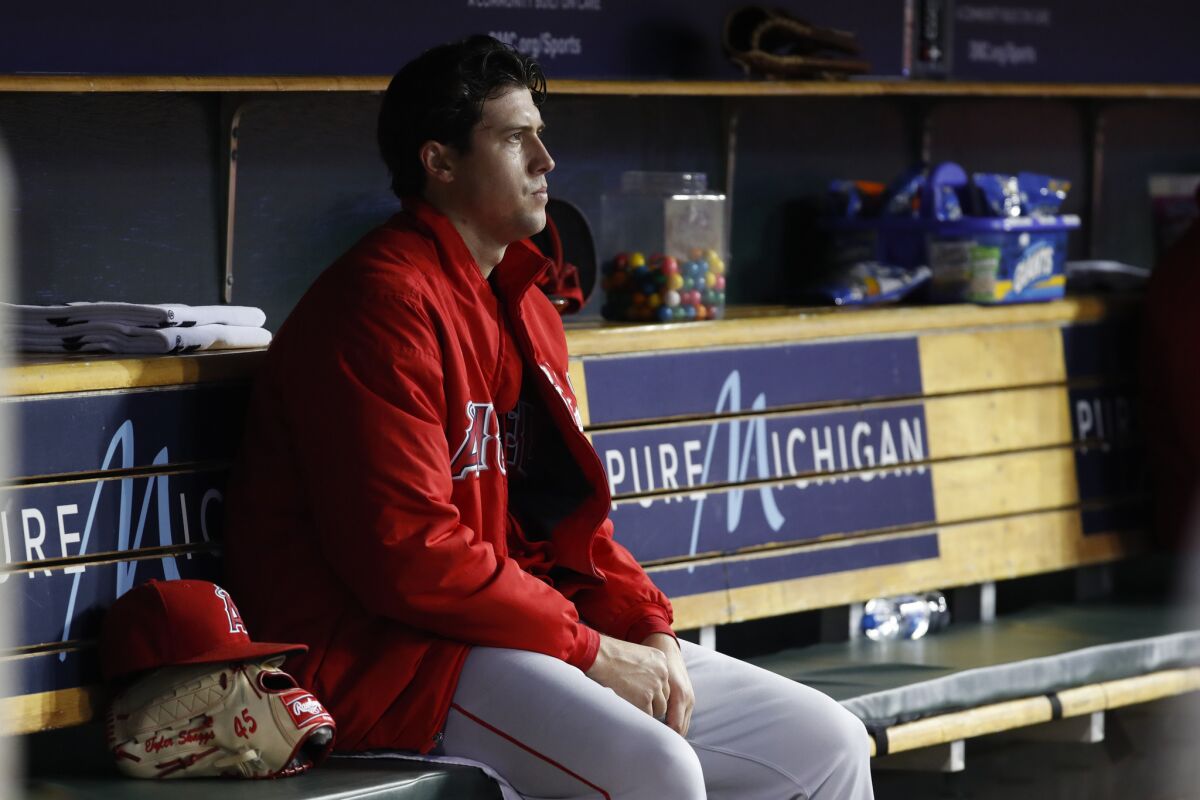 The fallout from Skaggs' death will carry into the new decade. Media relations employee Eric Kay told federal investigators he provided oxycodone to Skaggs, abused it with him for years and was in the Texas hotel room when Skaggs snorted three lines of crushed opioids. Toxicology tests also found fentanyl and alcohol in Skaggs' system.
Tens of millions of dollars could be at stake in a potential wrongful-death lawsuit if attorneys for Skaggs' family can prove a party besides Skaggs might be at least partially responsible for his death.
The Angels, determined not to waste Trout's prime years and to close 2019 on a good note, signed free-agent third baseman Anthony Rendon to a seven-year, $245-million deal this month.
Darkest before dawn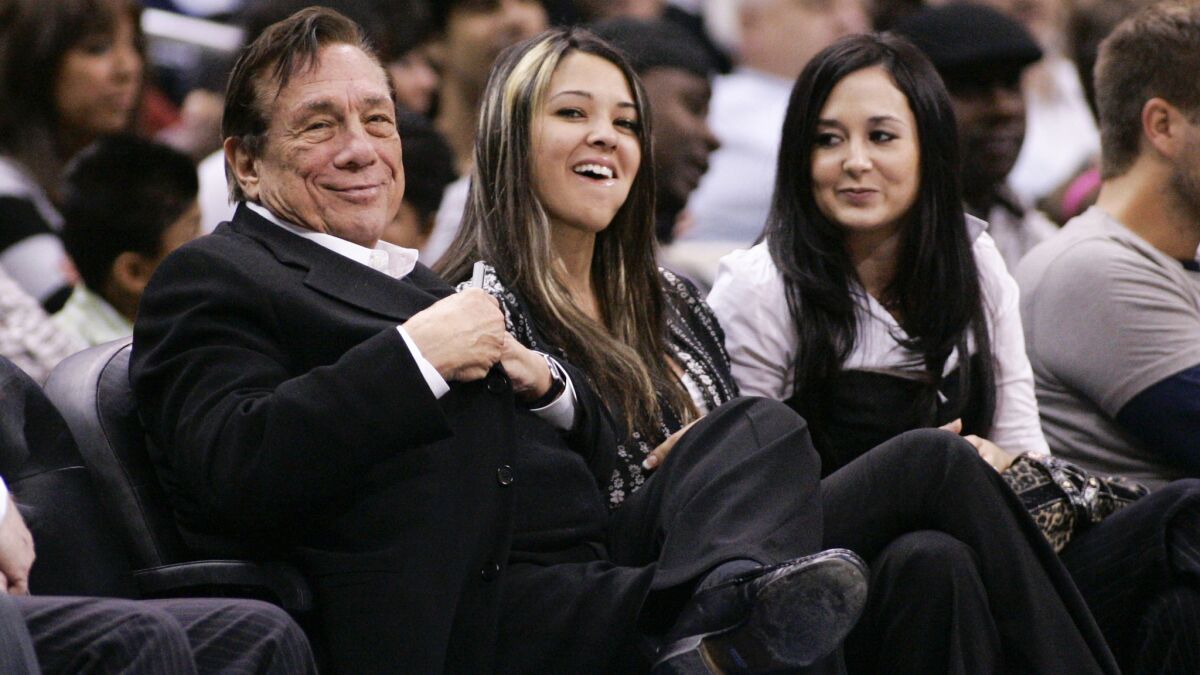 The ugliest chapter in Clippers history, a four-month period of lawsuits and backbiting triggered by the NBA's lifetime ban of owner Donald Sterling over racially charged comments in 2014, cleared a path to the brightest period in franchise history.
The Sterling controversy led to former Microsoft chief executive Steve Ballmer's $2-billion purchase of the Clippers, which kick-started the transformation of one of the worst-run teams in sports into one attractive enough to land Finals MVP Kawhi Leonard and six-time All-Star Paul George on the same night last July.
Sterling's ownership began to unravel April 25, 2014, when TMZ released an audio recording in which Sterling, then 79, told girlfriend V. Stiviano it bothered him that she was "associating with black people" such as Magic Johnson and asked her "not to bring them to my games."
NBA commissioner Adam Silver called the comments, released during a first-round playoff series against Golden State, "truly offensive and disturbing." President Obama called them "incredibly offensive." More than a dozen sponsors suspended or canceled their relationship with the team.
An investigation confirmed the authenticity of the tape, and within four days of its release, Sterling was fined $2.5 million and banned from the NBA for life. The Clippers defeated the Warriors in seven games but lost to Oklahoma City in the second round, blowing a 13-point lead in the final four minutes of a pivotal Game 5 loss.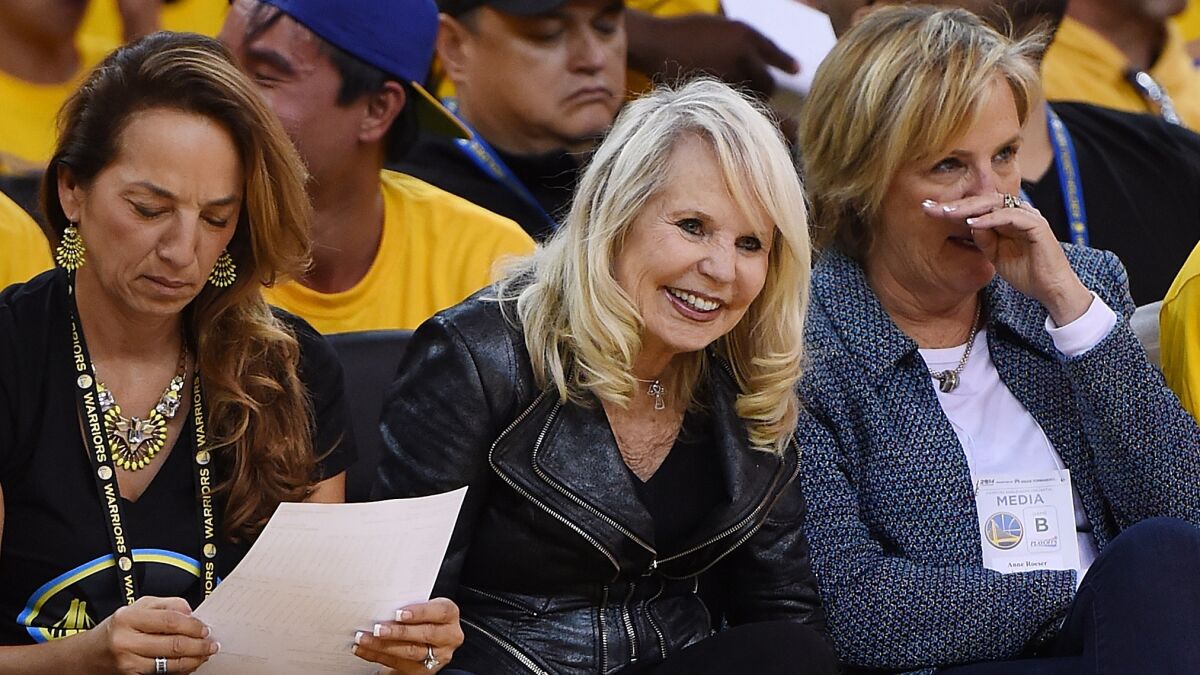 Sterling put up a legal fight to retain the team before shifting full ownership to his ex-wife, Shelly, who sold to Ballmer. The new owner, as fired up as a professional wrestler during his introductory news conference, told fans, "We're gonna be hard core!"
Ballmer put his stamp on the franchise with plans to move into a new arena in Inglewood, blockbuster trades of Chris Paul and Blake Griffin, and last summer's acquisition of Leonard and George.
Their Cup runneth over
The rebuilding Kings have one playoff victory in five seasons, but for a three-year stretch this decade they were the NHL's most dominant team, winning Stanley Cup championships in 2012 and 2014.
The first title came in their 45th season, ending what was then the second-longest championship drought in the NHL and capping a Cinderella run in which the Kings became the first No. 8 seed to win the Stanley Cup title.
The Kings were so flat and out of sync for 2½ months that GM Dean Lombardi fired coach Terry Murray in December after a 13-12-4 start. Darryl Sutter took over and the Kings, a rugged defensive team that struggled to score, squeaked into the playoffs with a 40-27-15 record. But they caught fire, defeating Vancouver in five games, sweeping St. Louis, defeating Phoenix in a five-game conference final and New Jersey in a six-game Stanley Cup final.
The Kings went 10-1 on the road in the playoffs. Goaltender Jonathan Quick won the Conn Smythe Trophy by allowing an average of 1.41 goals per game with a .946 save percentage and three shutouts in 20 playoff games. A defense led by Drew Doughty and Matt Greene had the second-best penalty-killing percentage in the playoffs, and the Kings scored five short-handed goals.
The 2014 team was known as the Comeback Kings after erasing a three-games-to-none deficit in the first round to defeat San Jose and eliminate the Ducks in a seven-game, second-round series after losing Games 3, 4 and 5. The latter was the Kings' first and only playoff encounter with the Ducks.
The Kings defeated Chicago in a seven-game conference finals that featured a five-goal, third-period outburst in Game 2. They had a relatively easy time dispatching the New York Rangers in a five-game Stanley Cup Final, but the grueling title run required the Kings to play 26 of a possible 28 games.
Center Anze Kopitar had 29 goals and 41 assists for a team-leading 70 points that season, and winger Justin Williams won the Conn Smythe Trophy.
Out of this world
The Galaxy opened the decade as Major League Soccer's best team, winning three championships from 2011 to 2014, and LAFC closed it with the best record in league history. It's doubtful the latter would have happened without the former.
All three Galaxy title teams — in 2011, 2012 and 2014 — were coached by Bruce Arena and featured striker Landon Donovan, who is considered the best U.S.-born soccer player ever.
David Beckham, the former Manchester United star who was the world's most famous soccer player when he signed a five-year, $32.5-million deal with the Galaxy in 2007, played on the first two title teams.
Robbie Keane, the Irish national and former Tottenham forward, starred on the 2014 team, accumulating 19 goals and 14 assists in 29 games to win league most valuable player honors and scoring the 111th-minute winner in a 2-1 MLS Cup overtime victory over the New England Revolution.
The 2014 final, played on the Galaxy's home field in Carson, was emotional for Donovan, who had announced his retirement that summer. Donovan basked in the cheers and tears of a crowd of 27,000 that chanted his name throughout the game. He then ran into the stands to celebrate afterward.
The success and popularity of the Galaxy, who have won five MLS titles since 2002, helped lay the foundation for the expansion LAFC, which began play in 2018 in the $350-million Banc of California Stadium in Exposition Park, the most expensive soccer-only facility in the country.
Coached by Bob Bradley and led by 34-goal scorer Carlos Vela, LAFC went 21-4-9 for a league-record 72 points this year before losing to Seattle, 3-1, in the Western Conference final in October.
Star power
Southern California produced many powerful high school teams this decade but none attracted paparazzi and generated media exposure like the Chino Hills and Chatsworth Sierra Canyon basketball programs.
Chino Hills went 35-0 and won a state title in 2015-16 with a dazzling array of dunks, steals and long-range jump shots, most of the highlights produced by the Ball brothers — senior Lonzo, junior LiAngelo and freshman LaMelo — and 6-foot-9 freshman Onyeka Okongwu, now a star at USC.
Lonzo Ball played one season at UCLA and was drafted second overall by the Lakers in 2017. LiAngelo is trying to revive his career after withdrawing from UCLA in the wake of his 2017 shoplifting arrest in China. LaMelo is playing professionally in Australia and could be an NBA pick in 2020.
But the most famous member of the family is their bombastic and outspoken father, LaVar, whose mouth roared while his boys soared. LaVar said after Lonzo's UCLA team was eliminated from the NCAA tournament in 2017 that "you can't win no championship with three white guys."
He made headlines by claiming he could beat Michael Jordan in a game of one-on-one. He feuded with President Trump after LiAngelo's arrest in China. He criticized former Lakers coach Luke Walton's handling of Lonzo.
LaVar launched an apparel company called "Big Baller Brand," which featured $495 high-tops and received an F rating from the Better Business Bureau, and a Facebook Reality show called "Ball in the Family."
Sierra Canyon's attention stems from its famous and accomplished fathers. Current or former NBA players LeBron James, Dwyane Wade, Scottie Pippen, Kenyon Martin, Duane Washington and Tellis Frank enrolled sons there in the last four seasons. Drake and Kanye West have been spotted at games.
The Trailblazers won consecutive Open Division state titles in 2018 and 2019, and this year's team, featuring Bronny James, Zaire Wade and Kentucky-bound senior B.J. Boston, is scheduled to appear 15 times on ESPN networks.
---