This day in sports: John McEnroe suffers marathon upset loss in French Open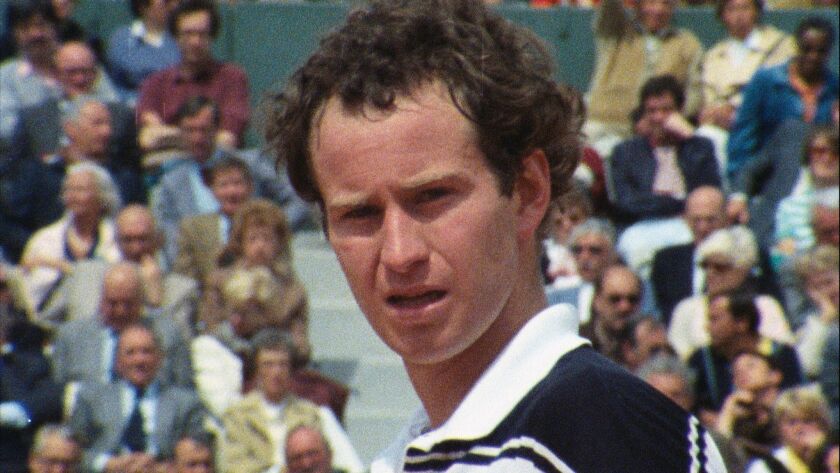 Australian Paul McNamee stunned No. 2-seeded John McEnroe in the third round of the French Open on this date in 1980 by winning a drama of tiebreakers in a match that lasted 4 hours, 18 minutes. The scores were 7-6 (6), 6-7 (4), 7-6 (3), 7-6 (2).
McNamee, 25, survived seven set points in the fourth set when he trailed 6-5 before drawing even.
More noted as a doubles player, McNamee had come close to beating some of the world's top players but each time he seemed to succeed in beating himself.
"I do have a reputation for choking," he said. "But not this time. I always thought I was stronger than John."
Had the COVID-19 pandemic not postponed their games, the Dodgers would have played the New York Mets on Saturday in the second of three games at Citi Field. The Angels would have hosted the New York Yankees on Fireworks Night at Angel Stadium.
Power Five college conference commissioners want Congress to enact a name, image and likeness policy before the NCAA or states make decisions.
In a Major League Soccer match, LAFC and the Houston Dynamo were scheduled to kick off at Banc of California Stadium.
Here is a look at other memorable games and outstanding sports performances on May 30:
1908 — Jockey Joe Notter misjudges the finish at the Belmont Stakes and eases up on his mount, Colin, whose career record at that point is 13-0. Notter recovers from his mistake and holds off Fair Play, who comes within a head of winning. When he retires, Colin's record stands at 15 wins in as many starts.
1912 — Joe Dawson wins the second Indianapolis 500 in 6:21:06. Driving an American-made four-cylinder National, Dawson passes leader Ralph DePalma in a Mercedes with two laps to go. They are the only two laps Dawson leads in the race. Ralph Mulford is told he has to complete the race for 10th-place money. It takes him nearly nine hours as he makes several stops for fried chicken. The finishing rule is changed the next year.
1955 — Bob Sweikert, an Indianapolis native driving a Zink Curtis Roadster, wins the Indianapolis 500 from the 14th starting position. Bill Vukovich, seeking his third consecutive victory, is killed in a fiery four-car crash on the 56th lap that involves Rodger Ward, Al Keller and Johnny Boyd. Vukovich's car is sent into a cartwheel before it hits several parked vehicles and a pole outside the main track.
1985 — The Edmonton Oilers win the Stanley Cup title for the second straight year with an 8-3 victory over the Philadelphia Flyers in Game 5 at the Northlands Coliseum in Edmonton. Paul Coffey scores two goals in the first period and Wayne Gretzky tallies one in the second period, and also has two assists.
In a call with the league's Board of Governors, NBA Commissioner Adam Silver presented multiple return-to-play scenarios and set July 31 to resume games.
1993 — Emerson Fittipaldi, driving for owner Roger Penske, wins his second Indianapolis 500, by 2.8 seconds. Fittipaldi takes the lead on Lap 185 and holds on, outfoxing Formula One champion Nigel Mansell, who hesitates on a restart, and by the time he reacts Fittipaldi is by him. Arie Luyendyk also passes Mansell and finishes in second place
2004 — In Fort Lauderdale, Fla., Canada easily beats the United States in a three-day cricket match, the first competition on American soil sanctioned by the International Cricket Council. In a remarkable all-around performance, Canadian captain John Davison leads his team to a 104-run victory. Davison makes the highest score of the match — an 84 — in Canada's first innings.
2009 — Travis Tucker hits an RBI single through a drawn-in infield with one out in the top of the 25th inning to give the Texas Longhorns a 3-2 win over the Boston College Eagles in an NCAA regional playoff game at Austin, Texas. It is the longest baseball game in NCAA history at 7 hours 3 minutes. Tucker would go 2 for 12 and the Longhorns would make the College World Series before losing to Louisiana State in the final.
2011 — Coach Jim Tressel, who guided Ohio State to its first national championship in 34 years in 2002, resigns amid NCAA violations by his players for their receiving benefits from a local tattoo-parlor owner that darkens the image of one of the country's top football programs. Luke Fickell, who was interim coach while Tressel served a five-game suspension, is hired as coach.
2012 — Roger Federer breaks Jimmy Connors' Open-era record of 233 Grand Slam match wins when he beats Adrian Ungur of Romania 6-3, 6-2, 6-7 (6), 6-3 in the second round of the French Open. The Swiss star breezes in the first two sets, but Ungur, who is mainly a clay-court player, gives him trouble in the third. Federer rebounds in the fourth set by winning the first two games and holds his serve for No. 234.
2016 — Stephen Curry and Klay Thompson carry the Golden State Warriors back to the NBA Finals, as they rally from a 3-1 series deficit to beat the Oklahoma City Thunder 96-88 in Game 7 of the Western Conference finals. The Warriors are the 10th team to come back from being down 3-1 and win a postseason series. Curry scores 36 points and Thompson has 21 for the Warriors, who won a record 73 games in the regular season.
Sources: The Times, Associated Press

---
Get our high school sports newsletter
Prep Rally is devoted to the SoCal high school sports experience, bringing you scores, stories and a behind-the-scenes look at what makes prep sports so popular.
You may occasionally receive promotional content from the Los Angeles Times.