Longtime college baseball coach Mike Gillespie dies at 80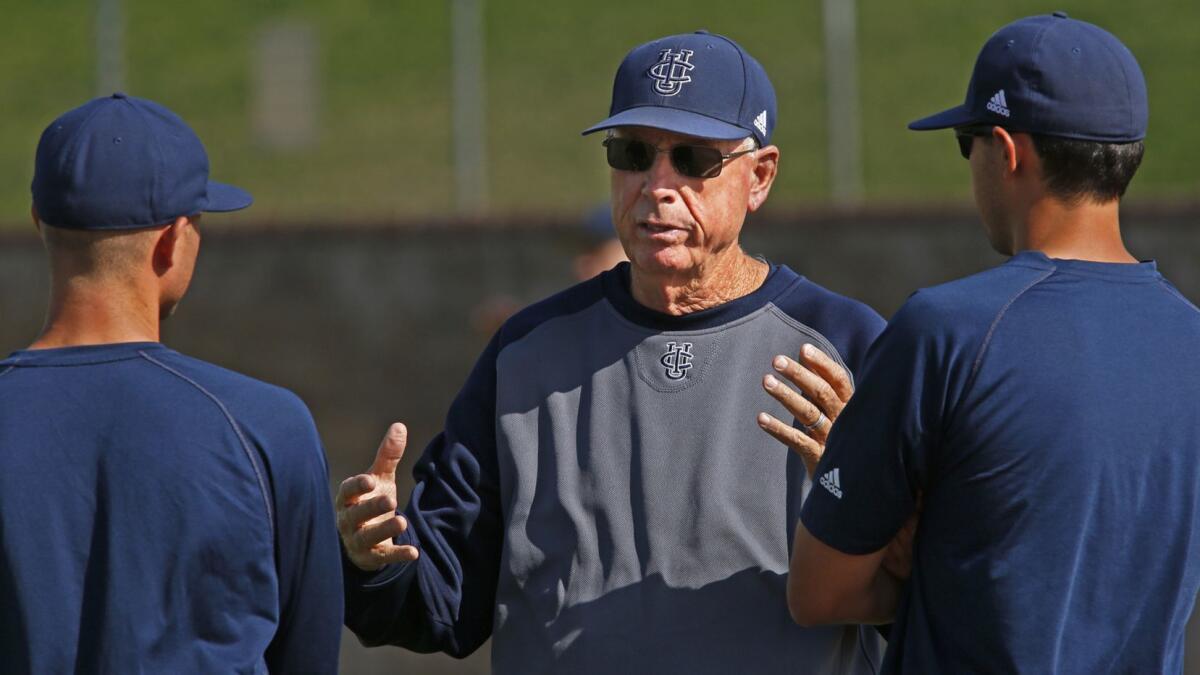 Over the course of more than 1,500 wins and nearly half a century spent in college baseball, Mike Gillespie built his towering coaching career by trusting his gut. It rarely led him astray.
It was his gut that guided him to call for a suicide squeeze in the decisive game of the College World Series, a bold call that eventually led USC to a national title in 1998. He built three programs into powerhouses on that preternatural instinct, guiding generations of college baseball players by intuition, inspiration and prodding, putting his arm around them when they most needed it. Gillespie regularly bucked convention, and he preached the same lessons to his players — to trust their gut, to follow their own path, to believe in themselves. His 47-year career was a testament to that undying trust.
It was his fearless instinct, buoyed by a deep love for the game, that made "Skip," as he was known to his players, a true giant of college baseball. It kept him in the sport — and thriving — through 2018, its hold on him lasting into his final days, when the Hall of Fame coach watched and talked baseball from the comfort of hospice care.
It's one thing to call for a steal of home in a community college game before a handful of spectators on a weekday afternoon.
Gillespie died at his home in Irvine on Wednesday following complications from recent lung issues and a stroke. He was 80. He is survived by his wife Barbara, children Kelly, Mitch, Matt and Tiffany, grandchildren Cade, Cole, Samantha and Cooper, and brother Gerry. Services are pending.
His death sent ripples to every corner of college baseball, from the teams he coached at College of the Canyons, USC, and UC Irvine and beyond, underscoring just how widely his influence was felt. Scores of former coaches and players shared stories deep into the night via group text, reminiscing about his impact on their lives.
"His presence was unmatched," said UCLA coach John Savage, who served as pitching coach under Gillespie at USC from 1997 to 2000. "You could feel him, if you're in the other dugout, if you're playing for him."
It was that aura that his former players would remember most. His pull over the clubhouse was obvious to anyone who entered. One of just two people to win a College World Series as a player and coach, Gillespie commanded respect, carrying himself with a quiet confidence that proved timeless even as the game he so adored evolved around him.
A firm believer in tough love, he pushed even his best players beyond their bounds of comfort. Six players he coached at USC alone would go on to be named major league All-Stars, many of whom considered him a catalyst to their careers.
His methods could be unrepentantly old school. He preached preparation, routine and discipline, and his players learned quickly that they needed to earn their stripes. Many came to realize that beneath the intensity and expectation was a rich sense of humor that only strengthened their esteem for Gillespie.
"If you got a compliment from Coach Gillespie, there was no better feeling in baseball," said Morgan Ensberg, who played third base on USC's 1998 national title team. "The bar was incredibly high."
When Aaron Boone, one of those six future All-Stars, made multiple errors over a single series at USC, Gillespie boldly held tryouts at his entrenched third base spot to "light a fire under his butt," recalled Geoff Jenkins, a former Trojans outfielder who played 11 years in the big leagues. "After that, I don't know if Booney made an error the rest of the season."
Gillespie knew how to wield that presence, shaping it as circumstances required. After an upset loss to Hawaii-Hilo while the Trojans were ranked No. 1 in the nation, he forced his team to watch as the opposing players snapped photos in front of the USC scoreboard.
Upon opening their 1998 College World Series run with a demoralizing loss to Louisiana State, Gillespie waited for players to filter out of the clubhouse, their heads hanging, before tacking on the message he'd been waiting to deliver.
"Oh, by the way, does anybody in this clubhouse not think we can win this tournament?" Gillespie asked. The room roared in response.
John McNamara, former manager of the Angels, the 1986 Boston Red Sox, and several other MLB teams, died on Tuesday at 88.
"Part of what made him this huge figure was that we knew, whatever we asked, whatever we needed, he would always have an answer," said Gabe Alvarez, a USC assistant who played for him from 1993 to '95.
Over the course of his career, Gillespie would cling to the few moments when an answer did elude him. He bristled at the notion of anyone calling him a legend and wondered often how his career might've changed if his boldest calls had gone awry.
Failures were few and far between. He was the rare coach to successfully step into the shoes of a legend and emerge with his own Hall of Fame career. Rod Dedeaux had won 11 national titles at USC and more games than any other college baseball coach in history when Gillespie was tapped as his replacement in 1987.
Gillespie, who played left field under Dedeaux and won a title with USC in 1961, spent the previous 16 years building a junior college dynasty. College of the Canyons had been founded just two years earlier when Gillespie, previously a coach at Palos Verdes and Rolling Hills high schools, was hired to start its baseball program in 1971. In short order, he turned the new Canyons program into a juggernaut, winning three state titles, 11 conference championships, and 420 games.
Gillespie would make his most lasting impact on college baseball at his alma mater. Over two decades as the Trojans' coach, his teams appeared in 15 NCAA regionals and four College World Series. His decision to steal home with two strikes in 1998, with Ensberg sliding safely to the plate, would live on. Thirty years later, upon his retirement, he called it "the most gratifying singular moment" in his career.
Gillespie was 66 when USC cut ties with the legendary coach following two down seasons. He planned to retire and work as a substitute teacher, but the game pulled him back in, leading him to manage the New York Yankees' rookie-league Staten Island team in 2007.
A year later, Irvine called Savage to ask about Gillespie.
"I laughed," Savage, his former pitching coach, recalled. "They had a Hall of Fame coach right in front of them."
Gillespie quickly picked up where he left off, winning 393 games and taking the Anteaters to the 2014 College World Series. A three-year deal turned into a memorable 11-year journey. His towering presence at the school would remain after he retired in 2018 to spend time with his wife, Barbara, who suffered from Alzheimer's.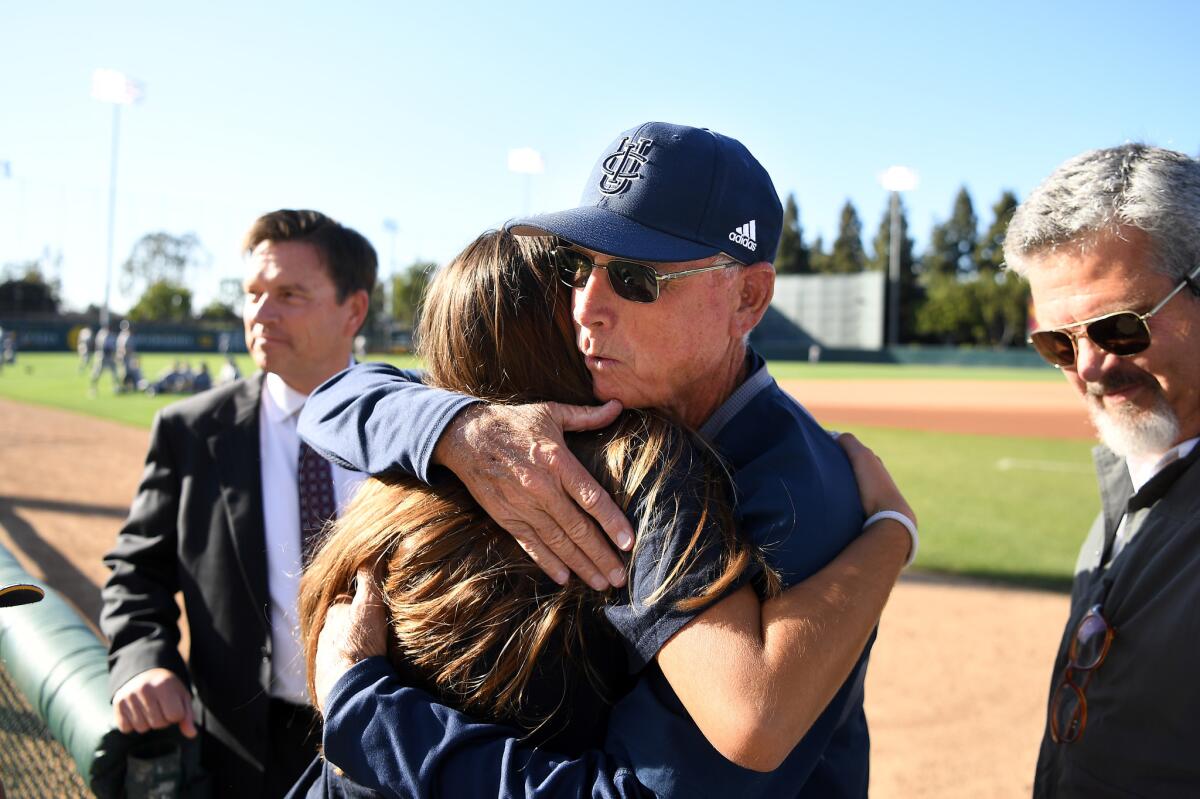 Ben Orloff, who played under Gillespie and took over as Irvine's coach, did not remove Gillespie's name plate from the office when he left two years ago. It didn't feel right, he said.
"I keep it in there as a reminder of what it means to be a coach," Orloff said.
Gillespie never quite left the game behind. He often called Orloff to recap innings and discuss specific decisions. A week before his death, Orloff sat with Gillespie as the legendary coach clearly recalled details of games 30 years ago.
"He missed it," Orloff said. "He just loved going to the office. He loved being around the players, loved practice and road trips and lunch with the staff."
"He just loved the game."
Get our high school sports newsletter
Prep Rally is devoted to the SoCal high school sports experience, bringing you scores, stories and a behind-the-scenes look at what makes prep sports so popular.
You may occasionally receive promotional content from the Los Angeles Times.