For retiring baseball coach Mike Gillespie, it's been a career filled with guts and glory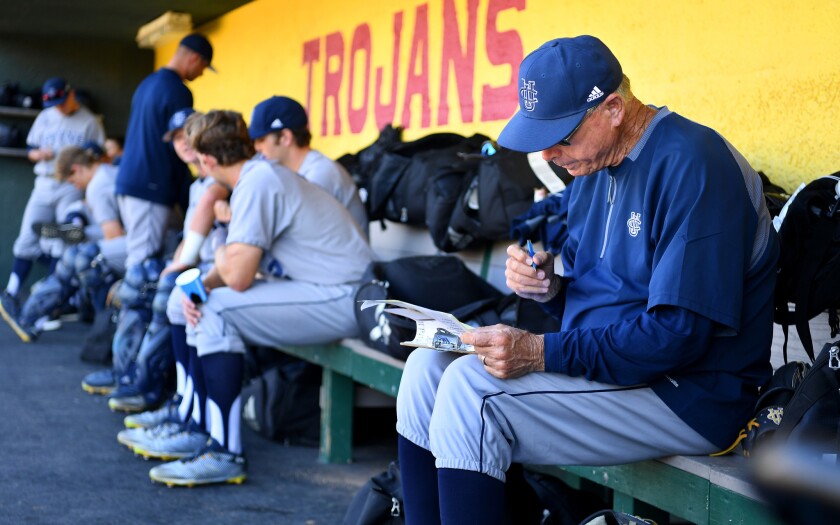 It's one thing to call for a steal of home in a community college game before a handful of spectators on a weekday afternoon. It's another to do it in a major college national championship game before 24,500 fans and a few million television viewers.
"I used to wonder," Mike Gillespie said as he kicked his feet onto a chair in the UC Irvine baseball coach's office, "if we're ever in the College World Series, would I have the wherewithal to do this?"

For the record:
3:55 p.m. May 30, 2018An earlier version of this article misspelled the name of longtime Arizona coach Jerry Kindall as Kendall.
His answer came on June 6, 1998, in Omaha's Rosenblatt Stadium, with the bases loaded and two outs in the seventh inning of a title-game slugfest that Gillespie's USC team eventually won, 21-14, over Arizona State.
The Trojans led, 11-8. Wes Rachels was up. Morgan Ensberg, the future Houston Astros infielder, was on third. At the peak of college baseball's live-bat era, balls were flying all over the yard. No lead was safe.
Gillespie wanted to tack on. Three times, Ensberg bluffed down the line with Gillespie timing the pitcher's windup, measuring Ensberg's jumps.
"I'm thinking we can do this, but c'mon, we're in the national championship game," Gillespie, 78, recalled. "I actually had to say to myself, 'No guts, no glory.' When I gave the sign, Wes didn't believe it. He's looking out of the corner of his eye. I had to give the sign three times."
Ensberg was safe on a bang-bang play. Rachels hit the next pitch for a two-run single. The Trojans were on their way to making Gillespie, the left fielder on USC's 1961 national championship team, one of only two men to win the College World Series as a player and coach. Arizona's Jerry Kindall is the other.
Gillespie, who is retiring after this season and will be coaching in his last home game at Irvine on Sunday, called Ensberg's swipe of home "the most gratifying singular moment" of a 47-year college coaching career in which he has amassed 1,153 Division I wins — 10th among active coaches and 34th on the all-time list.
The play personifies Gillespie as a coach: unpredictable, unorthodox, willing to take risks, no fear of failure.
"If you're on the other side, you have to be on your toes, because you never know what's coming next," said Dave Snow, 68, who retired as Long Beach State's coach in 2001. "He's never been afraid to try something different."
The first time Snow saw runners from second and third score on a suicide squeeze? It was three decades ago in a community college game, when Gillespie's College of the Canyons team did it against Snow and Los Angeles Valley College.
Irvine pulled off a similar "double squeeze" — with the runner on second racing around third as the defense throws to first on the bunt — during a win over top-ranked Oregon State in a 2014 NCAA regional game.
Gillespie has used four-man outfields and five-man infields. He once stationed an outfielder 15 feet from home plate near the third base line to prevent an opposing speedster from bunting for a hit. It worked.
Earlier this season, Gillespie devised a plan to counter a team that was proficient at reading pitches in the dirt and taking off for second. He had pitchers practice throwing fastballs into the grass in front of the plate so they would skip right to the catcher, enticing the runner to break for second and run into an out.
"We didn't use it, but we practiced it," senior pitcher Sean Sparling said with a chuckle. "So … we practiced throwing balls. A few of us were pretty good at it."
New York Yankees manager Aaron Boone, who played for Gillespie at USC from 1992-94, used to poke fun at his coach "because we had 30 different offensive signs." There were plenty for the defense too.
"If there's a pickoff to be had, we have that pickoff; if there's an opportunity to put a drag bunt down, we do it no matter who the hitter is," Gillespie said. "I kind of resent people calling us a 'little-ball' team. I like home runs. But I think every hitter should be trained to execute the hit-and-run or squeeze. It was always a goal to be prepared for any eventuality that comes up in a game."
Of the 50 or so times Gillespie estimates his teams attempted to steal home, he can recall being caught only twice.
"If it works, it's fun," Gillespie said. "If it doesn't, you have to wear it, and you're a moron."
"If it works, it's fun. If it doesn't, you have to wear it, and you're a moron."
Mike Gillespie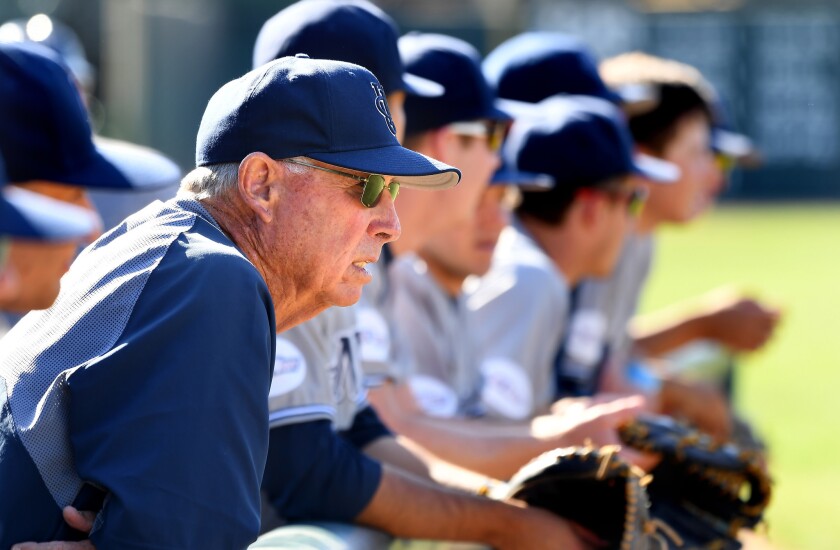 Gillespie, a 1958 graduate of Hawthorne High, spent 16 seasons (1971-86) at College of the Canyons, 20 at USC (1987-2006) and 11 at Irvine (2008-2018). He often wonders how his career might have turned out if Ensberg was called out.
"If he had been out and we had lost, I might have been fired long before I got fired, because you can't defend that play," Gillespie said. "You can't try to convince anyone that it makes any sense."
Gillespie was 66 when he was let go by USC, a school he led to 15 regional appearances and four trips to the College World Series. He planned to work as a high school substitute teacher before the Yankees offered a job as a scout and manager for their rookie-league Staten Island team in 2007.
When then-Irvine coach Dave Serrano left for Cal State Fullerton in 2008, the Anteaters hired Gillespie, who guided Irvine to the postseason six times and the College World Series once, in 2014.
"It was a timing thing that this opened up," Gillespie said. "As I look back on it, I was really lucky."
Gillespie was set to retire in 2014. Then the Anteaters snagged one of the last of 64 playoff berths, upset Oregon State in a regional and Oklahoma State in a super-regional to advance to Omaha. They beat Texas in the College World Series opener before losing to Vanderbilt — and then-freshman pitcher Walker Buehler — and Texas.
Irvine offered an extension. Gillespie stayed, giving him the chance to coach his grandson, Cole Kreuter, a senior second baseman and son of former big league catcher Chad Kreuter, these past four years.
There will be no more extensions. Gillespie is in good health, save for a few "old-age aches and pains," he said, but his wife of 32 years, Barbara, was diagnosed with Alzheimer's four years ago.
Gillespie announced his retirement in February. Assistant Ben Orloff, 31, a former Irvine shortstop and the 2009 Big West Conference player of the year, will take over.
"I had to face the facts of my age, and I really do need to be home for my wife," Gillespie said. "It's time. I think we need younger, higher-energy guys."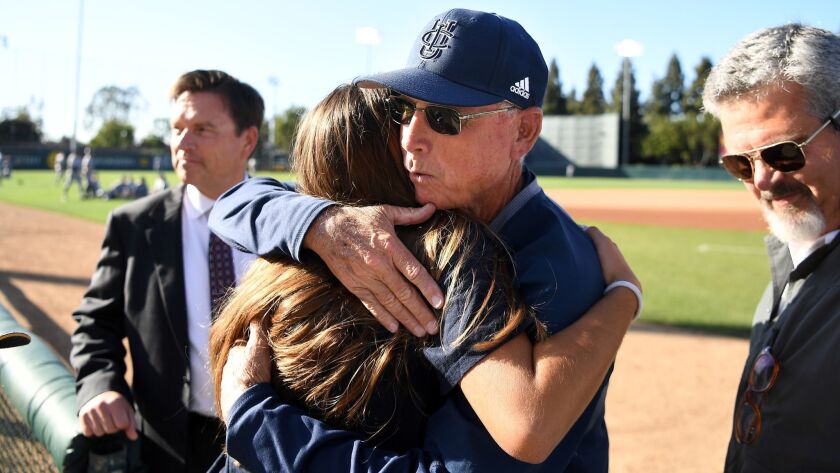 What will Gillespie miss most about coaching?
"The competition, for sure," he said. "The games have always been intense — and enjoyable —for me."
What will he miss the least?
"Technology," he said. "When cellphones came I thought, 'Oh no, I'll never have one.' I can email and text, but copy and paste? That's next-level stuff. And now, with all the new analytics — spin rates, launch angles, all these things that can be tracked and utilized — I'll have to leave all that stuff to these guys."
Gillespie is old-school to the core. He still has a dress code. Players must button top jersey buttons and wear uniform pants high enough to show stirrups. Sweat bands aren't allowed. No long hair or beards.
"We joke," Sparling said, "that he's been around the game since the early 1900s."
Gillespie preaches effort and fundamentals — play sound defense, run the bases aggressively, get bunts down, hit the ball to the right side to advance a runner from second to third, execute the hit-and-run.
"He wants the game played right," Kreuter said. "Throw everything over the top, flat swings, line drives … he's kept things simple."
More than a dozen of Gillespie's former USC players reached the major leagues, and six — Mark Prior, Barry Zito, Aaron Boone, Bret Boone, Geoff Jenkins and Ensberg — were All-Stars.
Who's the best player he ever coached? Gillespie named Prior, the right-hander who won the Golden Spikes Award as the top amateur player in the nation in 2001 and was the second overall pick in the draft, by the Chicago Cubs.
But he was just as quick to point out a pitcher he coached at Rolling Hills High in the 1960s, Gary Ryerson, a left-hander who overcame polio to reach the big leagues with the Milwaukee Brewers in 1972.
The best player he coached against? Mark Kotsay, who had two homers, five runs batted in and came in from center field to record the final five outs as a pitcher in Fullerton's 11-5 College World Series championship-game win over USC in 1995.
Former UCLA star Chase Utley is a close second, "and we didn't recruit him [at USC], I'm embarrassed to say," Gillespie said.
Craziest game he's ever coached? A 1990 game at Arizona State in which the Trojans and Sun Devils engaged in a bloody, bench-clearing brawl that required more than a dozen police officers to subdue and caused a 40-minute delay.
If you're on the other side, you have to be on your toes, because you never know what's coming next.
Former Cal State Long Beach coach Dave Snow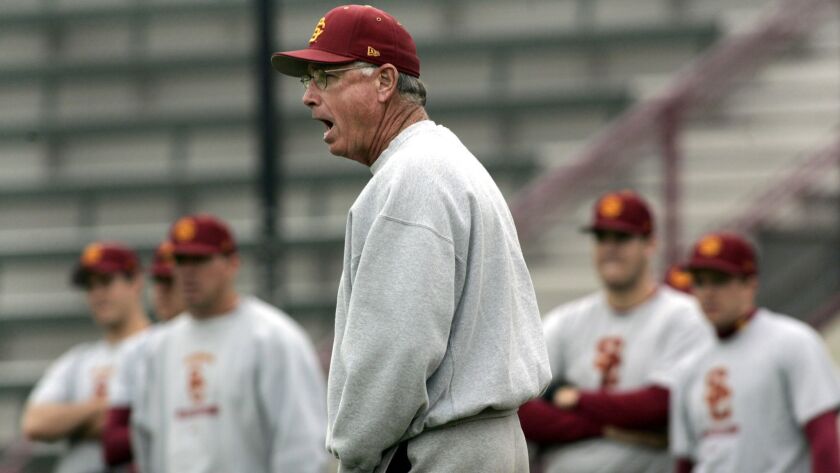 Ten players — five from each team — were ejected. When play resumed, both teams were banished to their bullpens. Only three players and a coach were allowed in the dugout when their teams were batting.
"Looking back, you laugh about it," Gillespie said. "In reality, it was really ugly."
As Gillespie reflects on five decades of coaching, the sting of the losses still dull the euphoria of the wins.
He won a College World Series as a player but lost to Minnesota in extra innings in the 1960 national title game. His College of the Canyons teams won three state titles and lost in the championship game twice. His USC teams won the 1998 national title and lost that 1995 title game. Irvine hasn't reached the playoffs since that 2014 College World Series run.
Gillespie replaced a legend at USC; Rod Dedeaux won 11 national titles in 45 years as Trojans coach. He scoffs at the notion that Orloff is replacing a legend at Irvine.
"No, no, nothing like that," Gillespie said. "I certainly don't feel that way. I know what I am, what my weaknesses are, where my failures have been. I remember the losses, the times you had chances and didn't get it done. There have been a lot of those. That keeps you from thinking there's a legend there."
There is a legacy, though.
"The amount of wins, the quality of the person, the opportunities he's created for other people," Orloff said. "You can't replace what he's meant to this school and to college baseball."
Snow said he can't think of a guy he coached against that he respected any more than Gillespie.
"And I think his peers all felt that way about him," Snow said. "His teams played the game the right way, and they played with class, with hustle. They might get beat, but they were never out-competed."
---
Get our high school sports newsletter
Prep Rally is devoted to the SoCal high school sports experience, bringing you scores, stories and a behind-the-scenes look at what makes prep sports so popular.
You may occasionally receive promotional content from the Los Angeles Times.