Bryson DeChambeau surges past Matthew Wolff to win U.S. Open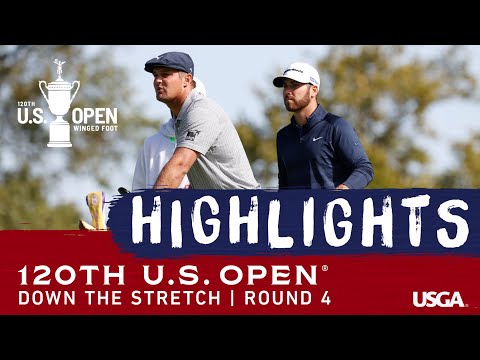 Highlights from the final round of the U.S. Open on Sunday.
The bank of lights behind the driving range cast long shadows as Bryson DeChambeau sent one golf ball after another soaring through the chilly evening air, perfecting a swing that was already unlike any other.
DeChambeau was the last player on the course on the eve of the U.S. Open's final round because he was hardly satisfied with his standing in the tournament, where he was two strokes off the lead. The 27-year-old had remade his body over the last year by chugging protein shakes and packing on 40 pounds, but it wasn't enough to shed the doubters who dismissed him as a gimmicky big hitter whose style wouldn't work in a major tournament, much less on the merciless Winged Foot Golf Club.
Perception changed Sunday afternoon as fast as one of DeChambeau's colossal tee shots leaving his driver.
Unleashing a blend of power and precision that quickly moved him atop the leaderboard, never to stray, DeChambeau spawned a legion of believers on the way to his first major tournament title.
He dominated the unrelenting West Course in Mamaroneck, N.Y., from the start of the final round, logging a three-under 67 to win the tournament by six shots after finishing at six under. He was the only golfer to break par.
Quarterback Jared Goff and tight end Tyler Higbee pair up for three touchdowns in the Rams' 37-19 victory over the Philadelphia Eagles.
"I think I'm definitely changing the way people think about the game," said DeChambeau, who stands 6 feet 1 and noted that his weight vacillates between 230 and 235 pounds "depending on if I've eaten steak or not."
It took DeChambeau only five holes to overtake Matthew Wolff, the 21-year-old from Simi Valley who had made his own stirring run over the first three rounds before surrendering his two-stroke lead and fading badly on the final day.
DeChambeau thrust his arms into the air in triumph after sinking his final putt, triggering a smattering of applause from the credentialed observers who lined a course devoid of fans because of the COVID-19 pandemic.
DeChambeau joined Tiger Woods and Jack Nicklaus as the only golfers to win the NCAA Division I individual championship, the U.S. Amateur and U.S. Open.
"I'll forever appreciate that," DeChambeau said after a breakthrough that won him $2.25 million and demonstrated why his approach just might be worth emulating.
He hit only three fairways Sunday and 23 over the tournament, proving wrong anyone who believed that sort of performance would be his undoing. It helped that he didn't have any hiccups finding his way out of the rough and was impeccable with his putting.
"I felt super comfortable out of the rough no matter the situation," DeChambeau said.
Always one to study everything in front of him, often telegraphing his shot approach aloud, DeChambeau checked the lid of the silver winner's trophy to make sure it was secure before picking it up and kissing it. He teared up when he saw his parents on a screen outside the clubhouse, blowing them a kiss and later sharing with reporters that his family struggled financially and once had enough money only for bologna sandwiches.
"This one's for my parents," DeChambeau said.
There was almost another unlikely winner. Attempting to become the first golfer to win the U.S. Open in his debut in more than a century, Wolff slogged his way to a five-over 75 that left him at even par for the tournament and in second place, six strokes behind DeChambeau.
With Tyrod Taylor sitting because of a chest injury, rookie Justin Herbert shines in his first start as the Chargers lose to the Chiefs, 23-20, in overtime.
Wolff's frustration peaked with a double bogey on the 16th hole, the golfer shoving a club into his bag after a chip shot out of the rough rolled within a few feet of the hole.
"The biggest thing I'm going to take from it is just I have to stay really patient because there's a lot of times out there that I kind of hung my head," Wolff said, "and that could have been the difference between two, three shots."
Wolff bogeyed five other holes, more than offsetting his eagle on the ninth hole. DeChambeau even upstaged him on that hole by sinking a 37-foot putt for his own eagle.
"I was just told that there's a lot of people in here saying what he's doing is pretty exceptional," Wolff said. "To watch it firsthand, I have to agree."
Bolch reported from Los Angeles.
Get our high school sports newsletter
Prep Rally is devoted to the SoCal high school sports experience, bringing you scores, stories and a behind-the-scenes look at what makes prep sports so popular.
You may occasionally receive promotional content from the Los Angeles Times.