Dodgers build huge lead, almost blow it in wacky, 14-11 win over Angels
Some were hit hard, firm line drives and loud fly balls scattered around the park.
Some rolled along the ground, weak contact that kept on finding the right spots.
Once they started, they didn't stop. Batter after batter. Hit after hit. Run scored after run scored.
A Dodgers team that in recent weeks had struggled to string together hits, failed to manufacture runs and sputtered at the plate suddenly snapped back to life on Saturday at Angel Stadium. In the fourth inning, they scored eight runs. In the fifth, they added five more.
In the end, the Dodgers' 14-11 win over the Angels probably should have never gotten as close as it did. After the early offensive explosion and Clayton Kershaw's scoreless five-inning start, they led by 13, only to watch the Angels score four runs in the sixth and seven runs in the seventh to make it a game again.
But the Dodgers (18-16) eventually pulled through, their bullpen doing just enough to snap a four-game losing streak and an extended 4-14 skid.
Episode 3 explores the failed public housing idea that was used as the bait to lure the Dodgers away from Brooklyn in 1958 – leaving large swaths of displaced Angelenos resentful of the Dodgers for occupying the land at Chavez Ravine.
"We needed a win," Dodgers manager Dave Roberts said. "There was a lot more good that came out of tonight than bad, and ultimately, we won a ballgame."
It took a few innings for the Dodgers to heat up, with Angels starter Dylan Bundy retiring eight of the first nine batters — the lone baserunner reached on an error — seemingly with ease.
Once the lineup turned over for a second time in the fourth inning, however, the Dodgers got on a roll. Mookie Betts led off with a walk. Corey Seager laced a single into center. And Max Muncy lined a single to right to score the game's first run. More soon followed.
Angels star Mike Trout developed a special relationship with Albert Pujols, so the news of Pujols' release Thursday left the three-time AL MVP emotional.
After a brief pause during the next at-bat — the result of Angels third baseman Jose Rojas inadvertently tagging Betts below the belt after fielding a ball, the two laughing about it as Betts took a moment to gather himself — Will Smith kept the line moving with an RBI single. Chris Taylor loaded the bases with a knock into left. Then Matt Beaty hammered a double to right, making it 4-0 with one of only three extra-base hits the Dodgers hit all night.
"On the offensive side, there were so many good things," Roberts said. "A lot of guys got on track … Kept the line moving. Some big two-out hits. Just across the board, some tough at-bats."
Beaty's double marked the end of Bundy's day, but Angels reliever Steve Cishek could escape the frame.
After intentionally walking Gavin Lux to juice the bags again, the next three Dodgers all hit soft ground balls: Austin Barnes a roller to second, Betts a tapper the other way, and Seager a swinging bunt up the third base line.
None had an exit velocity harder than 80.9 mph, nor an expected batting average above .200, according to MLB's Statcast system. Yet all three resulted in a single, leading to four more runs in an inning that saw 14 batters come to the plate.
The fifth inning unfolded similarly. Taylor and Beaty drew leadoff walks against reliever Félix Peña, advanced to second and third on a grounder from Barnes, then watched their teammates catch fire with two outs: Betts singled them both home; Justin Turner plated another run with a hustle double to left; and Smith lifted a soft flare in right to drive in a couple more.
Seager finished the game with three hits. Betts, Muncy, Smith and Beaty all tallied two. Betts also tacked on a team-high four RBIs and drew a walk, raising his batting average to .268 and and on-base-plus-slugging to .834, his highest in more than two weeks.
"I think I'm in a decent spot to go out and compete," Betts said. "I've been working hard, trying to get back to a normal good feeling. It comes and goes."
With the score seemingly out of hand, both teams appeared to almost concede the result. The Angels (14-18) removed Mike Trout and Justin Upton (José Iglesias exited the game earlier in the night because of a stiff back). The Dodgers pulled Betts, Seager and Turner. Kershaw was also taken out after only 71 pitches, though Roberts said that was because he was pitching on only three days' rest.
"A 13-run lead, we have to be able to close out four innings," Roberts said.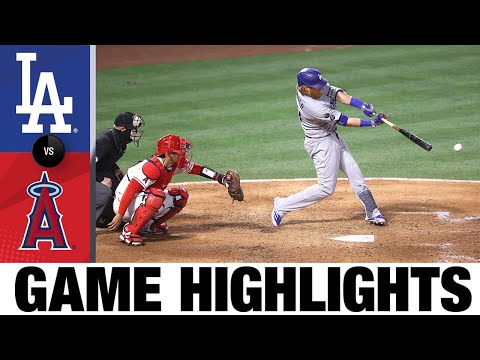 Highlights from the Dodgers' 14-11 victory over the Angels on Saturday.
But down the stretch, there were moments his team looked like they might not do it.
The Angels scored four runs in the sixth to make it 13-4, only to allow the Dodgers to regain a double-digit lead with a run in the top of the seventh — an inning that also saw Angels manager Joe Maddon get ejected arguing a play that had already gone to review.
Still, the Angels rallied again in the bottom of the seventh, mounting a charge even after making two quick outs. It started when Shohei Ohtani hit a grounder at Barnes, who had moved over to second base to accommodate fellow catcher Keibert Ruiz's insertion into the game as a pinch-hitter the half-inning before.
For most big-league infielders, the well-struck roller would have been a manageable play. But Barnes' stab with the glove came up empty, extending an inning that quickly went off the rails.
The next five Angels batters strung together hits against Dodgers reliever Mitch White, leading to four runs. Still needing just one more out, the Dodgers summoned Garrett Cleavinger from the bullpen to face Rojas. On the third pitch of the at-bat, Rojas clobbered his first career home run to right, a three-run blast that made it a three-run game.
"You can feel momentum even through a television screen," said Maddon, watching at that point from the clubhouse. "They showed a young lady in the right field stands. I said, 'Hit it to her.' He almost did."
The Angels would get no closer, however, going down in order in both the eighth and ninth innings against Dodgers relievers Victor González and Blake Treinen, who was tabbed to get his first of the season instead of Kenley Jansen because he had already been getting warm the inning prior.
"That's why you have to get 27 outs," Betts said. "It's tough. They did a great job of battling back. You don't want that to happen, but I think beggars can't be choosers right now, and we'll take anything we can get."
Get our high school sports newsletter
Prep Rally is devoted to the SoCal high school sports experience, bringing you scores, stories and a behind-the-scenes look at what makes prep sports so popular.
You may occasionally receive promotional content from the Los Angeles Times.