Column: Emma Raducanu, 18, wins U.S. Open, is steady in her direct flight to top of tennis
NEW YORK —
Emma Raducanu came to the U.S. Open with big dreams and a realistic travel itinerary.
Unsure she'd get through a qualifying tournament and earn a berth in the main draw, the 18-year-old had booked a flight back home to London before the Open was scheduled to begin. That was one of the few mistakes she made during an astonishing run that put her atop the tennis world on Saturday.
Raducanu's 6-4, 6-3 victory over 19-year-old Canadian Leylah Fernandez was built on her unshakable poise and ability to pull out shots she needed at the exact moment she needed them. Although she had made her tour-level main draw debut only a few months ago — her parents made sure she finished her studies first — she played on the featured court at Arthur Ashe Stadium as if she had been playing Grand Slam finals for years and finished the tournament without losing a set or losing more than four games in any set of her seven main draw matches.
In becoming the first teenagers to meet in a U.S. Open final since final since 17-year-old Serena Williams defeated 18-year-old Martina Hingis in 1999, Raducanu and Fernandez brought to the court youth, vitality and star power that must be carefully nurtured and protected.
Novak Djokovic outlasted Alexander Zverev in five sets to reach the U.S. Open final, where he'll face Daniil Medvedev and try to achieve the calendar Grand Slam.
"I've always dreamed of winning a Grand Slam. You just say these things. You say, I want to win a Grand Slam. But to have the belief I did, and actually executing, winning a Grand Slam, I can't believe it," said Raducanu, daughter of a Chinese mother and Romanian father who both work in the financial world.
Her belief became fact on Saturday on her third championship point and first after a fall had bloodied her knee. According to the rules she had to stop to get treatment when she was down 30-40 and she feared her rhythm would be disrupted. Instead, she pulled even, gained an advantage when Fernandez hit a backhand long, and sealed it with an ace.
"I don't think I made serve that wide in the whole match, to be honest. I was, like, If I'm going to make it, this is going to be the time," she said. "I literally drove my legs up to that ball toss like never before."
When it landed, she had become the first qualifier to win a Grand Slam singles title, though her progress at the Billie Jean King National Tennis Center was steady rather than stunning. She didn't have to face a seeded player until she upset No. 11 Belinda Bencic in the quarterfinals, though she took on Shelby Rogers in the round of 16 after Rogers had ousted No. 1 seed Ashleigh Barty. Raducanu backed up her win over Bencic by losing only five games in her semifinal against No. 17 Maria Sakkari.
Throughout, she showed a knack for making opponents play their worst. She lost only 34 games in her seven main draw matches and became the first woman to win the U.S. Open without losing a set since Williams in 2014. Williams then was 32 years old and ranked No. 1 in the world. Raducanu, who will be 19 in November, arrived here ranked No. 150 in the world. Next week, she will be No. 23.
Her success has made her a superstar back home. She has received social media praise from Queen Elizabeth II, who said her triumph is "a remarkable achievement at such a young age, and is testament to your hard work and dedication," and from the first in line to the throne, Prince Charles. "I still haven't checked my phone. I have absolutely no idea what's going on outside of the little world that we're in here," Raducanu said. She'll find out soon enough.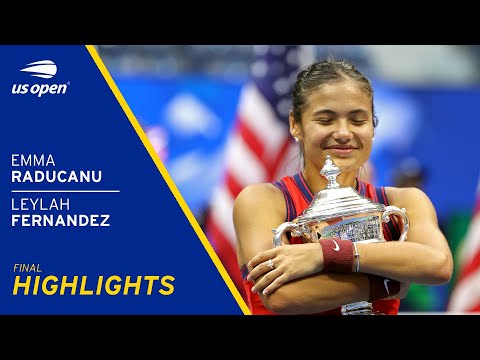 Highlights from Emma Raducanu's victory over Leylah Fernandez for the 2021 U.S. Open women's singles title.
Fernandez, who turned 19 last Monday, slayed giants. She started by defeating Ana Konjuh, a quarterfinalist here in 2016, and six-time Grand Slam quarterfinalist Kaia Kanepi before methodically upsetting defending champion and No. 3 seed Naomi Osaka in the third round. Fernandez backed that up by ousting 2016 U.S. Open winner Angelique Kerber in the fourth round, leading Kerber to say Fernandez "can go really far in the next few years." More like the next few days.
Fernandez rolled past No. 5 Elina Svitolina in the quarterfinals and rallied from a 1-4 deficit in the opening set of the semifinals against No. 2 Aryna Sabalenka. By then the New York crowd had taken to chanting her name, appreciating her fearlessness. She gave them uncommon empathy in return.
After completing her part in the trophy ceremony she asked to speak again to commemorate the 20th anniversary of the 9/11 attacks. She hadn't been born when the Twin Towers fell, but her parents told her about the tragic events and she wanted to acknowledge New Yorkers' pain. She told the crowd she hoped she could be as strong and resilient as the city has been the last 20 years, a touching moment.
She felt lifted by the fans' love but was disappointed by her performance. "I think this loss, I'm going to carry it for a very long time. I think it will motivate me to do better in training, better for the next opportunity I get," she said.
She never led in the first set on Saturday and was broken in the final game. Fernandez led the second set 2-1, but Raducanu won the next four games. Fernandez cut Raducanu's lead to 5-3 but couldn't hold her off any longer.
"I unfortunately made one too many mistakes in key moments and she took advantage of it," Fernandez said. "Emma played a great tournament, so congratulations to her and her team. But hopefully I'll be back next year."
Yes, please. Raducanu too. With any luck, their excellence will be a joy for years.
Get our high school sports newsletter
Prep Rally is devoted to the SoCal high school sports experience, bringing you scores, stories and a behind-the-scenes look at what makes prep sports so popular.
You may occasionally receive promotional content from the Los Angeles Times.