Three years after California took the lead in the battle for college athlete rights as the first state to legalize name, image and likeness payments to players, another potentially game-changing bill is on the move through the state legislature in Sacramento.
Senate Bill 206, signed into law by Gov. Gavin Newsom in the fall of 2019, made it illegal for the NCAA universities to prohibit third parties from paying college athletes for use of their NILs in endorsements, sponsorships and other appearances. But it did not ask school athletic departments to alter their budgets, which allowed for an easy passageway.
In contrast, Senate Bill 1401, named the "College Athlete Race and Gender Equity Act," cuts right to the heart of the collegiate model and the ideals of amateurism. SB 1401 would require California schools to share 50% of annual revenues in football and men's and women's basketball with the athletes, initiating a new era of "pay for play" — and what college sports leaders fear would be a doomsday scenario for athletic departments that currently use profits from revenue sports to fund their non-revenue sports programs.
If the NCAA won't properly handle situations where pay for play is dressed up as NIL, conferences will have to take the matter into their own hands.
The bill has passed through the Senate education and judiciary committees and now sits with the appropriations committee, which will weigh its budgetary impacts before deciding whether it will move onto the Senate floor or die. That announcement will come Thursday at the committee's annual "suspense hearing" — a fitting name because anyone plugged into the college sports industry should be watching the result closely.
Here are answers to some of the key questions about the bill and its potential impact:
How would the revenue sharing be structured?
California college athletes would be the first to receive payments related to their athletic performance directly from schools. The NCAA, following what's been laid out in court decisions, has always fought to keep benefits "tethered to education."
Well, in SB 1401, much of the compensation still would be related to academics. The bill states a noble goal of improving graduation rates for Black athletes in football and men's and women's basketball — the only three sports where players currently don't receive more than 50% of revenues back purely through their scholarships.
Schools would establish a degree completion fund for each athlete, and the contents of the fund — fed annually — would be made available soon after degree completion (within six years). If the athlete does not graduate within six years, he or she will forfeit the fund and it will go back into the athletic budget. Players would have immediate access to a maximum of $25,000 each year, while the rest would build over time.
How much money are we talking?
The amount owed to each athlete would be the half of the sport's total revenue minus the team's total student grant-in-aid package divided by the number of players. For instance, each USC football player could make upwards of $200,000 a year.
Think about taking $15 million to $20 million that currently has been used to reinvest in football resources and to fund the rest of the athletic department and transferring it to football players, and it's easy to see why administrators are getting ready for a fight.
On the other side of the coin — and this point will have been argued by Sen. Steven Bradford, the bill's author, and National College Players Assn. executive director Ramogi Huma — should it really have been college football and basketball players' sacrifice all these years to subsidize the training of America's future Olympians?
There's a compelling argument that the amateur model — particularly in the last two decades as television revenues have exploded — has led to a displacement of what could have been generational wealth for young Black athletes and their families.
Under SB 1401, would athletes be classified as employees?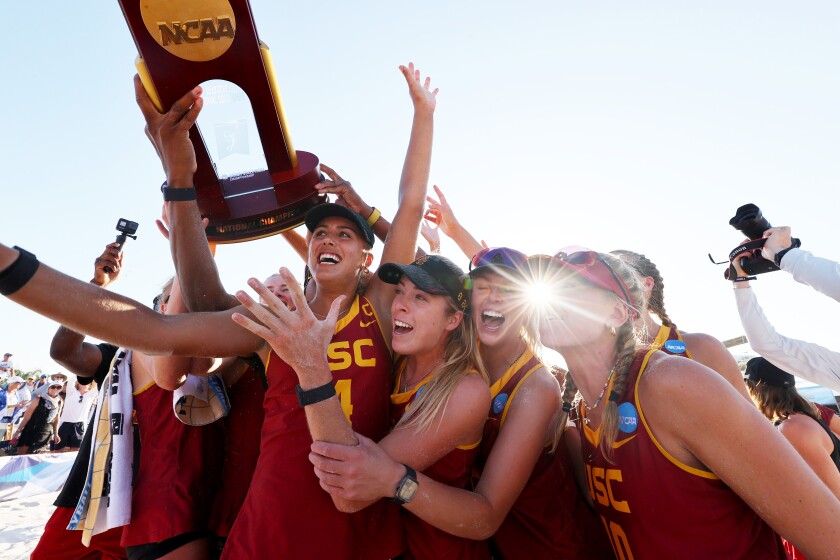 The bill establishes a "pay for play" model but stops at designating athletes as employees, stating, "This does not establish evidence of an employment relationship between a student athlete and their institution of higher education."
Among administrators, this is viewed as clever wording meant to make the bill easier to pass and harder to lobby against. The assumption is that once "pay for play" begins, employment and collective bargaining will quickly follow.
How likely is the bill to pass?
That is hard to know. It has a long way to go, needing to make it through the Senate and then through a bunch of committees in the Assembly and then the Assembly floor before moving onto the governor's desk.
The bill has already been amended. The original asked for Title IX protections and mechanisms in place to curb the cutting of non-revenue sports, but those parts have been removed to fully focus on revenue sharing.
Given the massive implications for athletic department budgets as it's currently written, there has already been discussion about amending the payment structure to give schools the option of distributing only new revenues (increases year over year) to the players.
In that case, say USC football made $10 million more in 2022 than it did in 2021. Then all of the gain would go to feeding the players' degree completion funds — $117,650 each — but the department would be able to continue to use the same amount from 2021 to fund the rest of its sports and avoid the doomsday scenario.
Mark Emmert is stepping down as NCAA president, ending a tenure best defined by defiant inertia as the organization fought inevitable change.
If a program didn't increase revenues in a year, then the players would receive nothing.
One thing to factor in is that the Pac-12 will be renegotiating its media rights contracts for 2024, which should bring in significantly more revenue from the conference.
If SB 1401 becomes law, much of that windfall could go to the athletes and quickly make them whole, so to speak, in working toward the bill's requirement of a 50/50 split.
It seems likely that if the bill passes, it will have something like this new revenues option in place, because it would give the schools a chance to maintain their current level of operations.
How would this affect recruiting?
California athletes are already benefiting from the use of their NILs, but so is the rest of the country. The ability to share revenue would allow California colleges to guarantee compensation beyond the scholarship and NIL opportunities.
If any school wanted a real leg up on the competition, it could alter its budget to guarantee the 50/50 split. In USC's case, that could be an amount approaching $1 million for a player's career, particularly when factoring in the full cost of attendance that's already being paid.
Of course, none of the schools are going to be eager to blow up their budgets and would probably gladly accept whatever toe-in-the-water scenario is presented, at least to start.
What if a player transfers?
In the era of the one-time transfer waiver, this is a key component of the bill — especially one tied to degree completion.
The wording states that if an athlete transfers to another California institution, the degree completion fund will transfer after enrollment and be managed and funded by the new school.
If an athlete transfers to an institution out of state, the degree completion fund is forfeited.
Will the NCAA punish California schools if this bill goes into effect?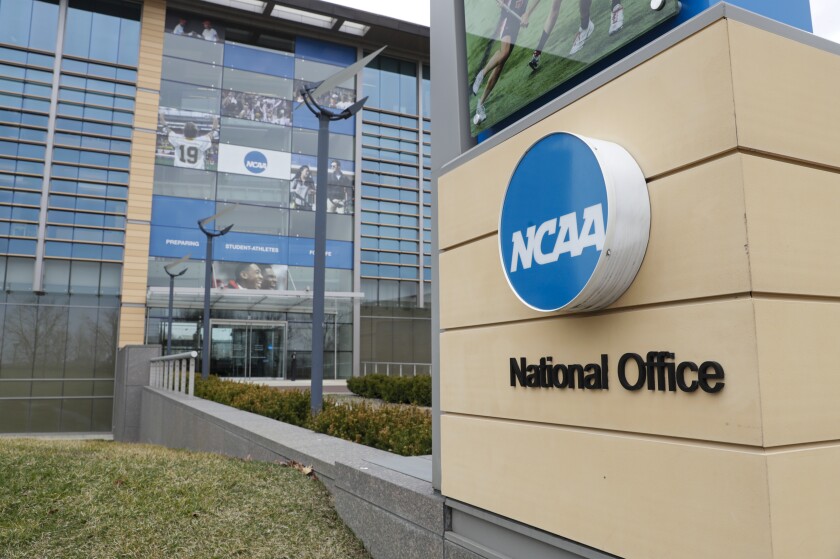 Huma, the former UCLA linebacker who has become one of the leaders of the college athlete rights movement nationally, is confident that the answer is no.
When the NCAA made threats against California with SB 206, the Department of Justice antitrust division established an NCAA boycott of California schools would be a violation of antitrust laws.
Power Five conference leaders already talking publicly about possibly leaving behind NCAA governance certainly wouldn't help the association's cause if it were to threaten California.
Why does California always have to be first?
Simply put, Ramogi Huma.
He is relentless in his motive to break up the NCAA and give bargaining power to the athletes, and he just so happens to live right here in Corona.
Even if SB 1401 doesn't pass, he will assuredly have a fresh bill ready for next year's session.
This isn't going away.
---