Watching sons play in NFL can be euphoric, 'emotional teeter-totter' for parents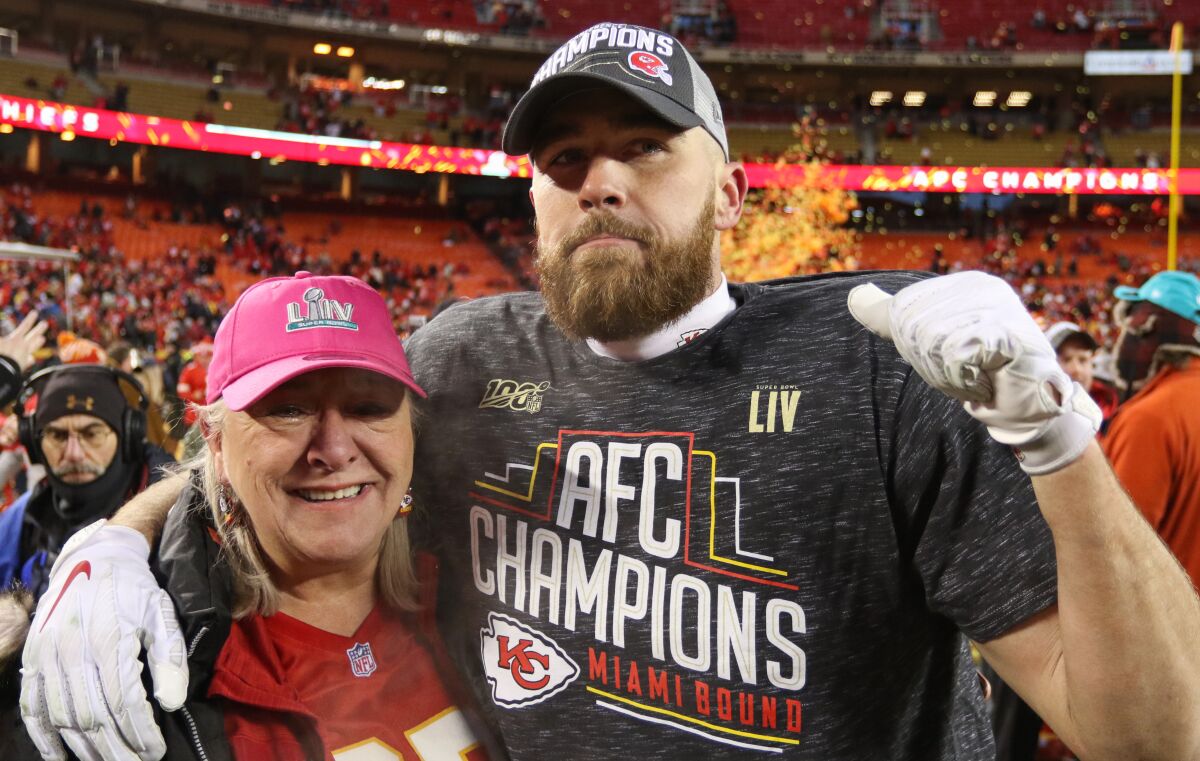 Jason and Travis Kelce will make NFL history on Feb. 12 when they become the first brothers to play against each other in the Super Bowl.
That will be both terrific and tormenting for their families, who will try to walk that narrow line and not cheer for one player over the other.
Although this situation is unprecedented, some of the most famous football families understand. They too have lived in that uncomfortable limbo.
"When my sons played each other, I held my breath pretty much the whole game," said Geraldine Barber-Hale, mother of twins Ronde and Tiki Barber. "I'm one of these mothers who every time my son is on the field I hold my breath until he comes off. I want him to do well, but I don't want him to get hurt, and I don't want him to hurt anybody else inadvertently."
Tiki played running back for the New York Giants. Ronde, a Hall of Fame finalist this year, was a cornerback for Tampa Bay. They had several big games against each other, just not in the Super Bowl — although they both played on that stage.
"It was hard enough watching them play each other in the regular season," their mother said. "My heart bleeds for the Kelces' parents. Imagine them playing each other in that kind of setting. The Super Bowl is the pinnacle."
Jack and Jackie Harbaugh know that all too well. Their sons coached against each other in Super Bowl XLVII, Jim with the San Francisco 49ers and John with the Baltimore Ravens.
"Right up until the kickoff of the game, there was just this euphoria of excitement," Jack Harbaugh said. "Every little thing. Jackie's dad was 95, 96 years old and he was able to go to New Orleans. He got up on the stage and had his picture taken with John and Jim on the Friday before the game. Everything was great.
"Until the moment the ball was kicked off. When that ball left the kicker's foot — if I close my eyes I can still see it — that ball's rolling end over end, higher and higher, and then it's coming down and all at once I'm realizing, 'Oh my goodness, there's going to be a winner and there's going to be a loser.' The rest of the game, we were like zombies."
The Harbaughs were sitting in a suite with Roger Goodell, and at one point Jackie leaned over to the commissioner and said, "Is there any way this can end in a tie?"
"You're on an emotional teeter-totter."
— Jack Harbaugh, on watching his sons, Jim and John, compete
No such luck. The game came down to the wire, and John's Ravens beat Jim's 49ers, 34-31.
"All of a sudden the game was over," Jack said. "Confetti was flying, music was playing and they were pulling out the trailer with the stage on it. We're still sitting up in the box. The commissioner and the people with him had all gone down to the field with five minutes or so to go. We're looking down and John's there and [his wife] Ingrid's there, and [their daughter] Alison's there, and Jackie said, `We belong down there.' "
Problem was, the Harbaughs didn't know the route to the field, and like salmon swimming upstream, they would have to fight the crowds to get down. They were in luck, though, because New Jersey Gov. Chris Christie was in the suite too, and dispatched his personal security to help them.
"[Christie] said, `Get them to the field. They need to be there with their son,' " Harbaugh recalled. "And they said, `Sir, we can't leave you.' And he said, `We're not going anywhere. We'll be here for as long as it takes for you to get John's parents down to the field.' "
So security escorted the Harbaughs to the field, where they could congratulate one son and console another.
Travis and Jason Kelce are on opposing sides for the Chiefs and Eagles in the 2023 Super Bowl, and their father understands their competitive nature.
"You're on an emotional teeter-totter," Harbaugh said. "You're up and down, up and down."
CBS, which was broadcasting that game, told the Harbaugh parents they wouldn't show them on camera during or immediately after plays, but coming out of timeouts and the like. They didn't want to give viewers the mistaken impression they were rooting for one son or another.
"You're sitting there and you realize that if you just wanted to scratch your head, or you had an itch somewhere and a play occurred, they would say, `Oh, I knew it! They prefer John over Jim, or Jim over John.' You just didn't want to make any movements. Scratches were out of the question."
Archie and Olivia Manning can attest to that. Their quarterback sons, Peyton and Eli, played each other three times. Peyton's teams beat Eli's Giants in all three, twice when he was with the Indianapolis Colts and once with the Denver Broncos.
When NBC got the rights to "Sunday Night Football" in 2006, it captivated the nation with the "Manning Bowl," Peyton versus Eli. The brothers' family, including parents Archie and Olivia, watched stone-faced from the Reebok box at Giants Stadium, careful to not show any emotion for the cameras.
"I told Olivia, `Those cameras are going to be on us, and we can't tell when they'll be on us,' " Archie said. "We're both pretty calm anyway. I never showed much emotion, and neither did Olivia. Now, I would get up from my seat and go pace around that stadium, looking for a lucky spot. But I didn't do that that night.
"The last thing that was going to happen to me is make it look like I was cheering for one child over another. And it was a pretty good football game. The Colts won, but both boys played well."
Here's everything you need to know about the 2023 Super Bowl, including start time, location, TV channel, streaming options and the halftime show.
The cameras showed the Manning family multiple times, as Archie was reminded over and over in the weeks to come.
"I cannot tell you how many people came up to me the next week and gave me the standard line: `Yeah, those cameras were on y'all , and y'all looked so miserable.' No, we weren't miserable, I'm just not getting caught. So it was probably pretty dull for NBC to keep showing us and we're not reacting."
Fast forward to the end of that season, when the Colts played the Chicago Bears in the Super Bowl. The plan leading up to the game was that Indianapolis would not be kicking the ball to ultra-dangerous Bears returner Devin Hester. No way. Keep it out of his hands.
Sure enough, the Colts send the opening kickoff directly to Hester — 92 yards, touchdown. Even though the Colts would wind up winning, that kick return was a potential spirit-snapper.
"I looked right at Olivia," Archie recalled. "We're face to face. And she goes, `Now I'm miserable.' "
Get our high school sports newsletter
Prep Rally is devoted to the SoCal high school sports experience, bringing you scores, stories and a behind-the-scenes look at what makes prep sports so popular.
You may occasionally receive promotional content from the Los Angeles Times.