MVP Patrick Mahomes can't be denied in gutsy Super Bowl comeback for Chiefs
GLENDALE, Ariz. — Patrick Mahomes was hobbled and hurting, but wasn't going to be denied.
With one of the most impressive and gritty performances in Super Bowl history, the two-time Most Valuable Player led the Kansas City Chiefs to a come-from-behind, 38-35 victory over the Philadelphia Eagles at State Farm Stadium. Mahomes, showing little evidence of an ankle injury that had him hobbled at halftime, threw a pair of touchdowns in the fourth quarter to guide the Chiefs to their second Lombardi Trophy in four years.
To do so, Kansas City had to knock off the mighty Eagles, who have a smothering defense and the best offensive line in football.
The fourth quarter was a coaching clinic by Kansas City's Andy Reid, who was head coach of the Eagles from 1999 to 2012. He is the only coach in NFL history with at least 100 wins for two different franchises.
Kansas City, which trailed by 10 at halftime and faced the sobering reality of a re-injured Mahomes, outscored the Eagles in the second half, 24-11.
Eagles take the high road on controversial holding penalty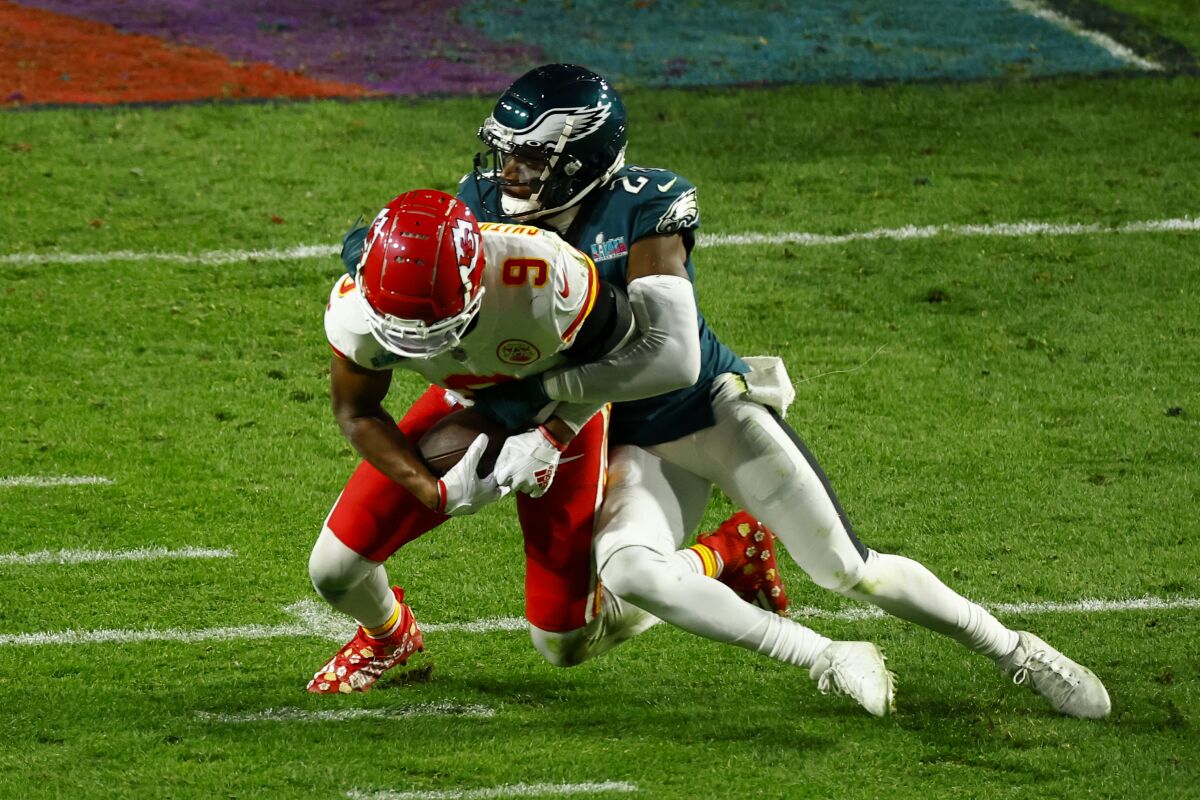 A costly holding penalty on Eagles cornerback James Bradberry on third down in the fourth quarter proved pivotal in helping the Kansas City Chiefs run down the clock and break a tie in the final seconds of a 38-35 victory in Super Bowl LVII.
While many on social media — including LeBron James — questioned the validity of the call, which led to a Chiefs first down, Bradberry said he was holding Chiefs wide receiver Juju Smith-Schuster when the flag was thrown.
"It was holding," Bradberry said, when asked by reporters about the penalty. "I tugged his jersey. I was hoping they would let it slide."
Eagles coach Nick Sirianni didn't blame the outcome of the game on the call.
"It's not my job to make the call," Sirianni said. "Those guys got to do that in split-second scenarios. That's what he saw, and he called it.
"I know it always appears to be that it's one call... that's not what it is. There are so many plays that contribute to the end result of the game, and today they were better than we were."