Chiefs' rookie-rich secondary reminds Ronnie Lott of 1981 champion 49ers
PHOENIX —
Ronnie Lott has seen this before. Likewise, Eric Wright and Dwight Hicks.
All were members of a secondary that included four rookies during the San Francisco 49ers' run to their first Super Bowl title to end the 1981 season.
So, none question the ability of a rookie-rich Kansas City Chiefs secondary that will try to neutralize the Philadelphia Eagles on Sunday in Super Bowl LVII at State Farm Stadium.
"You have to have people that are committed," said Lott, a Hall of Fame safety who was a rookie cornerback for the Super Bowl champions for the 1981 season. "As a rookie you are committed because you want to make the team, so you already have got the hunger of just wanting to belong."
Though his team is four decades removed from the '80s, Chiefs coach Andy Reid referenced the 49ers' Super Bowl-champion secondary to his staff after the Chiefs selected five defensive backs in the 2022 NFL draft.
Kyzir White started his career with the Chargers and wanted to end it with them, but he became a free agent, L.A. was not interested in re-signing him, so angered, he signed with the Eagles.
The Chiefs took cornerback Trent McDuffie in the first round, safety Bryan Cook in the second, cornerback Joshua Williams in the fourth, and cornerback Jaylen Watson and safety Nazeeh Johnson in the seventh.
In the AFC championship game against the Cincinnati Bengals, McDuffie and Watson started, and Williams and Cook also played key roles for a defense that lost veteran cornerback L'Jarius Sneed because of a concussion on the fourth play.
Watson intercepted a pass, and Williams intercepted a pass that was tipped by Cook in a 23-20 victory that put the Chiefs in the Super Bowl for the third time in four seasons.
"These guys are very gifted athletes, very talented to start with," Reid said this week, adding, "These kids have been willing to listen and gain knowledge. … They work hard, they want to be good, and every week they've gotten a little bit better."
That progression resonates with the former 49ers' experience.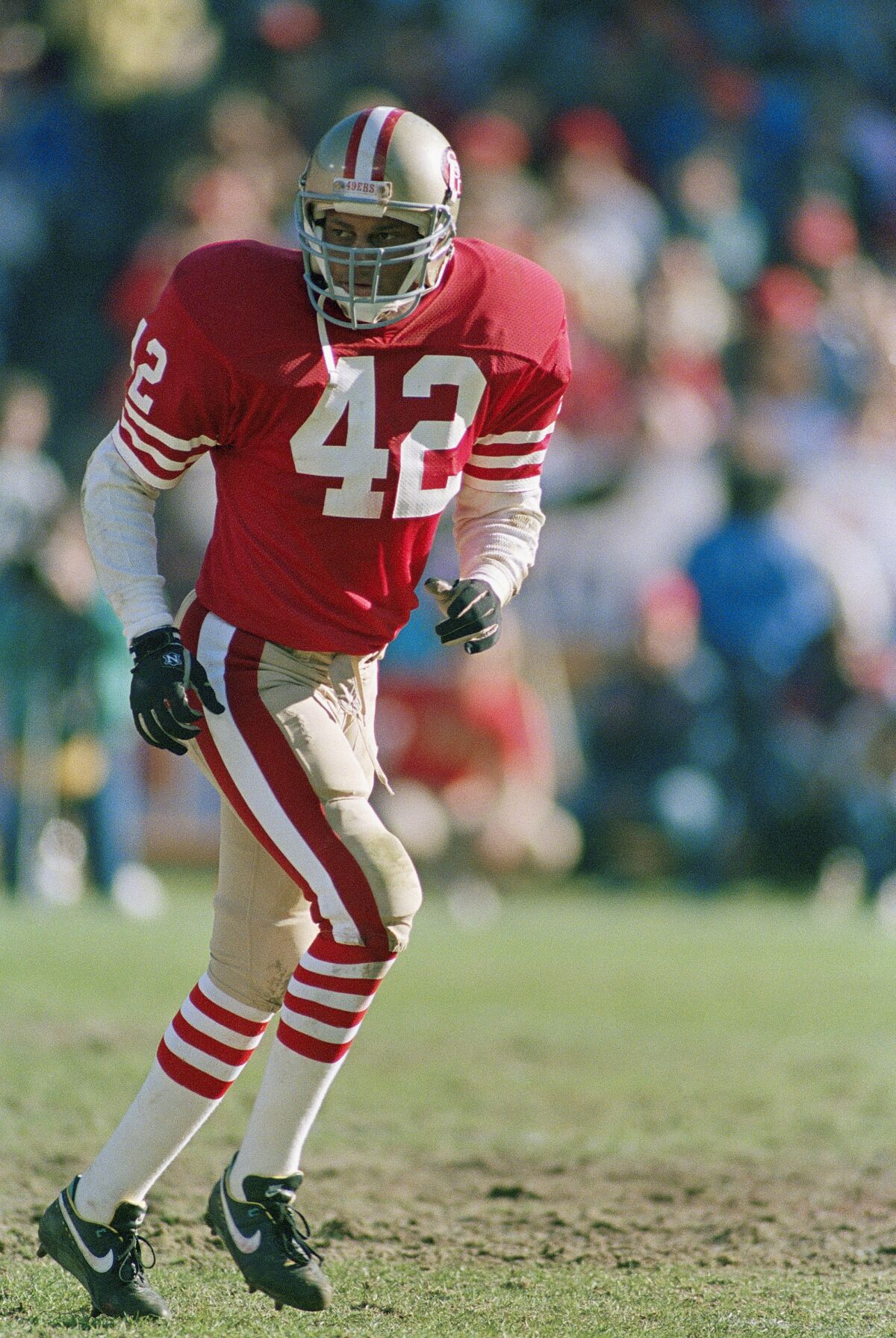 Lott was selected in the first round of the 1981 draft, Wright the second, safety Carlton Williamson in the third and cornerback Lynn Thomas in the fifth.
Hicks, a third-year pro, provided leadership and a veteran presence for a group coached by George Seifert and Ray Rhodes.
"We were taught to be physical, to be a pain in the ass on the receivers and knock the [crap] out of them," Wright said. "And when they caught the ball, we wanted to let them know that was going to happen every snap.
"That's what we were coached to do, and the game plan we had implemented."
Hicks said he knew during training camp that his rookie teammates would be fine. His main job was to make sure they were in the correct alignments. The players were so talented, Hicks said he told them they should negotiate future contracts collectively, not as individuals.
"They looked at me like I was nuts," said Hicks, who had nine interceptions that season. "In 1984, we all made the Pro Bowl. I knew they were going to be good. I knew they would compete."
In their 26-21 Super Bowl XVI victory over the Cincinnati Bengals, Hicks and Wright intercepted passes. Wright also forced a fumble. Lott was in on the final stop of a legendary goal-line stand.
On Sunday, the Chiefs will be counting on their young defensive backs to make plays against Eagles quarterback Jalen Hurts and a receiving corps that includes A.J. Brown and DeVonta Smith.
Long before advancing to the Super Bowl in Arizona to play the Kansas City Chiefs, the Philadelphia Eagles were close to calling Phoenix their new home.
Chiefs quarterback Patrick Mahomes said the potential of the rookie defensive backs was obvious from their first workouts.
"McDuffie seemed like he was a vet the moment he stepped on the football field and so I knew he was going to be a great player," Mahomes said. "And then you could see the talent, especially out of Watson, Williams and Cook, those guys were super talented from the day they got there, and you just knew they had to refine the technique. ...
"They took coaching well, worked their tails off and now they're on this stage."
Dave Merritt, the Chiefs' defensive backs coach, said the rookies came in "so green" but were given "simple tools" to build upon. He compared the process to training toddlers, and he indicated he does not want his charges to overthink the moment.
"All of sudden they're rookies and they're here at the Super Bowl — it's like 'how did we get here?' " Merritt said, chuckling. " 'Don't worry about it. Stay asleep, stay asleep until the end of the game. After the game, we'll talk about it.'
"We have them hypnotized, man. So, we're fooling them. We're tricking them all. Right now, it's just been beautiful to see them grow."
Watson, 24, is in the Super Bowl three years after pondering his future while working at a Wendy's restaurant in Augusta, Ga.
After playing two seasons at Ventura College, Watson's plan to transfer to USC went awry because of academic requirements. He spent the fall of 2019 working alongside his mother and took online classes so he could transfer to Washington State.
"It was a great learning experience," he said.
When the rookie defensive backs showed up for minicamp, Watson said he knew it was a special group.
As Chiefs quarterback Patrick Mahomes readies to play in the 2023 Super Bowl with an injured ankle, Rams legend Jack Youngblood recalls playing with a broken tibia.
"It was good having four other people that you could communicate with and, if you're struggling with the playbook, we're all there struggling together, getting it together," he said. "So, it helped out a lot."
Said Cook: "Everybody was just, 'How do we do this?' And leaning on our brothers next to us. It was a phenomenal thing, and it still is."
In September against the Chargers, Watson returned an interception 99 yards for a touchdown. McDuffie came back from an early season hamstring injury and developed into a lock-down defender.
"We know we're rookies," McDuffie said. "We know, yeah, we're new to this. But at the end of the day our confidence and knowing the defense takes over."
The former 49ers said the Chiefs rookies will need to settle in and not be overwhelmed by the excitement and spectacle of the Super Bowl.
Travis and Jason Kelce are on opposing sides for the Chiefs and Eagles in the 2023 Super Bowl, and their father understands their competitive nature.
"They've got to be patient in this game," Lott said. "They've got to know that they don't have to make every play. You can't miss a tackle. You just got to do all the things you've done all year long."
Watson said he was confident he and his teammates would rise to the occasion.
"We feel like this is what we were made for," he said. "We knew drafting five rookies, that was historic, and we still want to reach the ultimate goal and that's here.
"One more game and get the job done."
Get our high school sports newsletter
Prep Rally is devoted to the SoCal high school sports experience, bringing you scores, stories and a behind-the-scenes look at what makes prep sports so popular.
You may occasionally receive promotional content from the Los Angeles Times.