Rams' Gerald Everett gets to show off athleticism in front of hometown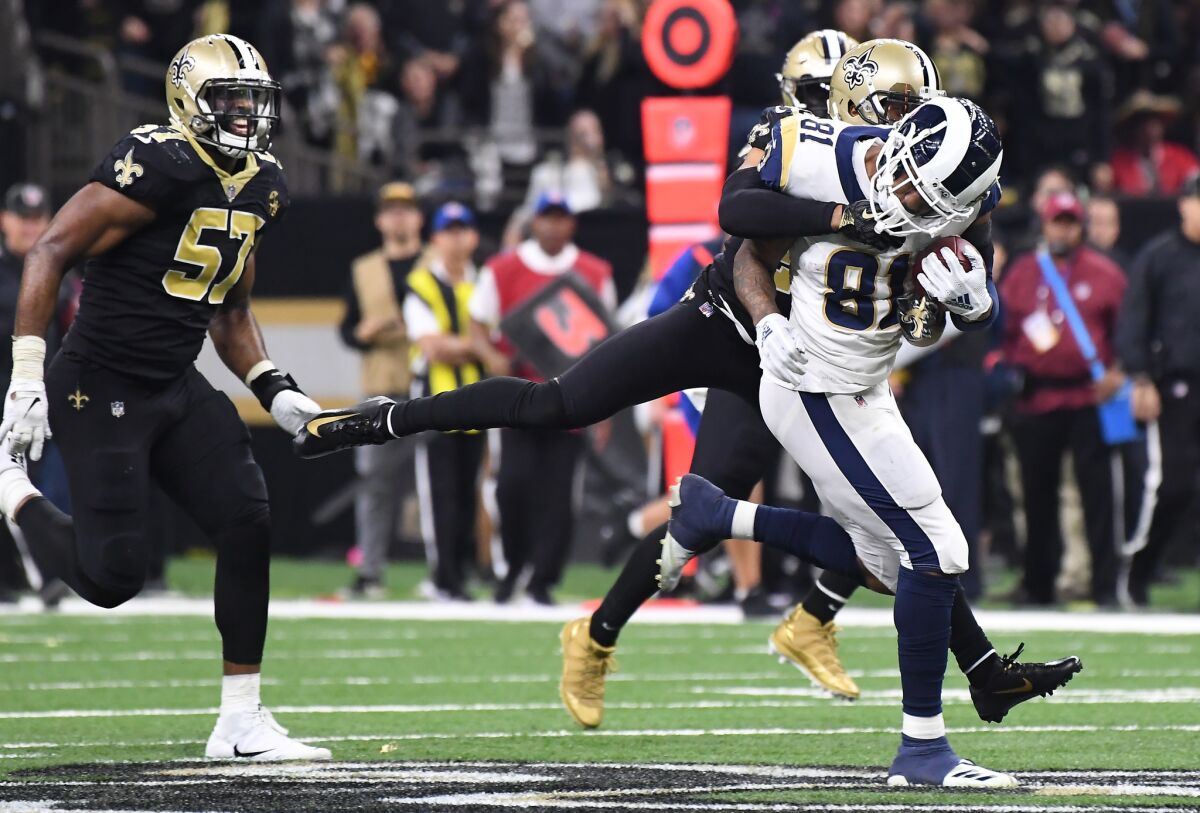 Reporting from atlanta —
The athleticism that attracted the Rams to tight end Gerald Everett was on full display throughout the season.
The second-year pro caught a pass from behind the line of scrimmage and powered his way across the goal line for a two-point conversion. He dived for a short touchdown reception, carried the ball on fly sweeps and jetted past a defensive back for a long touchdown catch, tiptoeing the final five yards along the sideline to stay in bounds.
But Everett's agility and body control were perhaps never more evident than after Greg Zuerlein kicked a game-winning field goal in the NFC championship game.
The 6-foot-3, 240-pound Everett dashed from the sideline, took about a dozen loping strides, and then hurdled over stunned and squatting New Orleans Saints linebacker A.J. Klein. Everett continued on his way to celebrate with teammates.
The victory sent the Rams to the Super Bowl in Atlanta, near Everett's hometown of Lithonia, Ga.
On Sunday, the Rams will play the New England Patriots in Super Bowl LIII at Mercedes-Benz Stadium. Not surprisingly, Everett has been inundated with phone calls and texts from Atlanta area codes.
"It's been crazy, to say the least," Everett said after the Rams' final practice in Thousand Oaks. "Didn't expect that many people to contact me, but sure enough they did."
Everett's journey from Atlanta to the Rams and back to Atlanta for the Super Bowl included several high school and college transfers, a rookie season of acclimation, and a training camp shoulder injury that slowed his progress.
But he began hitting his stride about midseason and has become a key component for a team that dispatched the Dallas Cowboys and the Saints en route to the NFL's biggest stage.
Rams coach Sean McVay said Everett was developing into the player the Rams envisioned after he impressed them with his smarts and physical talent as a college senior.
"He's a great player," McVay said. "He's getting better and better, and he's only going to become more important to us as he gains that experience."
Everett, 24, said he played recreational-league football while growing up but he did not play the sport in high school until his senior year. Everett played basketball and participated in track and field for three years at Martin Luther King High in Lithonia before transferring to Columbia High in Decatur, Ga., where he starred for the football team.
"I was just trying to get a scholarship senior year, get one more shot," he said. "And that's literally how it was and looked up from there."
Everett made college stops at Hutchinson Community College in Kansas, Alabama-Birmingham and South Alabama, developing into a catch-and-run threat with pro potential. The Rams, without a first-round pick in the 2017 draft, selected Everett in the second round with the 44th pick.
Everett caught 16 passes for 244 yards and two touchdowns as a rookie, and had 33 receptions for 323 yards and three touchdowns this season.
In the NFC championship game, Everett caught two passes. The first helped set up a second-quarter field goal, the Rams' first points after falling behind 13-0. In the fourth quarter, he caught a midrange pass from quarterback Jared Goff in front of the Rams bench, and then raced diagonally for a 39-yard gain. The play set up a field goal that tied the score 20-20.
"We can exploit some different things with lesser athletes on him," Goff said.
Said McVay: "Very rarely can I think of any time I've seen the first player take him down in the open field."
Everett is looking forward to playing in the Super Bowl close to home. But he considers it a business trip.
"I feel like we worked really hard to get to this point, and we expected to be here and we're fortunate to have the opportunity," he said, "but we want to finish the story."
— Gary Klein
Captain Chung
Veteran safety Patrick Chung was selected as one of New England's captains this season for the first time in his 10-year career.
Coach Bill Belichick praised Chung last week for being a "great influence" and "role model" for the rest of the Patriots.
Chung responded to the kind words by explaining that he's "more of just a play-ball [guy]" and not someone who's into "talking and doing all that stuff."
Then, on Sunday, Chung started talking and doing all sorts of stuff.
During a rally at Gillette Stadium before the team departed for Atlanta, Chung united the crowd in a passionate "Beat L.A." chant before announcing, "We're gonna go down there and kick their ass, baby."
While it's unlikely the Rams will need extra motivation in preparing for Super Bowl LIII, Chung's bold proclamation was notably un-Patriot-like and something Belichick certainly didn't need to hear.
The players for both teams will make their first appearances before the media in Atlanta on Monday night, the occasion sure to feature plenty of reaction to what Chung had to say.
A second-round pick of New England in 2009, Chung has spent nine of his 10 years with the Patriots, finishing this season with 84 combined tackles. He played at Rancho Cucamonga High and Oregon.
Pulling for Patriots
He has to share a city with the Rams and that's enough for Melvin Gordon to be a Patriots fan this week.
The Chargers running back, speaking to SiriusXM Satellite Radio at the Pro Bowl in Orlando, said he'll be rooting for New England in the Super Bowl.
"I don't want the Rams to win," Gordon said. "I don't have to … I live in L.A. Y'all know I live in L.A., and I've got to hear that all day. I need them to lose. I don't care where y'all put me on TV saying this. I need them to lose."
He went on to explain that his feelings are not personal but provincial, this part of the battle for L.A. all about who gets to talk the most after the season.
"I love the guys over there," Gordon said. "I'm cool with Todd (Gurley). I'm cool with all them boys. But, man, I need them boys to lose."
— Jeff Miller
Sign up for our daily sports newsletter »
Follow Gary Klein on Twitter @latimesklein
---
Get our high school sports newsletter
Prep Rally is devoted to the SoCal high school sports experience, bringing you scores, stories and a behind-the-scenes look at what makes prep sports so popular.
You may occasionally receive promotional content from the Los Angeles Times.