Robert Woods' valuable role for Rams driven by inspiration from his late sister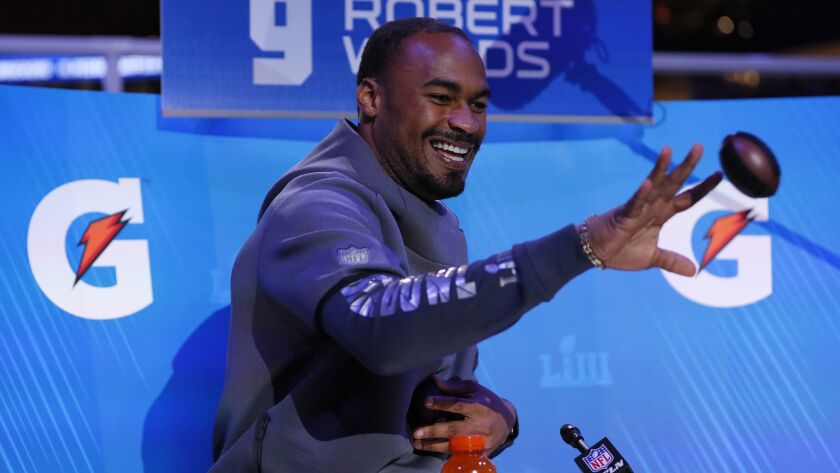 Reporting from atlanta —
The versatile Rams receiver who celebrated one touchdown this season by high-fiving rap star YG and another by pantomiming a Champagne toast with a teammate has no plan for what he'll do if he scores in the Super Bowl against the New England Patriots.
"I don't know, I haven't been in this moment," said Robert Woods, who should figure prominently in the game plan Sunday. "I'll have to get to the end zone and see how it goes."
Woods wants to be spontaneous, to let his emotions dictate any celebration in Mercedes-Benz Stadium, but his pregame ritual will be more choreographed and somber.
Woods, as he does before every game, will kneel in prayer in the end zone. Then he'll rise, stretch his arms above his head to form a big "O" and point to the sky to his big sister, Olivia, who died of cancer in 2007 at 17, when Woods was a 15-year-old freshman at Serra High School in Gardena.
It was Olivia Woods who taught Robert how to hit when he was struggling with baseball, who helped Robert with his math homework, who, in the days before her death, encouraged Robert to be a role model, and whose memory continues to drive the former USC standout.
"She still inspires me to compete every day, to keep striving to get to this point," Woods, 26, said. "There have been a lot of ups and downs in football, but to persevere and get to the highest level of the sport is big."
The 6-foot, 195-pound Woods has had the size, speed, hands, route-running and blocking ability to succeed at every level, but his timing — at least, until this season — hasn't been great.
Woods grew up watching running back Reggie Bush and receiver Steve Smith star at USC, and he committed to the school before his senior season at Serra in 2009.
His visions of playing in Pete Carroll's high-flying offense were dashed in January 2010 when the coach left USC for the Seattle Seahawks.
His hopes of competing for a national title right away were dashed the following June when the NCAA slapped USC with a two-year bowl ban and other penalties for improper benefits given to Bush, the former Heisman Trophy winner.
"When Pete Carroll decided to leave, I thought about leaving for about an hour," Woods said of his USC commitment. "But I just couldn't see myself playing somewhere else."
Woods caught 65 passes for 792 yards and six touchdowns as a freshman in 2010, with 224 of those yards, 12 of the catches and three of the scores coming in one game against Stanford.
He earned All-America honors as a sophomore in 2011 with 111 receptions for 1,292 yards and 15 touchdowns and was primed for glory in 2012, with the bowl ban lifted and USC, under coach Lane Kiffin, ranked No. 1 in preseason polls.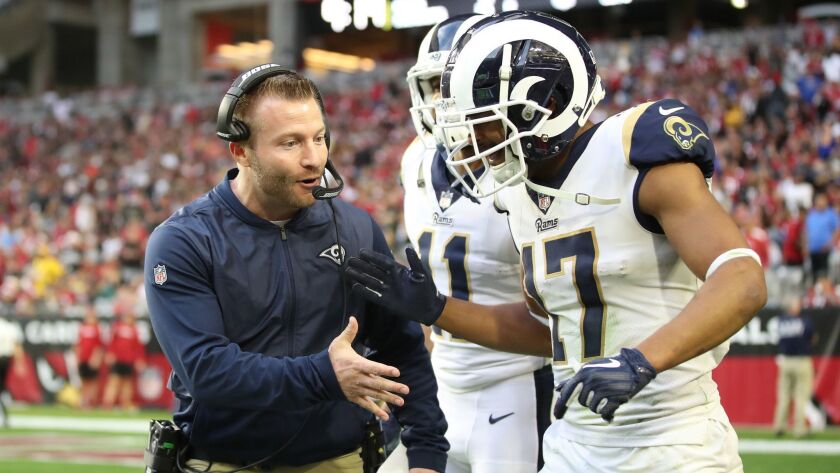 But the Trojans did a face plant after a 6-1 start, losing five of six games — including a 21-7 loss to Georgia Tech in the Sun Bowl — to finish 7-6. Woods, slowed by an ankle injury that season, caught 76 passes for 846 yards and 11 touchdowns.
Woods turned pro in 2013 and was a second-round pick of the Bills, catching 203 passes for 2,451 yards and 12 touchdowns in 57 games over four solid-but-not spectacular seasons (2013-16) in Buffalo, where he spent as much time blocking as he did catching passes.
He signed a five-year, $39-million deal with the Rams on March 11, 2017, believing he would be more of a featured receiver in new coach Sean McVay's offense.
"My biggest thing in free agency was to have an opportunity to be a pass-catcher," Woods said. "Coming to L.A., I tried to get my career kick-started."
Sign up for our daily sports newsletter »
Five months after he signed, the Rams traded for receiver Sammy Watkins, Woods' teammate in Buffalo. The Rams let Watkins go after 2017, opening the door for Woods to be quarterback Jared Goff's primary target. Then they acquired Brandin Cooks from the Patriots last April and signed the speedy receiver to a five-year, $80-million extension.
Woods kept his head down, his mouth shut and emerged as a rock-steady performer this season, catching 86 passes for 1,219 yards and six touchdowns, and rushing 19 times for 157 yards and a touchdown. Cooks hauled in 80 passes for 1,204 yards and five scores.
"There are some great receivers in this league, but with what we ask Robert to do, whether it's being an outstanding receiver who can run all of the route tree, separate against man-to-man coverage, go down field and catch deep balls, carry the ball on jet sweeps … I can't put into words how valuable he is," McVay said.
"The way he comes into work every single day has been impressive, and we're so thankful to have him. He's done such a great job in so many ways that don't show up, even though he's had great production with 1,200-plus yards and all that."
When slot receiver Cooper Kupp suffered a season-ending knee injury in mid-November, Woods began taking more snaps in the slot so the Rams could start Josh Reynolds outside.
Woods had done some of his best work in the clutch, tied for 12th in the NFL with 18 third-down conversions. He tied for eighth in the league with 20 catches of 20 yards or more and 66 first downs.
Woods remains an enthusiastic blocker "with that gritty toughness that you like in a fullback," Rams passing game coordinator Shane Waldron said. Woods has used that physicality to rank 25th in the NFL with 417 yards after the catch.
Reynolds caught 22 passes for 304 yards, an average of 13.8 yards per reception, in the final six regular-season games and four passes for 74 yards in the NFC title-game win over New Orleans.
"That just shows you how smart and unselfish of a player he is to be able to go from one position to another and learn all kinds of new techniques," Reynolds said of Woods. "It's a we're-all-in-this-together mentality. One guy goes down, another steps up, or you might have to move somewhere to free up space. He's just a great athlete, a great player with a great football IQ."
Twitter: @MikeDiGiovanna
---
Get our high school sports newsletter
Prep Rally is devoted to the SoCal high school sports experience, bringing you scores, stories and a behind-the-scenes look at what makes prep sports so popular.
You may occasionally receive promotional content from the Los Angeles Times.