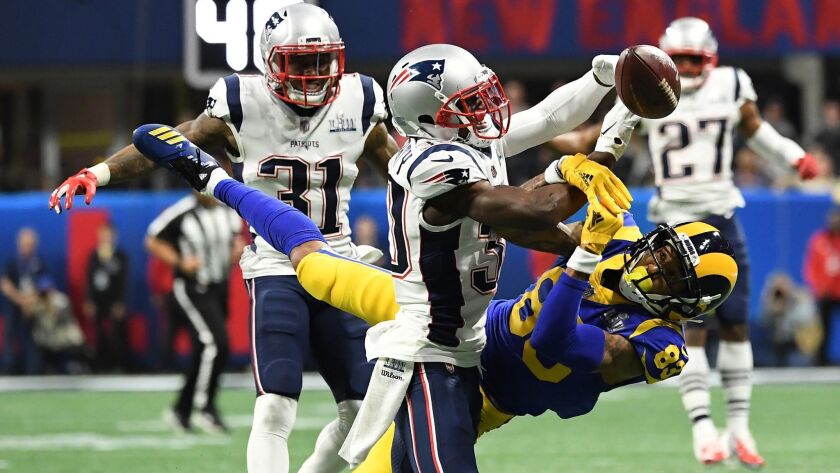 The Los Angeles Rams struggled offensively and failed to rally late in their 13-3 loss to the New England Patriots in Super Bowl LIII at Mercedes-Benz Stadium in Atlanta on Sunday.
Our recap of the game follows links to Gary Klein's game story and columns by Bill Plaschke and Dylan Hernandez:
Rams far from Super in 13-3 loss to Patriots
The greatest quarterback in Super Bowl history had just engineered one of his patented fourth-quarter drives for the New England Patriots.
Now it was Rams quarterback Jared Goff's turn to show he could match the ageless Tom Brady.
With seven minutes left in Super Bowl LIII, Goff moved the Rams down the field, but a pass under pressure was intercepted by Stephon Gilmore, and the Rams' fate was all but sealed.
On a night when the Rams high-powered offense never got going, Brady led the Patriots to a 13-3 victory before 70 081 at Mercedes-Benz Stadium, further etching his name into Super Bowl lore.
The Patriots' sixth Super Bowl title under coach Bill Belichick ties the Pittsburgh Steelers for the most in NFL history .Brady's sixth Super Bowl win is the most by any player in history.
The loss ended an otherwise impressive season for the Rams and second-year coach Sean McVay.
—GARY KLEIN
Plaschke | Nothing beats experience as Patriots down Rams in Super Bowl
Tom Brady was legendary. Jared Goff was lost.
Brady raised his hands into the air. Jared Goff banged his hands against his helmet.
Brady swaggered off the field in the arms of his teammates. Goff remained stuck on the bench, frozen under his helmet.
In the final frazzled minutes of Super Bowl LIII on Sunday, Brady threw the New England Patriots into a seven-point lead.
— BILL PLASCHKE
Hernandez | Jared Goff's inexperience was exposed
Jared Goff wasn't ready. He wasn't close to ready.
The reality started setting in with every pass he missed, with every third down the Rams failed to convert.
And the reality was downright inescapable when Goff was forced by a safety blitz into throwing a fourth-quarter pass into the hands of cornerback Stephon Gilmore, ending any fantasy of a Rams comeback.
With Goff completing only 19 of 38 passes for 229 yards, the Rams were defeated by the New England Patriots 13-3 in Super Bowl LIII on Sunday.
—DYLAN HERNANDEZ
Patriots defeat Rams, 13-3, for their sixth Super Bowl title
The New England Patriots defeated the Rams 13-3 in Super Bowl LIII to claim their sixth NFL title.
Coach Bill Belichick and quarterback Tom Brady also won their sixth Super Bowls in their ninth appearance in the championship game.
The Patriots scored the first touchdown of the game with seven minutes remaining in the fourth quarter to claim a 10-3 lead. Kicker Stephen Gostkowski then made a 41-yard field goal with just over a minute left to bolster the Patriots' lead.
Brady connected with Rob Gronkowski twice for 47 yards in the drive, then rookie running back Sony Michel scored on a two-yard run.
The Rams' high-powered offense was held in check and did not score until kicker Greg Zuerlein connected on a 53-yard field goal late in the third quarter.
Rams trail Patriots, 10-3, late in fourth quarter
The Patriots brought a timely blitz. Jared Goff saw the pressure coming and took a shot.
Goff's pass floated to Patriots cornerback Stephon Gilmore. He stopped chasing Brandin Cooks and instead leapt in the air to snag the Patriots' first turnover of the game with 4:17 remaining.
The Rams had driven the ball 69 yards to New England's 27-yard line looking for the game-tying score. They took two shots deep to Cooks, but Gilmore grabbed his arm to keep him from hauling in the first one. Goff's second pass never got deep enough for Cooks to have a shot at it, and Gilmore picked him off on the four-yard line.
The Rams now have to try to get the ball back with two timeouts and the two-minute remaining.
Shotgun Spratling | 6:46 p.m.
Patriots score touchdown in fourth quarter to take 10-3 lead
Rob Gronkowski had basically disappeared. He limped off in the first half following a four-yard catch and hadn't made an impact since.
He was saving his best for the fourth quarter.
Gronkowski had two catches for 47 yards, setting up a two-yard touchdown run by rookie Sony Michel that gave the Patriots a 10-3 lead with seven minutes remaining.
Gronkowski's first catch went for 18 yards after he faked like he was blocking and then leaked out and ran past a linebacker on the right side. Julian Edelman added to his reception and yardage totals with a 13-yard catch, giving him 10 catches for 141 yards.
The Patriots ran similar plays on three straight snaps, taking advantage of man coverage from the Rams. On the third, linebacker Cory Littleton was slow to adjust to the Patriots' formation before the snap after a defensive miscommunication. He didn't get set before trying to guard Gronkowski running up the seam on the left side.
Tom Brady fluttered a perfect pass over the top of Littleton before the safety could come across the formation, and Gronkowski made a diving catch at the 2-yard line. Michel punched it in on the next play for the lead.
Shotgun Spratling | 6:36 p.m.
Rams tie game on Greg Zuerlein's field goal
It seemed like it would never happen.
Having failed to do anything positive on the offensive side of the football, the Rams finally came to life behind the arm of quarterback Jared Goff. Goff completed three of four passes, including his first completion on third down, to move the ball into scoring position and despite a sack, Greg Zuerlein nailed a 53-yard field goal to tie the game.
Goff opened the drive with a seven-yard pass to Josh Reynolds. He hit Brandin Cooks for a 15-yard pickup two plays later for the Rams' first back-to-back first downs of the night. It was the first time they have had multiple first downs on a drive.
They soon picked up another first. Goff connected with Robert Woods for 18 yards on third-and-six for their first third-down conversion of the night. Los Angeles got the ball down to the 26-yard line, but Goff was sacked for a nine-yard loss on third down.
Goff was four for six for 43 yards on the drive.
Shotgun Spratling | 6:06 p.m.
Johnny Hekker boots Super Bowl-record 65-yard punt; Rams still trail, 3-0, in third quarter
Rams punter Johnny Hekker has been one of the Rams' most effective weapons in Super Bowl LIII and now he has multiple records to show for it.
Hekker's eighth punt of the night — on the Rams' eighth possession — went a Super Bowl record 65 yards. The Rams and Hekker are also the first team to punt on their first eight possessions of the game.
Nearly half of the way through the third quarter, the Rams have only three first downs. They have gained just 82 yards, or 10.25 yards per drive. They've gained just 2.7 yards per play. The Patriots have gained 236 yards but still only hold a 3-0 advantage.
Shotgun Spratling | 5:55 p.m.
Patrick Chung exits game for Patriots after suffering arm injury
The Patriots lost a key defensive player when veteran safety Patrick Chung left the game with an air cast on his right arm during the third quarter. Chung's arm was sandwiched between Rams ballcarrier Todd Gurley and a Patriots defender trying to make the tackle.
He was officially ruled out a short time after leaving the field for the locker room.
Gurley picked up more yards on back-to-back runs on the Rams' opening drive of the second half than he and C.J. Anderson combined for the first 30 minutes of the game. Gurley ran for 10 yards on three carries in the first half. He broke off a game-best 16-yard run and then gained five yards before being tackled by Chung and Jonathan Jones.
Shotgun Spratling | 5:43 p.m.
Patriots lead Rams after second-lowest scoring half in Super Bowl history
The Patriots dominated the first half of Super Bowl LIII, but only hold a 3-0 lead on the Rams at halftime. It is the second-lowest scoring first half in Super Bowl history.
New England drove the ball to at least the 40-yard line on the Rams' side of the field on five of its first six possessions before taking a knee on the final play of the half. Each time though, the Rams defense found a way to minimize damage.
Nickell Robey-Coleman tipped a pass that was caught by Cory Littleton for an interception on the game's opening drive. Stephen Gostkowski missed a 46-yard field goal attempt. John Franklin-Myers got the first postseason sack against the Patriots this season and forced a punt. And the Rams got a turnover on downs when Tom Brady couldn't connect with Rob Gronkowski in the final two minutes.
Brady has completed 15 for 25 passes for 160 yards with the interception. He is only eight for 16 when targeting anyone other than Julian Edelman.
Edelman is well on his way to MVP honors, if the Patriots can win the Lombardi Trophy. He has seven catches on nine targets for 93 yards through a half of play. Six of his catches have picked up first downs. He is the first player in Super Bowl history with at least seven receptions and 75 yards in the first half. His seven receptions are a first half record.
Edelman has outgained the Rams' high-powered offense. Los Angeles has managed just 57 total yards.
Jared Goff completed five of his 12 pass attempts and has thrown for 52 yards. He was sacked for a 14-yard loss on a promising Rams' drive, pushing them out of Patriots' territory.
Shotgun Spratling | 5:10 p.m.
Rams get important fourth-down stop just before halftime
The Rams defense continues to bend but not break.
They stopped the Patriots on a fourth-and-one play at the Rams' 32-yard line with 1:16 left in the first half.
Tom Brady tried to connect with Rob Gronkowski. Rams linebacker Cory Littleton got a hand on the ball and John Johnson III was all over the Patriots' tight end to keep him from making the catch.
The Patriots could have tried to kick a field goal for a potential 6-0 lead, but chose not to rely on Stephen Gostkowski, who missed his first attempt and skated one just inside the uprights on his second.
Shotgun Spratling | 5:01 p.m.
Rams still sputtering in second quarter, trail Patriots, 3-0
Johnny Hekker has been a busy man…and that's not a good thing. The Rams have been unable to find consistency on offense during their first four drives of the game.
They have gained just 55 yards with two first downs.
Jared Goff has struggled, connecting on only four of his first 10 passes for 38 yards while Todd Gurley's contributions have been non-existent. Gurley ran for two yards on the team's first play from scrimmage and has not touched the ball since.
One positive is the Rams have followed this pattern before, coming to life in the second quarter of their first two postseason games after trailing Dallas, 7-3, and New Orleans, 13-0.
Shotgun Spratling | 4:41 p.m.
Patriots get on scoreboard, take 3-0 lead over Rams in second quarter
New England scores the first points of the game on a 42-yard field goal by Stephen Gostkowski. The Patriots' fourth drive followed a similar pattern of the first three. They moved the ball to at least the Rams' 40-yard line, only to have the drive stall out.
Tom Brady connected with Julian Edelman on a third-and-one pass play to pick up 25 yards to get into scoring range when things faltered. A jet sweep attempt by Cordarrelle Patterson went no where. Brady couldn't connect on a short throw to Chris Hogan. He did hit Rob Gronkowski to his left for four yards. The Rams defense rallied to the ball to combo-tackle Gronkowski, hitting him high and low short of the first down.
Gronkowski limped off after the play while Gostkowski jogged on. He kept the ball just inside the upright after missing outside of the post a quarter earlier.
Shotgun Spratling | 4:25 p.m.
Rams remain tied with Patriots, 0-0, at start of second quarter
The Rams continue to play with fire.
For the third straight game, the Rams' offense has struggled to get anything going in the first quarter. However, unlike in their wins over the Cowboys and Saints, the Rams are not facing a first quarter deficit. The Patriots have driven the ball inside Rams' territory three times but have nothing to show for it as the game remains scoreless.
Just before the end of the quarter, New England moved the ball past the 50-yard line for the third time. Julian Edelman had two catches for first downs to move the ball beyond the midfield stripe.
The Rams defensive line responded with two big plays.
John Franklin-Myers fought through the block of John Thuney to create a strip sack — the first sack New England's offensive line had allowed this postseason, on their 100th pass play. The Patriots recovered the fumble, but lost nine yards. Aaron Donald fought through a block to reach Brady two plays later. He didn't get a sack, but his pressure forced an incompletion and a punt.
This is the ninth game in Super Bowl history that went scoreless in the first quarter. New England has gone scoreless in the Super Bowl five times in the first quarter before going on to win four of those games.
Shotgun Spratling | 4:19 p.m.
Patriots kicker Stephen Gostkowski misses field-goal attempt, game tied 0-0
The New England Patriots missed out on an early opportunity for a 3-0 lead when Stephen Gostkowski's 46-yard attempt wobbled left of the uprights. No kicker had missed a field goal at Mercedes-Benz Stadium this season. They had been a perfect 31 for 31.
The Rams dodged a bullet after a questionable penalty helped jumpstart the Patriots' drive.
Los Angeles appeared to have forced a third-and-long when Nickell Robey-Coleman came up to lay a hard hit on Rex Burkhead behind the line of scrimmage. But instead of a four-yard loss and a third-and-18 due up, Robey-Coleman was flagged for unnecessary roughness against a defenseless receiver.
Shotgun Spratling | 4 p.m.
Rams' Nickell Robey-Coleman lets Tom Brady know who he is
The nation learned who Nickell Robey-Coleman was the last two weeks after his hit on Tommylee Lewis was not flagged late in the Rams' NFC championship win over the Saints. For two weeks, people questioned him about the play, his subsequent Facebook video where he said he "smacked" Lewis and put him "on a Waffle House frying pan and quotes that surfaced about Tom Brady's age.
Brady learned about Robey-Coleman on his first pass of the game when the Rams slot cornerback undercut a throw intended for Chris Hogan. Robey-Coleman tipped the ball up in the air and linebacker Cory Littleton slid to catch an interception to end a promising Patriots opening drive that had gone 27 yards on the first four plays.
It was the first time in Brady's historic postseason career that he has thrown an interception on his first pass of the game.
Unfortunately, the Rams went three-and-out on their first possession.
Shogun Spratling | 3:40 p.m.
Rams win coin toss, defer to Patriots
Rams captains Johnny Hekker, Todd Gurley, Andrew Whitworth, Aqib Talib, Michael Brockers and Jared Goff got the first win of the night for the Rams after Matthew Slater called heads on the coin flip.
Los Angeles chose to defer to the second half, so New England will get the opening kickoff. It's a gamble for Sean McVay and the Rams to hand the ball to Tom Brady first as the Patriots have had success with the ball in their hands early in games.
Shotgun Spratling | 3:34 p.m.
The Patriots and Rams take the field
We're getting closer to kick off. The Patriots and Rams have taken the field at Mercedes-Benz Stadium in Atlanta.
There were questions throughout the week about whether sunlight would peak through the Mercedes-Benz Stadium ceiling. After fears of snow and ice in Atlanta early in the week and some early morning showers Sunday, it is now 65 degrees and sunny.
The decision has been made to open up the stadium's retractable roof, so fans will get an opportunity to see the flyover of six F-16 Fighting Falcons that is expected.
Shotgun Spratling | 3:19 p.m.
Wade Phillips makes a Bum fashion statement upon arrival
Los Angeles Rams defensive coordinator Wade Phillips is a social media master and one heck of a defensive mind. He's also the son of legendary Houston Oilers coach Bum Phillips, a man whose passion for football was only matched by his whopping persona.
Wade Phillips honored his late father by wearing his trademark coat and Cowboy hat while walking into Mercedes-Benz Stadium before Sunday's game against the New England Patriots in Super Bowl LIII. Will the football gods show more Luv ya Blue (and yellow) respect to the Rams?
---