Andrew Whitworth wants Rams to be stubborn vs. Patriots in Super Bowl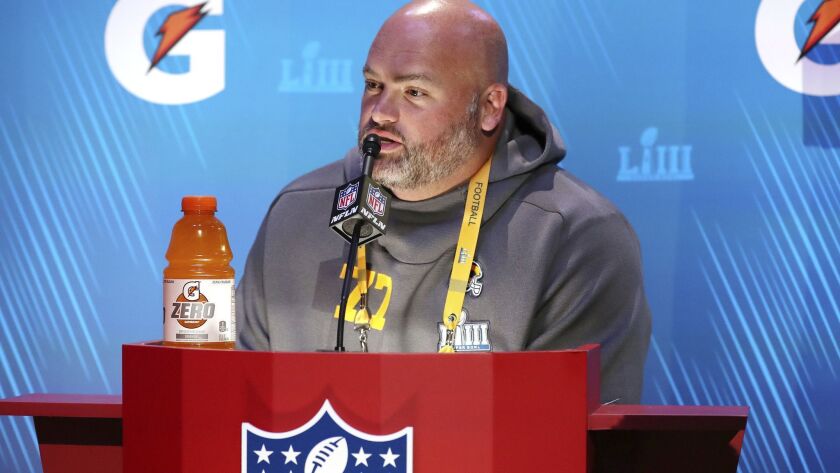 The first quarter has not been favorable for the Rams in the playoffs. They trailed New Orleans, 13-0, in the NFC championship after falling behind, 7-3, against the Dallas Cowboys a week prior.
Andrew Whitworth, a 13-year offensive line veteran playing in his first Super Bowl, isn't worried a slow start on Sunday could derail the Rams' chances.
"It's just executing to a certain level. That's NFL football," Whitworth said of the Rams' slow playoff starts. "You've got to stay diligent and realize that if you continue to execute over and over again, eventually things will crack and break your direction."
Patience will be key for the Rams offense.
In a win against the Detroit Lions early this year, the Rams offense sputtered early until they focused on the ground and pound. Todd Gurley finally got back-to-back carries for the first time nearly midway through the second quarter and suddenly the offense took off. The Rams didn't punt again until the fourth quarter.
Whitworth sees that as a reminder that they should be obstinate with the run game and sees similarities between the team headed by former Patriots defensive coordinator Matt Patricia and the Bill Belichick-run crew he'll face on Sunday.
"Similar defense, going to play some of the same principles," Whitworth said. He added that the Rams must "continue to stay stubborn and realize that eventually something will happen for us if we really continue to do things the right way. … You just got to stick with it and continue to try to execute it the way you need to."
---
Get the latest on L.A.'s teams in the daily Sports Report newsletter.
You may occasionally receive promotional content from the Los Angeles Times.