Earl Watson wants UCLA to revive its glory days even if he isn't coaching the Bruins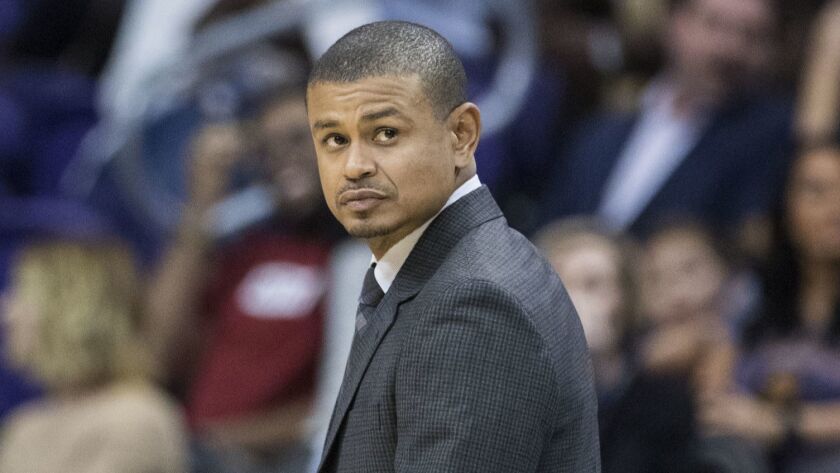 If it isn't him, and UCLA passes on a native son to go with a sexier name, Earl Watson will be just fine.
His only request of the Bruins' search committee is to land a basketball coach who will restore honor to the four letters he once wore across his chest.
In this kind of situation, Watson said, "if you really love the university," you will "love the university more than yourself."
"For me, I just wish them all the best," Watson told the Los Angeles Times in a phone interview, adding that he hoped for "a return to glory because it impacts you in pride and community and brings a great dynamic to college basketball."
Just like outsiders, Watson doesn't sugarcoat what has become of UCLA's flagship program. No Final Four appearances in more than a decade. Four missed NCAA tournaments over that same stretch. Practically zero buzz on campus.
Watson knows that last part firsthand because he's been back at his alma mater for almost a year and a half. He's completing his undergraduate degree, with just one statistics class left.
"I want to get an 'A' in this class and do the best that I can," Watson said.
Though he was told he aced his interview with UCLA officials for their coaching vacancy, Watson seemed cognizant that he's considered a long-shot candidate. He played in the NBA for 14 seasons and coached the Phoenix Suns for parts of three seasons, but he has no coaching experience at the college level.
Watson, who will turn 40 in June, suggested, though, he was more than qualified for the job, having coached at the club level, in the G League and as both an NBA assistant and head coach. He helped develop a slew of young players with the Suns, and he has strong ties to the Southern California club basketball circuit; he once ran a program featuring 70 teams.
"If you can coach," Watson said, "you can coach anywhere."
Watson revealed a new detail about his rocky tenure with the Suns, saying he was given a two-week termination notice in training camp before the start of the 2017-18 season. He said he knew he was going to be fired well before the team started 0-3, absorbing losses by 48 and 42 points.
"I never addressed why I left the Suns and it wasn't because of the record," Watson said. "It was a rebuild and a rebuild was creating a new start and the new start was [star guard] Devin Booker."
But why would Suns management start a season with a lame-duck coach in his final days?
"That's a question you have to ask ownership," Watson said. "I was given notice in training camp. I was going to be out for sure. I was blown away, obviously. My personal conversation with ownership was very direct and very manly and up front, but I really believe this, that it's the best thing that happened for both parties."
A Suns spokeswoman did not return an email seeking comment from the team.
Watson said his dismissal from the Suns made him reexamine his future. He could continue to chase his coaching dream or go into broadcasting or go back to school. He chose books over basketball even though he initially had to pay out of pocket, spending more than $34,000 before UCLA began to pick up the tab as part of its degree completion program for former athletes.
"I wanted to accomplish something difficult," Watson said, "so my kids could see how I could bounce back."
Campus had changed so much since Watson played at UCLA from 1997 to 2001 that he had to use the map app on his iPhone to find his classrooms. Other things hadn't changed: He enjoyed having some of the same professors he'd had some two decades earlier.
Watson also attended one UCLA basketball game in January 2018, when he was made the team's honorary captain. He says he's come to realize the program has been devoid of a galvanizing presence since the death of legendary coach John Wooden in 2010.
"It needs some revival," Watson said. "Coach Wooden isn't here anymore and I always felt like UCLA has been searching for a true leader."
Watson knew that a college degree would better position him to get another coaching job. His UCLA candidacy has garnered strong support among his contemporary Bruins basketball alumni, many of whom lashed out at the school for its failed pursuit of Kentucky's John Calipari and Texas Christian's Jamie Dixon when it could have had Watson for the asking. Watson responded with a tweet telling everyone essentially to keep those thoughts to themselves.
"It's becoming too messy and I don't think it's classy," Watson said when asked about his tweet. "Just being around coach Wooden and seeing the influence he always had and how he carried himself — if he was around at this point, I don't think a lot of those tweets would even go out.
Sign up for our daily sports newsletter »
"Fans have a large voice because they obviously give support financially, but we have to remember what makes UCLA UCLA and that's creativity, innovation and respect for each other."
Watson always wanted to play at UCLA, having been enamored with the path taken by fellow Kansas City prep star Lucius Allen to Westwood, but he freely tells people that the school isn't the only place he'd like to coach.
"Coaching is a little bit different," Watson said. "You can't get caught up in destinations, you have to get caught up in connectivity. That has to be the reason; it can't be because you want to coach a certain school. You can be anywhere and be happy and have synergy and connectivity and build something dynamic. Like coach [Mark] Few at Gonzaga built something dynamic, and I don't see him ever leaving because that connectivity he's built is so powerful."
Watson may have to leave campus soon, departing for another coaching job in another city, but he said rejection by UCLA wouldn't lessen his love for the school.
Said Watson: "I'm a Bruin, no matter what, forever."
Follow Ben Bolch on Twitter @latbbolch
---
Get the latest on L.A.'s teams in the daily Sports Report newsletter.
You may occasionally receive promotional content from the Los Angeles Times.