UCLA's Michaela Onyenwere is making all the right moves on eve of NCAA tournament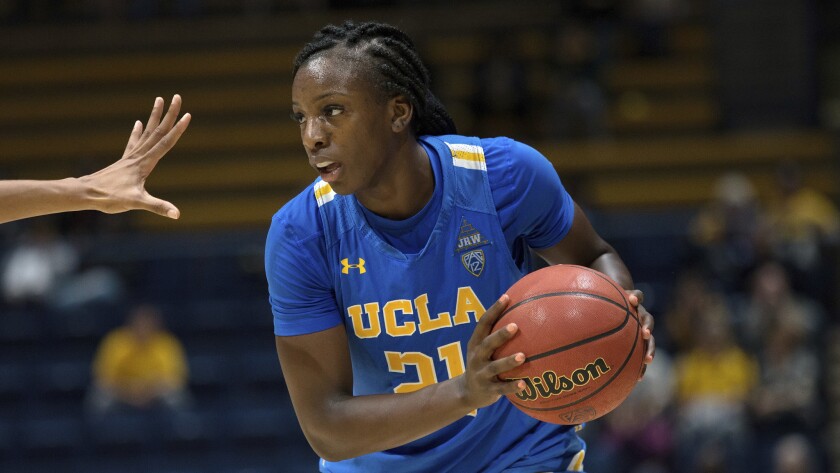 The dancing rarely stops, from the bus to the locker room to the court.
Michaela Onyenwere spreads March gladness among the UCLA women's basketball team wherever she goes, no matter the setting, involving everyone regardless of the quality of their moves.
"She has gotten me to dance," coach Cori Close conceded, "just not very well."
As Onyenwere prepared to commence what the Bruins hope will be nearly a month's worth of boogieing as the leading scorer on a team with Final Four aspirations, something finally made her freeze.
It was a camerawoman who stepped in front of the sophomore forward this week as she prepared for an interview inside Pauley Pavilion.
"Oh, no," Onyenwere said, the dread evident in her voice.
The camerawoman assured Onyenwere that her video was bound only for YouTube, that it was no big deal.
"Don't pay attention to me," she said.
That may be impossible as far as Onyenwere goes Saturday when the sixth-seeded Bruins (20-12) face 11th-seeded Tennessee (19-12) in the first round of the NCAA tournament in College Park, Md.
Onyenwere is the go-to player on one of the nation's hottest teams, though it's almost as if she would prefer to star in anonymity.
She continually makes highlights but doesn't want to talk about them, dragging herself to a Pac-12 Networks interview last season after a victory over Utah.
She made the All-Pac-12 team this season after mostly coming off the bench as a freshman because she didn't feel comfortable starting.
She's on a trajectory to become possibly one of the best Bruins of all time after Close won a fierce recruiting battle that Onyenwere hated because of all that dastardly attention.
"It's been that way since high school," Onyenwere said of her preference to sidestep the spotlight. "That's when you start getting interviews and even now, my teammates will make fun of me because I can't speak in public and I get nervous. I don't really like that. It's still something that I'm working through."
Onyenwere is making significant progress. She took a public speaking class and learned the importance of making eye contact and slowing her often hurried speech.
She still fears interviews but finds herself relaxing as they unfold, only to tense up before the next one.
"It gets better while you're doing it — you're like, OK, cool," she said, "but then, after, it's like, dang, I've got to do it again. I've got to get used to it, though, because it's just part of the game."
Requests for Onyenwere's time figure to increase dramatically after a season in which she's averaged 18.2 points and 8.1 rebounds while scoring at least 20 points in eight of the last 13 games. She starred during the weekend that saved UCLA's season, her putback against Arizona in late January forcing overtime during an eventual victory in three overtimes. The Bruins are 11-3 since late January.
What might scare the rest of the college basketball world most is the idea that the 6-foot Onyenwere is just getting started.
"I believe she'll be the No. 1 kid in the Pac-12 next year. I really do believe that," Close said. "She's growing leaps and bounds, but when you watch her in practice and you watch her with her teammates, you can understand why. It's spectacular work ethic, attention to detail and she is a great teammate."
Sign up for our daily sports newsletter »
Onyenwere's contributions are all the more remarkable considering her meager averages of 6.9 points and 4.7 rebounds as a freshman. She went home to Aurora, Colo., for six weeks over the summer and returned a different player after Close challenged her to improve. Workouts with a trainer enhanced her ball-handling, turnaround jumpers and three-point shooting while giving her newfound confidence in her abilities.
"When you work on something so much and it's like, dang, I can do this and I'm actually pretty decent at it," Onyenwere said, "that's the best."
Onyenwere always makes time for play as well as work. When she's not bopping alongside teammate Kennedy Burke, whom she calls "my dance partner," she's often getting her nails done in some vibrant shade.
Several Bruins frequented a salon earlier this week, getting their nails painted yellow in a tribute to the school colors before their biggest game of the season.
Onyenwere might rather scratch a blackboard with those nails than show them off on television. Yet when the camerawoman materialized like a matchup nightmare after practice this week, she quickly composed herself.
"OK," Onyenwere said as she turned toward reporters, her smile returning, her voice steadying, her joy returning.
Follow Ben Bolch on Twitter @latbbolch
---
Get the latest on L.A.'s teams in the daily Sports Report newsletter.
You may occasionally receive promotional content from the Los Angeles Times.