Andrew Marincovich went from the 1944 Rose Bowl with USC to the shores of Iwo Jima, and he still hates UCLA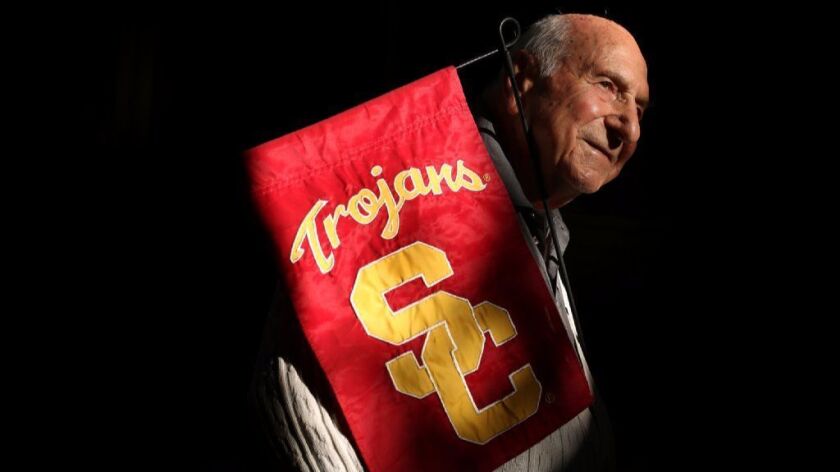 Andrew Marincovich experienced the full tapestry of the USC-UCLA football rivalry, attending both schools and playing right guard for the Trojans' 1944 Rose Bowl champions.
Spending New Year's Day in Pasadena was a prelude to a far more exhilarating red, white and blue endeavor.
"Five months later," Marincovich, 95, recalled this week, "I was in the South Pacific as the commanding officer of a gunboat."
Marincovich helped lead a U.S. Navy fleet that allowed the Marines to land ashore at Iwo Jima, firing rockets to clear the way for servicemen who captured the island from the Japanese Imperial Army in 1945. Marincovich's vessel held 80 crew members. He was 23.
His life's journey had already taken several turns. Marincovich had started college at Compton College and spent a semester at UCLA before arriving at USC by way of the V-12 Navy College Training Program, which prepared thousands of participants for entry into World War II.
One of the oldest living Trojans football players will be watching Saturday when one of his former schools plays the other at the Rose Bowl. The game will not test his allegiances.
"Don't ask a USC fan about UCLA," Marincovich told a reporter inquiring about his ties to the Bruins. "Down with UCLA!"
Marincovich was then reminded that he was briefly enrolled there.
"Well, I know," he said, "but I forgot."
His one season playing for USC, 1943, was worth remembering.
The Trojans outscored their first six opponents, 93-0, before falling to San Diego Navy, 10-7. They played UCLA twice a season in those days and won both games on the way to going undefeated in what was then the Pacific Coast Conference.
USC advanced to play conference rival Washington in the Rose Bowl Game, the result of wartime travel restrictions imposed on teams from other regions of the country. It remains the only Rose Bowl to feature teams from the same conference.
The audience was wider than usual because it was the first Rose Bowl broadcast abroad on radio to American servicemen. Gen. Dwight D. Eisenhower allowed troops stationed in western Europe not on the front lines to listen to the game.
Washington had initially been favored to beat the Trojans, but its roster was depleted by about a dozen players leaving for active military duty, including stars Jay Stoves and Pete Susick. The Huskies' roster, filled partially by V-12 trainees such as Marincovich, numbered only 28 for the game, including eventual Los Angeles Rams center Bill McGovern.
USC won in a 29-0 walkover, with quarterback Jim Hardy throwing three touchdown passes to lead the Trojans. Marincovich was a running guard, which meant it was his job to pull out of the line and block around the end for the ballcarrier. He was not imposing at 175 pounds but also played defense like many teammates who went both ways.
"My father was sitting in the grandstand," Marincovich said. "Somebody told me when I was on the field and tackled somebody, he stood up and said, 'That's my son!' "
Marincovich didn't play upon his return from the war but attained an accounting degree and later worked at Pricewaterhouse-Coopers and taught at USC. He became president of the Trojan Football Alumni Club and held season tickets for more than 40 years, giving them up to his daughters only in the last two seasons, after the Coliseum stairs became too challenging to navigate.
His loyalty to the Trojans is matched only by his commitment to his wife, Matilda, 91. They will celebrate their 70th wedding anniversary in February along with a family that includes 10 grandchildren and 17 great-grandchildren.
"Seventy years with the same old guy and look, I can't even remember all he's done all these years," Matilda said with a chuckle. "We both are slipping, OK?"
The week of the rivalry game prompted inventory of USC memorabilia at their Long Beach home.
"You've got that stupid statue in the hallway," Matilda told her husband, referring to a 2-foot-high chalk figurine of a Trojans head that he won at an alumni football party. "He's got Trojan pants and his sweaters that he's worn for 40 years or more. We've got pom-poms. We've got a lot of junk."
Everything, it seems, except for something in a shade of blue.
Follow Ben Bolch on Twitter @latbbolch
---
Get the latest on L.A.'s teams in the daily Sports Report newsletter.
You may occasionally receive promotional content from the Los Angeles Times.