UCLA-Oregon hoops matchup isn't as marquee as it could have been
Reporting from Eugene, Ore. —
Oh, how the alleged-to-be mighty have fallen.
Oregon and UCLA were picked to finish first and second in the Pac-12 Conference media poll back on a sunny San Francisco day in October, a handful of Ducks and Bruins players converging on a rooftop at conference headquarters to munch on a Mexican buffet.
Had they been told what was to come, they might have gagged on their chicken soft tacos.
Their teams have hemorrhaged games, players and a coach, UCLA's Steve Alford not even making it to New Year's Day before being dismissed after a four-game losing streak left his team barely above .500.
Oregon is down to eight scholarship players after losing center Bol Bol to foot surgery, forward Kenny Wooten to a broken jaw and forward Abu Kigab to a transfer to Boise State. Their absence has robbed the Ducks of their two best big men and most bouncy reserve, not to mention a combined 30.2 points, 17.2 rebounds and 4.3 blocks of production per game.
All this leaves ESPN with something less than a marquee matchup for its broadcast of the game between the Bruins (9-6 overall, 2-0 Pac-12) and Ducks (9-5, 0-1) on Thursday night at Matthew Knight Arena.
Given that Oregon already dropped its Pac-12 home opener to Oregon State, giving the Beavers their first road win to open conference play since 1993, it almost feels like something better suited to ham radio.
The Bruins have undeniably played better under interim coach Murry Bartow, winning their first two games amid a faster tempo that has also produced a flurry of turnovers. While acknowledging it may seem counterintuitive, Bartow said turning things up another notch could help reduce the turnovers.
"Sometimes when you play faster it sounds like you're playing more reckless," Bartow said, "but really you're making a few less passes, maybe a few less opportunities to turn the ball over."
UCLA had 22 turnovers against California, meaning players got to revisit every goof in the days that followed.
"We don't watch too much good in the film room with coach Bartow," junior guard Prince Ali said. "The energy's very consistent; it's what we've done bad, for the most part."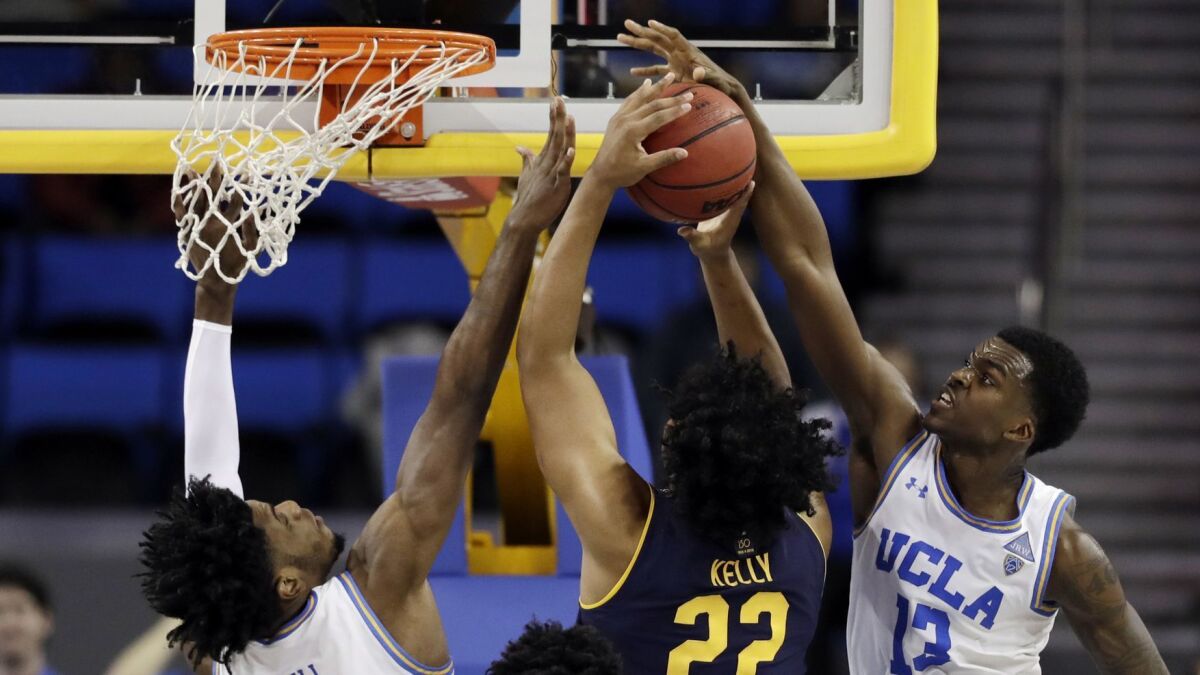 The road has been cruel to the Bruins in recent years, even in the middling Pac-12. UCLA went 19-26 in conference play on the road in five seasons under Alford and lost by 29 points against Cincinnati last month in its only true road game this season.
Oregon has been a particularly merciless environment for UCLA over the years. Ducks fans toted signs last season lampooning the Bruins for the international shoplifting incident involving three players and could unleash even more vitriol Thursday considering that two of those players, Cody Riley and Jalen Hill, are back in the lineup after serving a season-long suspension.
"You just gotta X-out the crowd," UCLA forward Kris Wilkes said when asked about dealing with road hostility. "You just gotta find your own energy within yourself and within the team and you just gotta find it that way."
Oregon might be soliciting ideas to deal with Moses Brown, UCLA's 7-foot-2 freshman center, now that Bol's absence has left 6-10 freshman forward Miles Norris as the only player on the Ducks' roster over 6-9.
It might be easy to predict a colossal advantage for the Bruins in the big-man department, except for the history of nothing having gone as expected this season for either team.
UP NEXT
AT OREGON
When: Thursday, 6 p.m.
Where: Matthew Knight Arena.
On the air: TV: ESPN; Radio: 1150.
Update: Bartow said he expected Riley's playing time to rise significantly after the redshirt freshman forward averaged only 10 minutes over the last two games while coming off the bench. "There's no bigger fan of Cody Riley than me," Bartow said. " … I think you'll see a big change there."
Follow Ben Bolch on Twitter @latbbolch
---
Get the latest on L.A.'s teams in the daily Sports Report newsletter.
You may occasionally receive promotional content from the Los Angeles Times.