David Singleton was on point in UCLA's comeback victory, but he won't become starter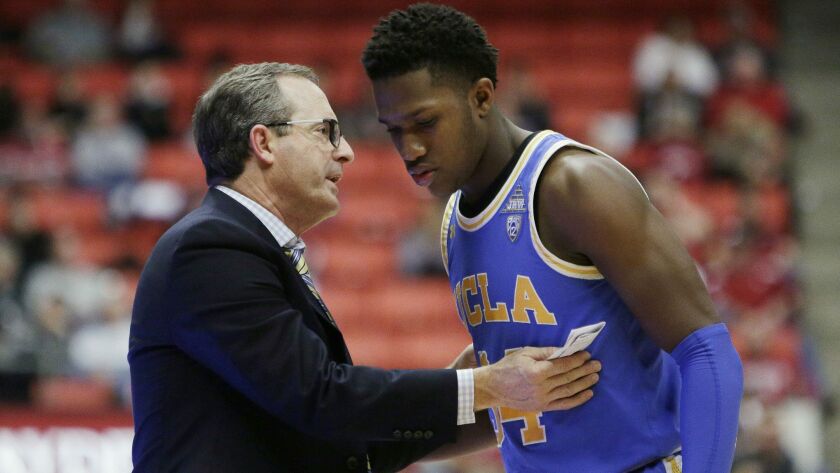 Reporting from Palo Alto —
Maybe it's not true that a college basketball team is what it is 25 games into its season.
Consider the oh-so-curious case of UCLA.
The foible-prone Bruins ran a capable half-court offense over the latter portion of their overtime victory against California on Wednesday, patiently moving the ball and rarely turning it over.
A related development: Freshman point guard David Singleton was heavily involved.
With his team sputtering early in the second half after having stumbled its way to 25 points in the first half, Bruins interim coach Murry Bartow subbed out starting point guard Jaylen Hands in favor of Singleton.
To that point, UCLA had committed 16 turnovers and shot 29% over the first 23 minutes 15 seconds. Over the final 21:45, including overtime, the Bruins committed only three turnovers and shot 50% in an eventual 75-67 triumph. It did not seem a coincidence that Singleton played every second of that stretch.
He was a maestro in directing UCLA's offense while mostly playing alongside a lineup that included Kris Wilkes, Chris Smith, Jules Bernard and Moses Brown. Hands also contributed, returning for the final 3:49 of regulation and making all six of his free throws in overtime.
Singleton finished with 12 points and three assists to go with no turnovers in a season-high 29 minutes. He easily has been the Bruins' most efficient player this season, committing only seven turnovers in 403 minutes.
"The obvious thing you get with David, you get a very, very smart, solid guy and he can really make shots and he's got only three turnovers in the entire Pac-12 season," Bartow said Friday. "He can make shots and he's smart defensively. He's very smart and solid and knows where we want [the ball] to be."
Singleton's uptick in playing time against the Golden Bears largely came at the expense of junior guard Prince Ali, who played only four minutes in the second half. For the game, Ali missed all five shots and went scoreless.
It's a recent trend for Ali, who has been held to two points or fewer in each of UCLA's last three games. But he's apparently not in imminent danger of losing his starting job to Singleton.
"We're definitely going to stick with Prince," said Bartow, adding that he planned to meet with Ali on Friday to address his funk, "but when guys come in and they're playing well, I'll stick right with them."
That was the case against California, when Singleton, Wilkes, Bernard, Smith and Brown played the bulk of the second half, contributing to a spirited comeback from an 11-point deficit.
Time to NIT pick?
Should they fail to win the Pac-12 tournament next month, the Bruins (13-12, 6-6 Pac-12) might find themselves in the uneasy position of having to decide whether to accept an invitation to the National Invitation Tournament, largely considered a consolation prize for major-conference teams.
Bartow said the decision whether to accept a possible NIT bid was "way over my pay grade." But wouldn't it be a good idea for a young team with only two upperclassmen in the rotation to keep playing as long as possible to help with player development?
Sign up for our daily sports newsletter »
"I wouldn't answer that right now, but it's a good question," Bartow said. "Right now, our focus is trying to beat Stanford [on Saturday] and trying to be really good in Vegas and see if we can figure out a way to win the [Pac-12] tournament."
Bartow said any NIT decision would be led by UCLA athletic director Dan Guerrero.
"If it came to that, I'm sure he would bring me in and we would visit and we would discuss it," Bartow said. "I'm sure he'd give me some input on that decision, but that would certainly be his decision as to what he felt was the right decision at that time."
UCLA has made only two trips to the NIT in its 100-year history but has run the gamut of emotions, edging Indiana to win the title in 1985 and flaming out in the first round the next season against UC Irvine.
SATURDAY
AT STANFORD
When: 7 p.m.
Where: Maples Pavilion, Palo Alto.
On the air: TV: ESPN2; Radio: 570.
Update: This will be UCLA's third consecutive opportunity to earn a Pac-12 road sweep. The Bruins have fallen short in each of their first two opportunities. "We talked to the team a little bit about that," Bartow said, "seeing if we could figure out a way to get a sweep." Pulling it off would entail beating a Stanford team that has won four of its past five games, including a 79-76 triumph over USC on Wednesday. Stanford (13-11, 6-6) is stuck in a four-way tie for sixth place in the Pac-12 standings with the Bruins, making this a crucial game for purposes of attaining one of the conference's top four seeds and the accompanying first-round bye in the Pac-12 tournament.
Follow Ben Bolch on Twitter @latbbolch
---
Get the latest on L.A.'s teams in the daily Sports Report newsletter.
You may occasionally receive promotional content from the Los Angeles Times.