UCLA football: What to expect when the Bruins open camp Friday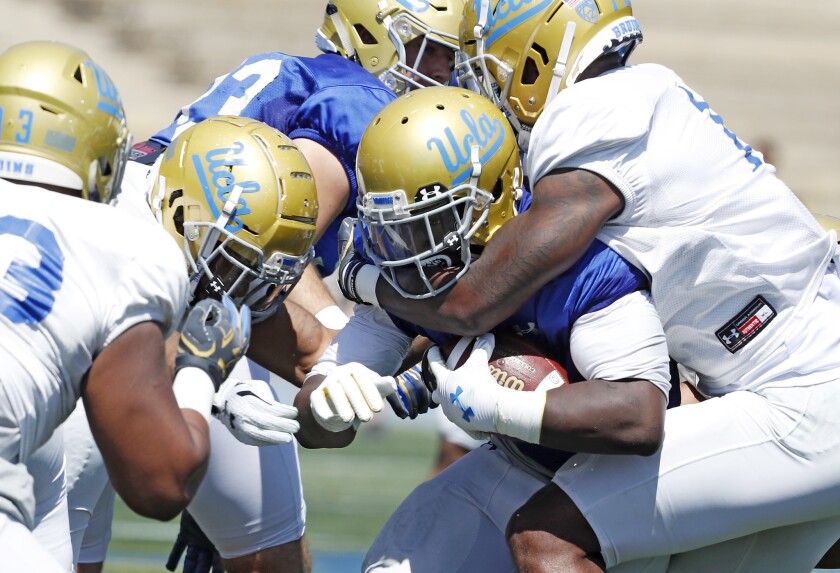 Only a sprinkling of chips was on the table during coach Chip Kelly's first spring at UCLA.
The Bruins zipped through practices, rans oodles of plays and scored a touchdown on a zone-read play during the spring game. Everything was fairly basic. If it were a class, it would have been Chip Kelly 101.
Now comes the advanced course.
UCLA will open fall camp Friday at its on-campus practice fields with a full roster and an increased sense of urgency with less than a month before its season opener against Cincinnati on Sept. 1 at the Rose Bowl.
Players have had more than seven months to digest a new playbook, not to mention custom smoothies as part of Kelly's sports science program.
The arrival of a hefty and heralded freshman class will push their more seasoned teammates to not only lead the way but show they deserve to keep their starting jobs. A handful of emerging stars, including linebackers Jaelan Phillips and Josh Woods, are expected to return from injuries that curtailed their participation in the spring.
Here are the most pressing questions facing the Bruins heading into fall camp:
Will a keeper emerge at quarterback?
There was no need to fret over the quarterback who appeared to have lost a few steps and gained a few pounds in spring practice.
It was just Kelly, flinging passes as part of one drill in which five quarterbacks simultaneously threw to the same number of receivers running different routes. Kelly was involved because the Bruins didn't have enough quarterbacks on the roster to complete the drill.
The arrival of graduate transfer Wilton Speight and freshman Dorian Thompson-Robinson will allow Kelly to go back to twirling a whistle around his hand while he watches the newcomers battle incumbent Devon Modster for the starting quarterback job.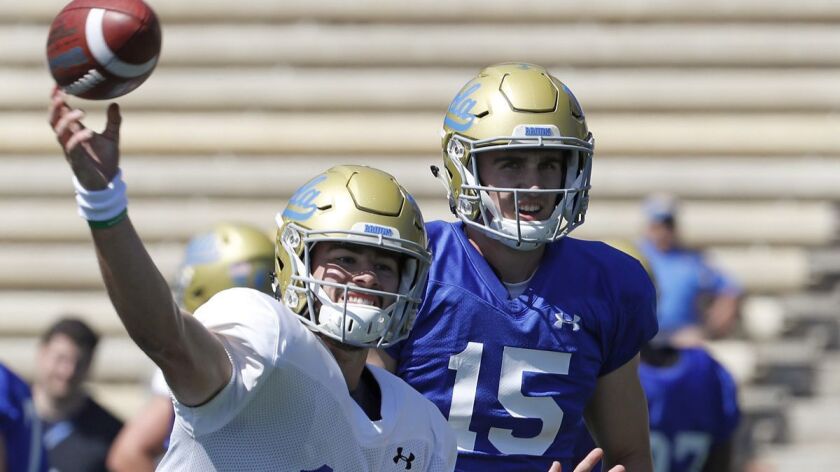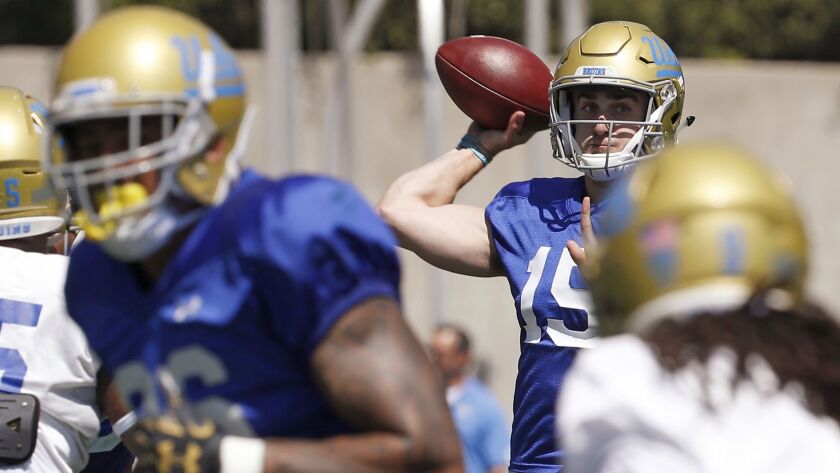 If Kelly's history is any indication, it will be an open competition without built-in biases. Marcus Mariota beat out more experienced counterparts as a redshirt freshman in 2012 at Oregon after having only one previous season of starting experience — in high school.
Kelly values execution over experience and doesn't seem to have a stylistic preference, having won with dual-threat quarterbacks, running quarterbacks and statuesque quarterbacks. Whoever wins the job will have to show he can make quick, decisive decisions while surveying the defense before and after the snap.
Can the Bruins be conditioned to win?
One of the hallmarks of Kelly's Oregon teams was being in better shape than their opponents, allowing the Ducks to play fast and wear down their counterparts in the fourth quarter.
It appears as if the Bruins are well on their way to quacking the same code of success.
Woods said last week that he's in the best shape of his career even while maintaining the same weight.
"I'm a lean 235," he said, "and I feel like I can run more than I would before."
Players aren't just told to run but shown the technique that allows them to maximize velocity and acceleration. Weightlifting exercises are taught to minimize stress on joints. And the meticulous rehabilitation of injuries led Woods to a surprising realization regarding the wounded shoulder that kept him out of most spring practices.
"At the end of it," Woods said, "I tested it and it was stronger than the other one."
Is a youth movement afoot?
Kelly said on signing day that he expected his freshmen to play, and it wasn't just wishful thinking expressed aloud. It will be a necessity.
UCLA's true and redshirt freshmen (52) nearly equal the number of graduate transfers, seniors, juniors and sophomores (56), meaning the team doesn't have the experienced depth needed to go a full season without significant contributions from the underclassmen.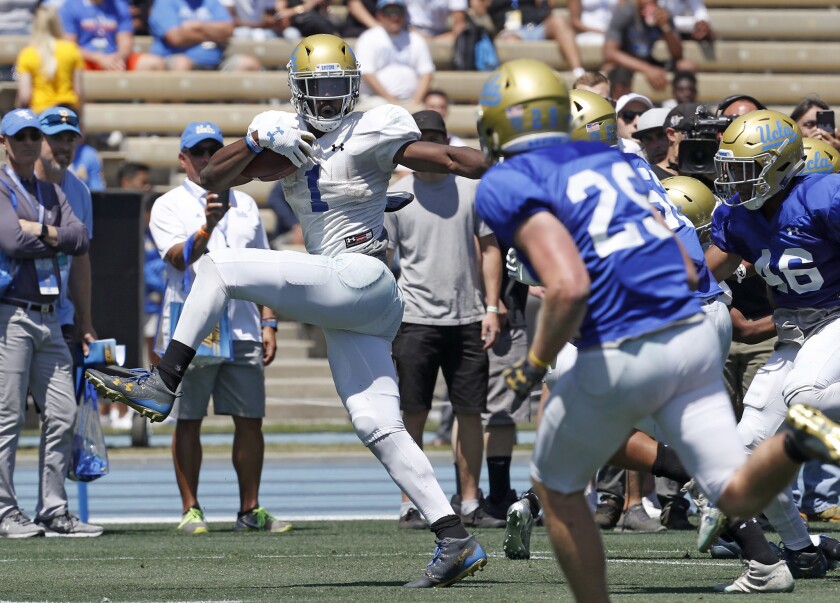 Thompson-Robinson and receivers Chase Cota and Kyle Philips are among the true freshmen who could play immediately.
The high number of repetitions and waves of players that Kelly likes to shuffle through in practices will give the freshmen ample opportunity to make a case for playing time.
"We have a lot of youth," Kelly said at Pac-12 Conference media day, "and it will be fun to get them going in the right direction."
How many 'jokers' will run wild?
Part of what made Kelly's offenses so dynamic at Oregon was his use of players in multiple positions. He liked to call those players "jokers" because they fit almost any situation.
De'Anthony Thomas was a running back by definition but also caught passes, returned punts and kickoffs and even helped in punt coverage. Mariota, the star quarterback, occasionally played receiver, catching a touchdown pass against Arizona State in 2012. Massive defensive tackles and defensive ends sometimes caught passes for two-point conversions.
Kelly also dubbed tailbacks adept at catching passes Tasers because of the way they stung defenses by lining up in the slot, the backfield or at receiver. UCLA's Soso Jamabo would seem to be a perfect fit in this role because of his natural pass-catching ability.
Can the 'D' be revived from DOA?
The numbers were numbing last season for UCLA's defense. The Bruins ranked No. 116 nationally in scoring defense (36.6 points given up per game), No. 122 in total defense (483.7 yards given up per game) and — is one stop too much to ask here? — No. 129 in rushing defense (287.4 yards given up per game).
Kelly noted that for the Bruins to be really good, they're going to have to be really good on defense.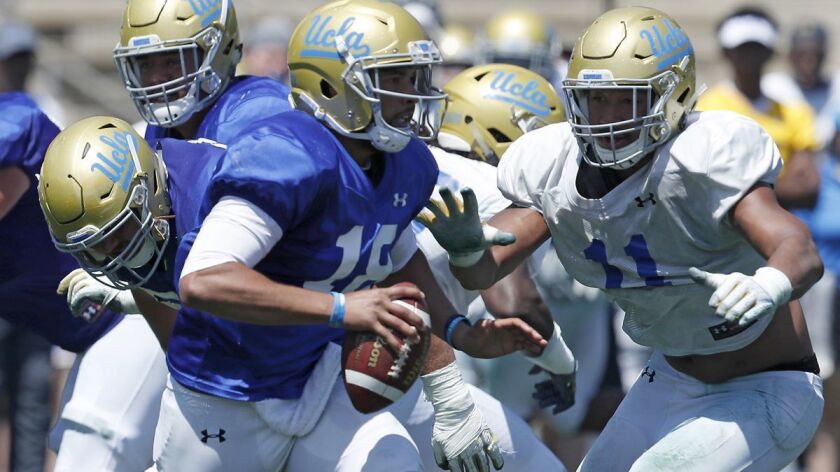 Enter new defensive coordinator Jerry Azzinaro and a rejiggered 3-4 defensive front accompanied by an attacking mentality. Outside linebackers Phillips and Keisean Lucier-South will have the flexibility to rush the quarterback or drop into coverage, disguising their intentions until the last possible moment.
The Bruins will probably still give up lots of yards because they figure to log heavy minutes on defense as a result of the team's frenzied offense. The question is whether they can stiffen when needed and mimic the ability of Kelly's Oregon teams to force turnovers; the Ducks led the nation in takeaways during his four seasons.
Will Kelly alter his strategy just for kicks?
Kelly is known for his fearlessness in going for it on fourth downs.
Part of his decision-making resulted from having prolific offenses and part from having shaky kickers.
UCLA's kicking game could give him the option to take the points instead of the risk. J.J. Molson is on the watch list for the Lou Groza Award that goes to the nation's top college kicker after making 17 of 21 field-goal tries last season, including four of six from 40 to 49 yards.
Kelly also might be tempted to try and pin teams deep in their territory instead of going for it near midfield because of the presence of Stefan Flintoft, who is on the watch list for the Ray Guy Award given to the nation's top college punter. Flintoft averaged 42.9 yards per punt last season, placing 21 of his punts inside the 20-yard line.
Follow Ben Bolch on Twitter @latbbolch
---
Get the latest on L.A.'s teams in the daily Sports Report newsletter.
You may occasionally receive promotional content from the Los Angeles Times.