Dorian Thompson-Robinson, who could be the next starting quarterback at UCLA, knows all about waiting his turn
Reporting from Las Vegas —
As the wide-eyed girls huddled close, hoping to catch his every word, the most celebrated football player on campus made an entirely unnecessary introduction.
"I'm Dorian," he said last Saturday, just as the midday sun was starting to scorch the artificial turf at Las Vegas Bishop Gorman High. "I'm the quarterback here."
Dorian Thompson-Robinson had come to coach the freshman powder-puff team. It was a practice filled with wobbly passes and meandering routes. Then, a revelation. A ballcarrier made an ankle-breaking spin move, flags flapping off her waist as she left the defender sprawled on the field.
Thompson-Robinson broke into a high-pitched howl as he sprinted in a semicircle.
"That's it!" the senior yelled. "She's in the starting rotation!"
There was some symmetry to the moment, one former unproven talent discovering another.
Thompson-Robinson received his first college scholarship offer three years ago as a freshman, before making his varsity debut. UCLA offered him a scholarship a year later, in the summer of 2016, before he had taken his first snap as the varsity starting quarterback.
When Thompson-Robinson committed to the Bruins last spring, it made him the probable successor to quarterback Josh Rosen after having thrown only a sprinkling of passes as a backup.
"Here's a guy who didn't play, had no film, and all he was was a dynamic athlete," said Yogi Roth, one of Thompson-Robinson's instructors in the Elite 11 quarterback competition. "Well, that's hard."
What his many suitors saw was a 6-foot-2, 200-pound dual-threat athlete with polished footwork and a quick release.
Those qualities might have been trumped by his patience and perseverance. Thompson-Robinson waited two years for his chance to play quarterback this season while Ohio State-bound Tate Martell manned the position.
I was like, 'Man, he's one of the best guys here.' I thought that the ceiling of this young man was extremely high."
Yogi Roth
Thompson-Robinson's mother, Melva, mentioned that he could always move to Ohio and play for a high school there because her brother lived just outside of Columbus and … never mind.
"When she said 'Ohio,' " Thompson-Robinson recalled, "I was like, 'Nah, I don't really want to do that.' "
Rather than transfer, like so many others in his position might have done, Thompson-Robinson switched to wide receiver. That meant he would have to redouble his efforts in order to enhance his fledgling skills as a quarterback.
He worked with one quarterback coach in his hometown and another in Arizona, his mother shooting and uploading workout footage onto a Google drive so that her son could be critiqued from afar. Thompson-Robinson also attended every off-season passing tournament and camp he could feasibly enter, showing recruiters that he could throw the ball even more capably than he could catch it.
It was at one of the camps, Roth said, that Thompson-Robinson wowed UCLA offensive coordinator Jedd Fisch, then the quarterbacks coach and passing game coordinator at Michigan. (College coaches cannot comment on recruits until they sign binding letters of intent.)
Roth found himself equally taken with the mysterious prospect who oozed competitiveness and crisply delivered passes with pinpoint accuracy.
"I was like, 'Who is this guy?' " said Roth, also an analyst for the Pac-12 Networks. "I remember going up to our staff and I was like, 'Man, he's one of the best guys here.' I thought that the ceiling of this young man was extremely high."
Thompson-Robinson eventually received more than 30 scholarship offers before committing to UCLA in April. He said he loved the campus and coach Jim Mora's "whole kind of get-down, I guess you could say," and it probably didn't hurt that Rosen is projected to be taken high in the first round of the 2018 NFL draft if he decides to make himself available.
Should Rosen opt to remain a Bruin for one more season, well, that's fine with Thompson-Robinson too.
"If he stays, I can kind of learn from up under him," Thompson-Robinson said. "If he ends up leaving, then I can come in and try and help right away, so either way it's a win-win situation for me."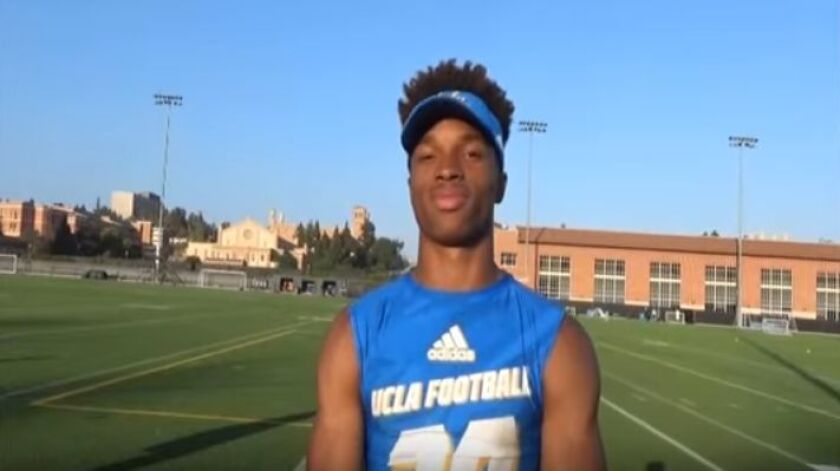 Thompson-Robinson said he would sign his letter of intent in February and report for fall camp, allowing him to savor his final year of high school.
His sometimes agonizing wait to become the starting quarterback has been validated. In the season opener, against powerhouse Hyattsville (Md.) DeMatha High, Thompson-Robinson threw for three touchdowns and ran for two more in a game nationally televised by ESPN.
"That was really cool," he said, "just to shut up all the haters and all the doubters and stuff like that."
The next two games — both losses — might have been even more revealing. After Bishop Gorman lost to Miami Central to fall to 1-2, Thompson-Robinson tweeted, "Never lose, we either win or we learn."
That's an outlook instilled by his parents. His mother is an associate professor in the University of Nevada Las Vegas School of Community Health Science. His father, Michael Robinson, is an information technology specialist for a security contractor.
"Between his mom and I, we would tell him patience is a virtue; it's not given, it's learned," Michael Robinson said. "You worked hard to get here to Gorman, just keep doing what you need to do, keep pushing."
Growing up, Thompson-Robinson sometimes pushed buttons. He would stand in front of the television on Sundays, intentionally blocking his father's view of NFL games. It was a not-so-subtle hint that he wanted to go to the park and throw the football while his father, a former high school wide receiver, ran routes.
His first two years in high school, Thompson-Robinson was teased by the seniors for spending part of his weekends perfecting his footwork at a park next to Bishop Gorman while more seasoned players went to the pool or partied.
"That's just kind of my deal," Thompson-Robinson said. "I just love to work."
Thompson-Robinson is fine with being called DTR or DT or even D for those who find his hyphenated last name a mouthful. That's a contradiction to his exacting nature on the field.
He played less than a half last Friday during a 56-0 victory over Las Vegas Clark in which a running clock started before the end of the first quarter. The next morning, in a darkened film room on the second floor of a plush practice facility that would be the envy of some college programs, Thompson-Robinson delivered almost as many pointers as his quarterback coach and passing game coordinator.
"D, I think you'd agree with me …" passing game coordinator Bobby Sanchez said, moving a red laser pointer over an image of Thompson-Robinson faking a handoff before throwing the ball.
"I've got to throw it sooner," Thompson-Robinson interjected, finishing his coach's thought.
Thompson-Robinson seems to enjoy teaching almost as much as playing. He toted a large whiteboard onto the field for the powder-puff practice and installed a diverse set of plays, including a reverse pass. His hands-on leadership style is one his father said should benefit him at UCLA.
"Take that when you go on to college — teach your receivers, don't get frustrated with them," Michael Robinson said, repeating instructions he gave to his son. "They already see you as a leader; you're the QB. You don't have to declare, 'I'm the QB;' it's a given."
Sometimes, he likes to do it anyway.
---
Get the latest on L.A.'s teams in the daily Sports Report newsletter.
You may occasionally receive promotional content from the Los Angeles Times.