With school not yet in session, football practice field is UCLA's classroom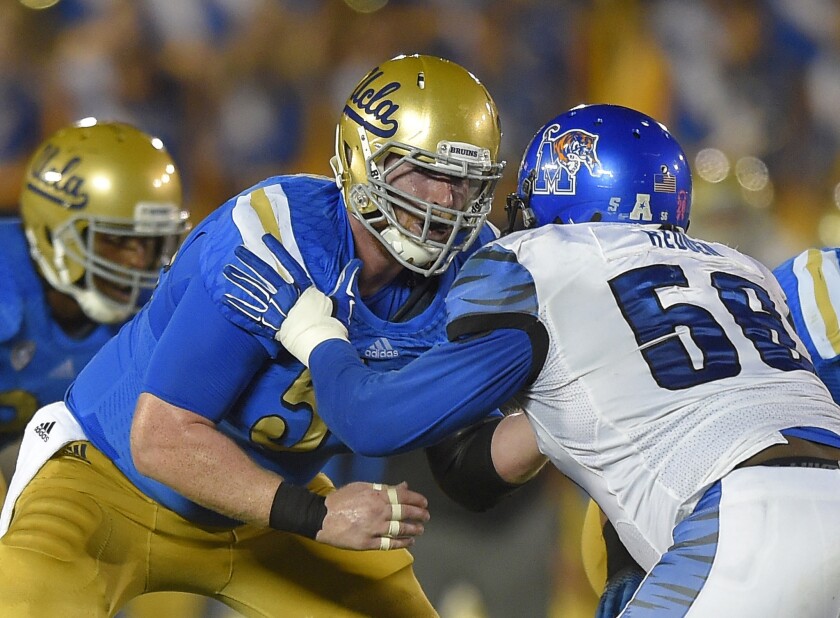 UCLA's football team has one clear advantage this time of year. Bruins players do not begin classes for the fall quarter until Sept. 21.
Virginia, UCLA's opponent Saturday, has been in school since Aug.25. UCLA's second and third opponents, Nevada Las Vegas and Brigham Young, also have started classes.
"It's like the NFL; you can focus all day on football," senior receiver Jordan Payton said. "You have more time to do things the right way."
The extra time apparently has been put to good use under Coach Jim Mora. The Bruins have a 10-1 record in pre-fall-quarter games since he was hired before the 2012 season.
"It's great," senior center Jake Brendel said. "It's kind of nice not to worry about school because that is one more thing on somebody's plate. We're a step ahead of schools that are on the semester system."
That's a big advantage for UCLA's freshmen, Brendel said.
"They are players who haven't had to juggle school and football before," Brendel said. "All these freshmen who are going to help us win games will see a benefit."
Instead of classes and homework, players can spend extra time studying film and picking the brains teammates. Or just getting healthy.
"When meetings are over, I can stay and get treatment all day," Payton said.
While teams are limited in the number of hours they can practice and meet, the NCAA doesn't control chitchat away from the field.
"A lot of players live with each other and naturally we're going to talk about football," Brendel said. "We might talk about a certain play on the field or what happened at practice. Being around football, being around the people you play with instead of being stuck in the classroom or studying, that will correspond with better play on the field."
New kid in town
The Bruins didn't shun freshman quarterback Josh Rosen during his competition with junior Jerry Neuheisel to win the starting job, but linebacker Deon Hollins acknowledged that "Jerry is a really likable guy, and toward the beginning everyone was really kind of pulling behind him."
Hollins said Rosen made a point to follow the advice of strength and conditioning coach Sal Alosi.
"Coach Alosi always says to get to know everyone," Hollins said. "When you're having dinner or breakfast, sit down with someone you haven't done anything with before. That's what Josh did."
The last UCLA quarterback to lose his first start was Patrick Cowan, who lost to Oregon in 2006 a week after Ben Olson was injured. There have been four new starters since — Brett Hundley, Richard Brehaut, Kevin Prince and Kevin Craft — who won their first starts.
Rosen's teammates hope he realizes that there is little pressure on him, especially with nine starters back on offense.
"I told him, 'Be calm, relax. It will be as big as you make it,'" Payton said. "He needs to go out there, stay who you are, be positive and trust us because we have been through a lot. Trust us and go with it."
Buddy system
Brendel said he plans to meet with Rosen once a week to go over things.
"Just him and I talking about the upcoming game, or the last one we played," Brendel said. "We can talk about where we can fix things and what we can do to prevent [bad] things happening."
Brendel said he and Hundley met from time to time as well.
Twitter: @cfosterlatimes
---
Get the latest on L.A.'s teams in the daily Sports Report newsletter.
You may occasionally receive promotional content from the Los Angeles Times.