UCLA to play Kansas State in Cactus Bowl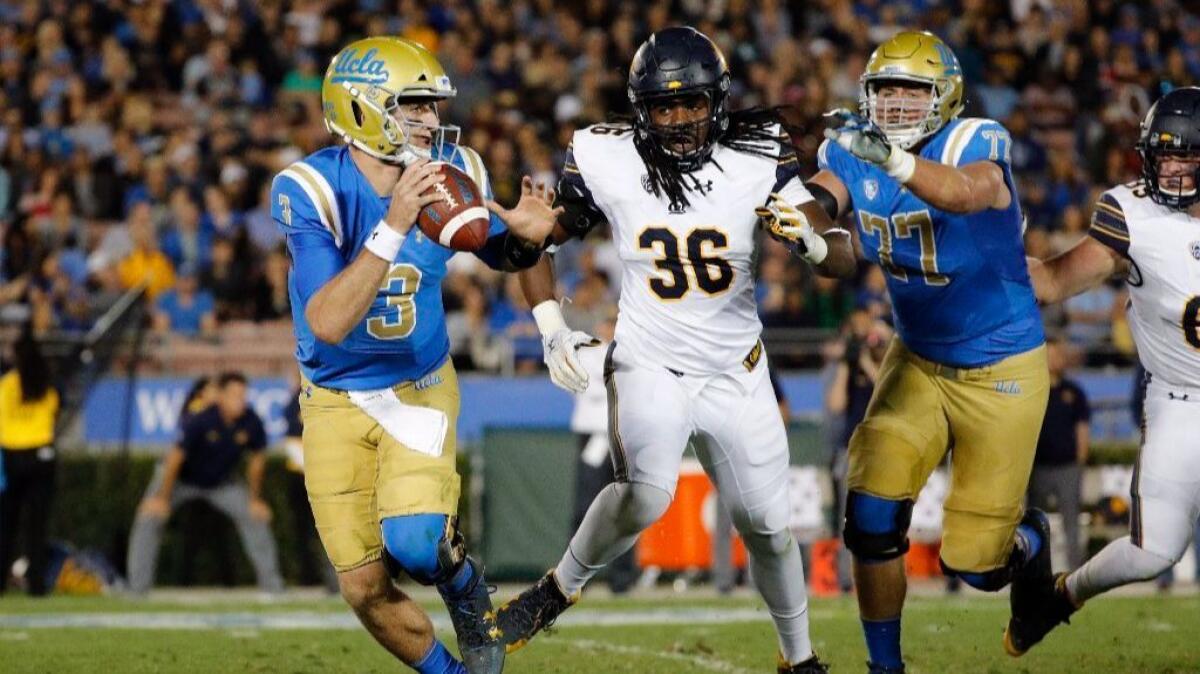 Don't expect UCLA to unveil a Fisch and Chip offense in the Cactus Bowl.
The Bruins will adhere to the principles of interim coach Jedd Fisch instead of new coach Chip Kelly when they face Kansas State on Dec. 26 at Chase Field in Phoenix.
"In regards to preparation, we are playing this game as the 2017 Bruins, not the 2018 Bruins," Fisch said Sunday during a conference call with reporters after the bowl matchup was announced.
That means UCLA will use the same dynamic approach that helped the Bruins finish No. 5 in the country in passing offense (345.3 yards per game), No. 19 in total offense (465.7 yards per game) and No. 31 in scoring offense (33.8 points per game).
Bruins quarterback Josh Rosen should be back after missing the second half of his team's regular-season finale against California with an unspecified injury. Fisch said Rosen had fully participated in two bowl practices and was moving and throwing the ball well.
While Kelly won't coach UCLA in the bowl game, his words could resonate in the minds of the Bruins.
"As I told them [Nov. 27]," Kelly said at his introductory news conference, " 'Great teams finish.' "
It will be UCLA's first appearance in the Cactus Bowl, but the Bruins (6-6) have some recent postseason history against Kansas State (7-5). The Bruins defeated the Wildcats 40-35 in the 2015 Alamo Bowl, a victory that included some hard feelings.
UCLA was taking a knee on the game's final play when a Kansas State player leaped over the line of scrimmage toward Bruins quarterback Brett Hundley. UCLA's Eddie Vanderdoes stopped the player from making contact with Hundley, but that couldn't prevent some agitation among players and coaches.
After the game, Bruins linebacker Deon Hollins said he tried to shake the hand of Wildcats lineman Cody Whitehair "but he didn't want to." Then-UCLA coach Jim Mora and Kansas State counterpart Bill Snyder also appeared to have only a perfunctory exchange near midfield after the game.
Mora tweeted afterward: "I will defend the safety of my players forever."
Snyder said Sunday that his player was only trying to force a fumble that would have given the Wildcats one more opportunity.
"It wasn't received well and I understand why; if it would have caused any injury, it's certainly something we wouldn't condone," Snyder said. "It was just a young man that didn't want to give up and was making a last-ditch effort, which failed and then it caused ill feelings, I think."
UCLA secured bowl eligibility after winning two of its last three games. Kansas State closed the season with four victories in its last five games, including a triumph over then-No. 13 Oklahoma State.
UCLA is 6-0 at the Rose Bowl this season but is still seeking its first victory away from home. The Cactus Bowl is being played at Chase Field, the home of Major League Baseball's Arizona Diamondbacks, because its usual site, Sun Devil Stadium, is undergoing renovations.
The Bruins are also undergoing an overhaul as they close the Mora era with what they hope is another tribute to the coach who was fired last month.
"What we're really excited about here is our coaches and players have been through a lot the last few weeks," Fisch said, "and to be able to unite one last time in 2017 as the Bruins football team and go compete on ESPN in this football game is really exciting for all of us."
Follow Ben Bolch on Twitter @latbbolch
Get the latest on L.A.'s teams in the daily Sports Report newsletter.
You may occasionally receive promotional content from the Los Angeles Times.