UCLA's 2019 football recruiting class won't change much, but the school's approach to 2020 already has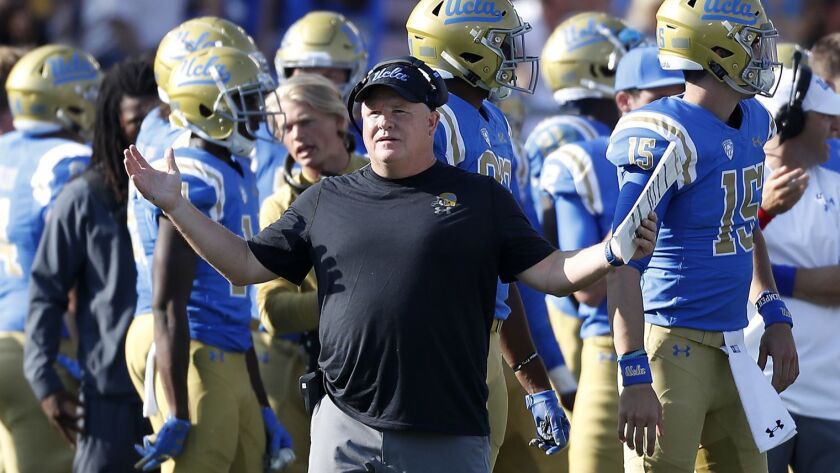 Chip Kelly chuckled when he noticed the high school recruit holding a massive water bottle during a visit to UCLA's campus.
"He was like, 'The one good thing is, you're already hydrated,'" Josh Carlin, an offensive lineman from Chatsworth Sierra Canyon High, recalled of his lighthearted exchange with the Bruins coach known as a water worrywart.
Kelly similarly connected with Sean Rhyan, an offensive lineman from San Juan Capistrano San Juan Hills High, when the hulking high schooler told the coach about his team going up against an opponent that was constantly talking smack.
"He said an empty barrel sounds louder than a full barrel," Rhyan remembered. "He kind of speaks in metaphors, kind of Zen in a way."
Carlin, Rhyan and other high school players who have signed letters of intent with the Bruins universally raved about the businesslike approach of the coach who likes to mix in a quip or a memorable saying.
To scores of others, it's as if Kelly is speaking in tongues.
UCLA appears to be on the verge of securing what could be politely described as an underwhelming recruiting class. The Bruins signed 16 players during the early recruiting period in December and have secured known commitments from only three additional players heading into national signing day on Wednesday.
As it stands, UCLA's recruiting class is ranked No. 42 nationally and No. 7 in the Pac-12 Conference by 247Sports. Rhyan is the only player the Bruins have snagged who has received four stars on the widely used five-star scale. Santa Ana Mater Dei High tight end Michael Martinez, Wayne (N.J.) Hills High receiver Charles Njoku and Gainesville (Fla.) Buchholz High defensive end Noah Keeter, who are expected to sign with the Bruins on Wednesday, all received three stars.
Sign up for our daily sports newsletter »
UCLA also remains in the running for a handful of players who are expected to announce their decisions Wednesday, including Lawndale High running back Jordan Wilmore, Corona Centennial High linebacker Tuasivi Nomura and Long Beach Poly defensive back Kenyon Reed, but the Bruins are not considered a runaway front-runner for any of them.
"It's very possible they don't add much," said Greg Biggins, a national recruiting analyst for 247Sports, though UCLA is also believed to be reserving some scholarships for transfers.
Kelly, who won't be available to discuss his recruiting approach until he meets with reporters Wednesday, said in December that he expected six or seven players to join the recruiting class by the end of this month's signing period.
But even a few surprise signings wouldn't nudge the Bruins' ranking anywhere near Pac-12 leaders Oregon and Washington, not to mention national heavyweights Alabama and Georgia.
The disappointing haul appears to be a function of several factors. Rhyan said UCLA coaches were not as aggressive as their counterparts from other schools in their pursuit, a style that suited Rhyan but may have turned off others who savor the attention. Biggins said he's noticed the Bruins pivoting in their approach toward the 2020 recruiting class.
"They've already offered four quarterbacks and have done a much better job getting kids on campus for unofficial trips," Biggins said. "I mean, they're offering new players in the 2020 class every day, whereas last year it seemed like they were going out of their way to not offer anybody."
UCLA also this week unveiled what it has called the "#8Clap8th Scholarship Offer Days," events in which the team will formally offer scholarships to a new wave of recruits on the eighth day of each month. The gimmick was intended to build buzz, but it has already generated skepticism in recruiting circles.
"Does that mean if they like a kid on the 10th, they can't offer him until the following eighth of the next month?" Biggins said. "Honestly, I don't know what to make of it. I've never seen anything like it."
The Bruins also might want to rethink official visits intended to simulate what life at UCLA would be like, though TMZ cameras recently filmed Kelly outside Craig's, a swanky West Hollywood restaurant, with Orem (Utah) High receiver Puka Nacua.
"Other officials, you kind of have a little bit more fun," Carlin said, "but when I went there, it was good because I really got a taste of what college feels like. That was really helpful for me."
Carlin liked that one of the windows on his floor inside the Luskin Conference Center, where he was housed on his visit, included a view of the Bruins' practice fields.
That's where Kelly's newest recruits intend to show they're not all that different from the coach who brought them to campus.
"He knows what he wants and he's going to go get it, which I really like in a head coach," Carlin said. "I'm definitely one that works my butt off and when something's in front of me, go out and get it. So with UCLA, I'm going to work my butt off and get what's mine and win."
Twitter: @latbbolch
---
Get the latest on L.A.'s teams in the daily Sports Report newsletter.
You may occasionally receive promotional content from the Los Angeles Times.