UCLA jumps to big lead, then has to sweat out victory to remain unbeaten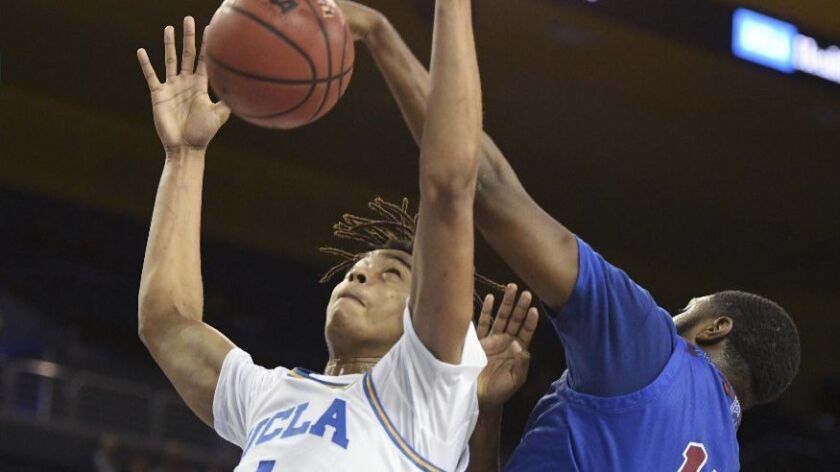 Playing the second in a series of religious schools that line its schedule, UCLA showed some mercy.
The Bruins looked like they were comfortably on the way to a romp over cold-shooting Presbyterian on Monday night before appearing to lose interest.
What had been a 24-point lead was down to three with less than eight minutes left. The Blue Hose overpowered and outsmarted the Bruins during two separate 11-0 runs, generating audible unrest inside Pauley Pavilion.
The 17th-ranked Bruins might have felt like they were in need of a confessional after finally prevailing with an 80-65 victory that exhibited several flaws ahead of some much tougher matchups.
"We were really making growth in the first half and then we took about two steps back," UCLA coach Steve Alford said. "I thought it was as careless as we've been since we started the season."
The Bruins (4-0) committed 21 turnovers and made only three of 13 three-pointers in the second half. A victory did not seem assured when Presbyterian's Francois Lewis made a three-pointer that drew his team to within 61-58 with 7:40 left.
But UCLA could finally exhale after guards Prince Ali and Jaylen Hands drove for layups and power forward Jalen Hill grabbed one of his 20 rebounds and went in for a putback that increased the lead to 13.
"I think it was a little bit of coach getting in our ... and a little bit of pride," said UCLA forward Kris Wilkes, who scored 12 points but made only five of 14 shots, including one of seven three-pointers. "I feel like our pride got taken away a little bit by them coming in and making that run period."
Adam Flagler scored 24 of his 29 points in the second half for Presbyterian (3-3), which made 10 of 23 three-pointers over the same span. The Blue Hose took 45 of their 63 shots for the game from long range, making 13.
Hands made one of the game's most athletic plays when he split two defenders with his dribble and went in for a layup, but he was critical of himself after finishing with 19 points, six turnovers and three assists.
"I know I was disappointed in the way I turned it over," Hands said, "so this game will be really helpful for me to go back and see how I can get better."
It had seemed like the intrigue was gone well before halftime with the Bruins holding a 22-point lead they extended to 24 early in the second half.
Then it felt as if UCLA went on cruise control and nearly swerved into a ditch.
"Just being inexperienced," Alford said when asked for the genesis of the turnaround.
Moses Brown and Chris Smith each added 10 points to help the Bruins persevere against the second of six religious schools they will face in the nonconference portion of their schedule. UCLA has already played St. Francis and will also play Loyola Marymount, Notre Dame, Belmont and Liberty.
Alford said the number of religious schools was not intentional, noting that St. Francis and Presbyterian were part of the Continental Tire Las Vegas Invitational.
Brown had seven rebounds and was held without a double-double for the first time in his career after playing only 27 minutes as a result of the Bruins going smaller against a team firing so many long-range shots.
UCLA freshman Cody Riley, who had missed the first three games with a jaw injury sustained in practice, finished with eight points in his college debut after sitting out all of last season while suspended for his role in a shoplifting incident.
UCLA's 22-point halftime lead could have been substantially more had it not committed 10 turnovers.
The Bruins know these kinds of mistakes could cost them in the coming days. They will play No. 11 Michigan State on Thursday in Las Vegas and could face seventh-ranked North Carolina on Friday.
"It's better that it happens in a game that we win," Hands said of the lessons learned, "as opposed to a game that we lose."
Follow Ben Bolch on Twitter @latbbolch
---
Get the latest on L.A.'s teams in the daily Sports Report newsletter.
You may occasionally receive promotional content from the Los Angeles Times.