UCLA running back Joshua Kelley can't wait for his first chance to play against USC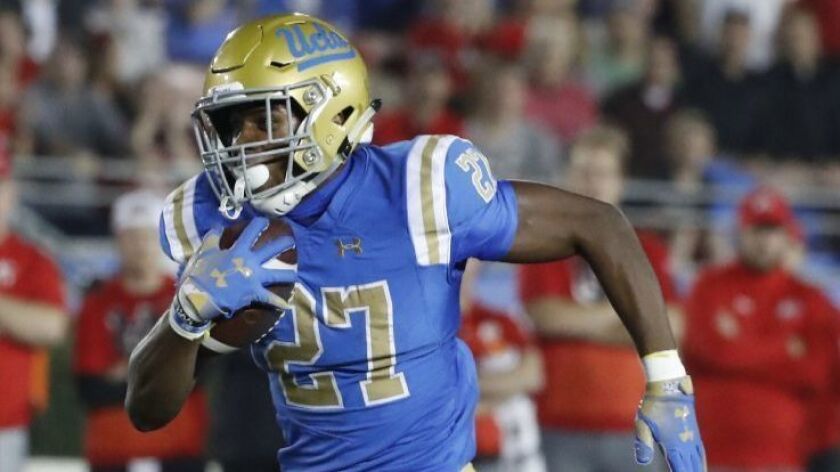 Joshua Kelley could feel the excitement of the UCLA-USC rivalry, even if he couldn't experience it.
The Bruins tailback was forced to watch from the sideline last year as he sat out the season because of transfer rules.
"The energy, the atmosphere, it was incredible," Kelley said this week. "I was just sitting there thinking like, 'I can't wait for the opportunity to be out there.' "
The redshirt junior will get his chance Saturday afternoon when UCLA (2-8 overall, 2-5 Pac-12 Conference) faces USC (5-5, 4-4) at the Rose Bowl.
The transfer from UC Davis enters the game as the fifth-leading rusher in the Pac-12, averaging 99.9 yards a game even though he didn't take over as the Bruins' primary tailback until the fourth game of the season. His average tops those of USC's Aca'Cedric Ware (73 yards) and Stephen Carr (42.7).
Kelley said the terms of his release from UC Davis allowed him to contact both UCLA and USC, but there was no debating which school he would target. An aunt and an uncle both went to UCLA and his mom once volunteered on campus.
"We've been connected to this place," said Kelley, who attended Eastside High in Lancaster. "It's just instilled in me that blue and gold was where we were going to be."
The Bruins are thrilled to have him. Kelley's 899 rushing yards put him on pace to become the team's first 1,000-yard rusher since Paul Perkins in 2015. He has also rushed for a touchdown in each of the last six games, becoming the first UCLA player to do so since Maurice Jones-Drew in 2005.
On Saturday he'll try to become the first tailback to help the Bruins beat their rival since Perkins ran for 93 yards and a touchdown in 2014.
"I'm definitely amped up," Kelley said.
Snap judgment
Getting the ball from the center to the quarterback isn't always a snap.
The Bruins struggled with the exchange late in their loss to Arizona State last weekend, leading to consecutive false-start penalties on the final drive that cratered their comeback hopes.
"Stuff like that is things that can cost you the game," redshirt sophomore guard Michael Alves said earlier this week.
Alves said fan noise can make it hard to hear the quarterback clap that signals the snap but added that it was no excuse; the linemen practice with music playing in the background and "should be able to hear the clap no matter what."
Part of the problem may be inexperience. The line has included true freshmen Christaphany Murray and Alec Anderson as well as redshirt freshmen Sam Marrazzo. The other regulars are redshirt sophomore Jake Burton, junior Boss Tagaloa and redshirt junior Andre James.
"We're still learning, we're still getting better," Alves said, "and when you're still learning, you're going to have mistakes, so that's really where it's at right now. … We're going to look back on some plays, some times in the season where you're like, why did we do that, why did we miss that block, stuff like that, and we're going to think about it and we're going to fix it and then next year we're going to be a lot better."
Etc.
Caleb Wilson has been selected as one of eight semifinalists for the John Mackey Award, which goes to the top tight end in college football. … The Blood Bowl, the two-hand-touch football game between the newspaper staffs of the Daily Bruin and Daily Trojan, is scheduled to be played Saturday evening at Drake Stadium on UCLA's campus. The USC student journalists prevailed last year in the resumption of the series, which had been put on hold since 2013.
Follow Ben Bolch on Twitter @latbbolch
---
Get the latest on L.A.'s teams in the daily Sports Report newsletter.
You may occasionally receive promotional content from the Los Angeles Times.