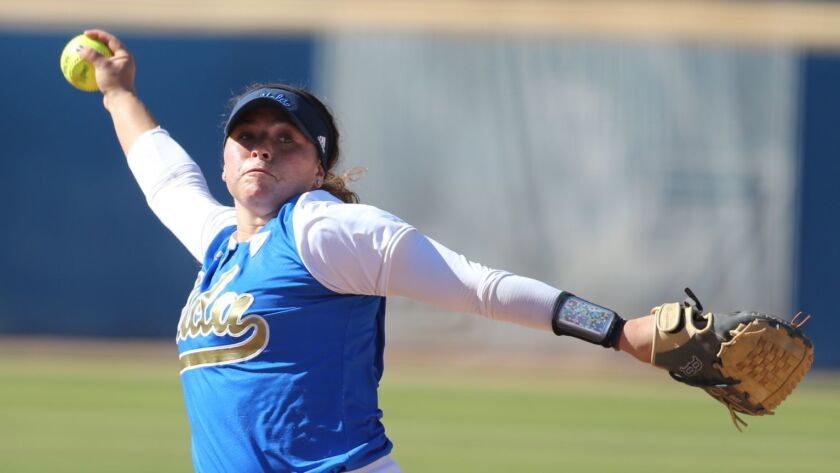 As she retired batter after batter last week, Rachel Garcia created tension … among her teammates. The UCLA pitcher would have had to know she was throwing a no-hitter to get nervous about it.
Garcia was unaware she was on the verge of something special until Bruins assistant coach Kirk Walker clued her in following the five-inning no-hitter that gave UCLA's softball team an 8-0 victory over Lehigh in an NCAA tournament regional opener.
"For a second, I was like, 'What?'" recalled Garcia, whose only imperfection was hitting a batter to start the second inning. "I had no idea. But I guess for me throwing a no-no at this level, it's cool. I honestly don't really look at those [things] when I'm playing. It's just a game to me."
Garcia expressed a similar nonchalance two days later when she faced a bases-loaded, two-out situation in the third inning against Cal State Fullerton. UCLA coach Kelly Inouye-Perez approached the pitcher's circle and told the redshirt freshman to be herself.
"She kind of looked at me like, OK," said Inouye-Perez, who returned to the dugout to watch Garcia strike out the Titans' Kylie Padilla with a backdoor curveball to end the threat during the Bruins' 9-1 victory.
Worry isn't part of Garcia's repertoire, which should put UCLA (45-13) at ease as it opens an NCAA super regional against Mississippi (43-18) on Thursday evening at Easton Stadium with its ace scheduled to pitch in the opener of the best-of-three series.
Garcia figures to make at least one more appearance in the series for the Bruins, whether in relief or starting a second game, as they attempt to return to the Women's College World Series for a third consecutive season. Garcia (20-7) won both of her starts in the regional, notching two complete games to lower her earned-run average to 1.84. The Pac-12 Conference freshman of the year has logged 179 strikeouts in 167 2/3 innings with 44 walks, and opponents are batting only .203 against her.
The "0" on her jersey seems to reflect foes' chances of doing something productive.
Garcia's pitching arsenal features seven options — fastball, changeup, curve, backdoor curve, screwball, runner and drop curve — that she can throw at varying speeds and spins in different parts of the strike zone.
"There's times where her curve and her rise are her dominant pitches," Inouye-Perez said, "but she can throw anything."
Inouye-Perez said Garcia's workmanlike approach reminds her of Lisa Fernandez, the UCLA assistant coach who was a four-time All-American and two-time national champion as a Bruin before going on to win three Olympic gold medals.
Garcia threw 10 no-hitters and six perfect games at Highland High in Palmdale, but her favorite moment came during batting practice. Football players would line the right-field fence, rhythmically clapping and chanting the school's Bulldogs nickname, while watching Garcia launch home runs.
"It was probably my highlight of high school," Garcia said.
Hitting has continued to be a memorable endeavor in college for Garcia, who is batting .331 with six homers as a middle-of-the-order slugger. Her solo homer in the seventh inning provided the winning run during the Bruins' 4-3 victory over Arizona State earlier this month, in which she also pitched a complete game.
UCLA has been Garcia's dream school since she attended a game at Easton Stadium when she was about 10 years old. The feeling was mutual, Inouye-Perez having recruited Garcia since she was in middle school, long before she became the Gatorade national player of the year as a senior in high school.
Garcia redshirted last season after suffering a serious knee injury, the after-effects still visible in the brace she wears while pitching.
"For me right now," said Garcia, who has fully recovered physically, "it's more of a mental thing."
In other words, it's nothing she can't handle. Even if Garcia had realized she was on the cusp of her first college no-hitter last week, it probably wouldn't have made any difference. Garcia stays calm whether facing historic achievement or a mini-meltdown.
Inouye-Perez said she's seen Garcia master similar situations going back to her travel ball and high school teams.
"There's pitchers that you realize they're feeling it a little bit and then there's pitchers that are completely in control; Rachel's one of those that you can see — oh yeah, she's in control," Inouye-Perez said. "She's not perfect, but the best part about her is she puts herself in a great position to succeed."
Twitter: @latbbolch
---