UCLA Coach Jim Mora wants Bruins healthy for spring showcase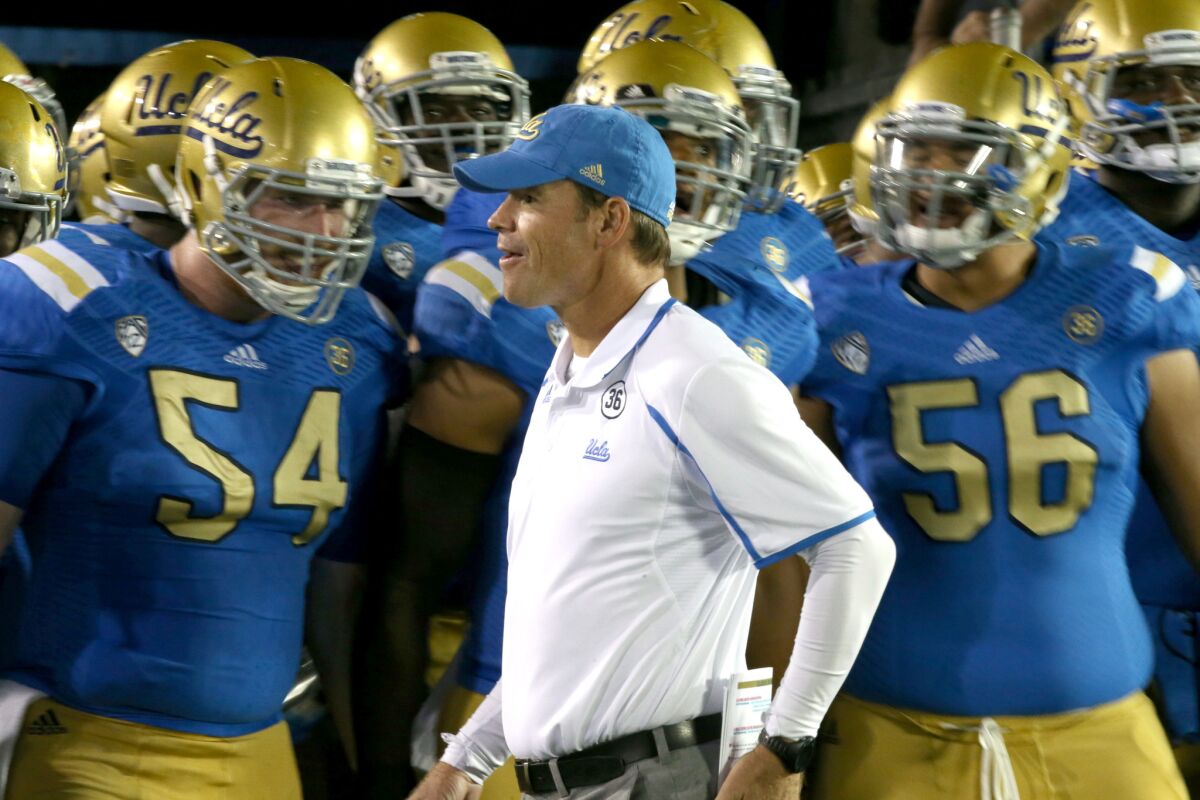 UCLA football Coach Jim Mora wants to have a "real game" when the Bruins have their annual spring showcase for fans at StubHub Center in Carson on Saturday night.
To ensure that can happen, he's prioritizing health this week. The Bruins did not wear pads during Monday night's practice.
"My goal is to get a lot of great work done this week and stay healthy so that we can have a real game on Saturday night," Mora said.
Currently, the Bruins have nine healthy offensive linemen, Mora said. His goal is to have 10 by the end of the week.
That means lineman John Lopez could be the deciding factor on whether the Bruins can put on a "real game" or not.
"He's had a little virus," Mora said. "We just want to see how he is. He practiced on Saturday and toward the end of practice he wasn't feeling real good. If he's healthy we'll have 10 and then we can have a significant game."
A 'subtle' Jack
Mora gave star linebacker Myles Jack some academically oriented praise after practice, saying that the area of most improvement for the sophomore has been the classroom.
"Myles is about a 3.4 [grade-point average] right now," Mora said. "He came in and struggled a little bit in high school but has made the [athletic] director's honor roll every quarter that he's been here."
On the football field, Mora says, Jack has become a more "subtle player."
"Football-wise, it's his understanding of the game, of concepts," Mora said. "I think last year at times he was just playing football, letting his instincts take over. Now I think he understands where he's supposed to fit where he's supposed to drop, what's happening on other side of the ball and how that affects him."
And the coach said fans should expect to see Jack at running back less often this year. Although Jack may be called in to play running back in package formations during the season, Mora says it is more important for him to fully grasp the linebacker position.
Mora also said he wishes he had started Jack at linebacker during last year's game against Arizona State.
"They went up and down the field on us," Mora said. "I think if he'd have been in there we could have made it at least a little more difficult for them.
"Even though we were down on numbers at running back at Arizona State I would have played him on defense," he continued. "I think that was a poor decision on my part and I wish I had that one back."
And although Jack has said he prefers playing at linebacker, he went back and forth with reporters after practice on whether he would like to play both ways this season.
"I was recruited here to play linebacker, so that's really what I'm here to do," he said. "But if they need me, if something happens this year where I have to get in then I'm definitely more than happy to."
New coach running backs coach Kennedy Polamalu would love to have Jack play both ways.
"He's in my ear," Jack says. "I was holding the ball and he told me, 'You know if you want to switch. …' Yeah, Coach Polamalu, he's on it."
But Jack says he feels more comfortable on defense.
"I love tackling people more than being hit," he said. "Having guys coming in at different angles. To me I'm just running scared and running away from everybody and trying not to get grabbed or pulled down. I'd rather just tackle people."
But the possible presence of former Bruins running back Maurice Jones-Drew at the spring showcase Saturday could just sway Jack to ask for some time on offense.
"I can't turn Maurice Jones-Drew," he said. "If he believes I can do it — an NFL running back — I'll have to play both ways this year."
Lee's progress
Craig Lee scooted through a hole, cut left and was off on a 50-yard-plus run during UCLA's live scrimmage Saturday.
That would have caused some concern last fall, when Lee was a scout team member. A minor flaw in the defense that had to be corrected? A lack of individual effort that had to be addressed? It certainly wouldn't have earned Lee any playing time.
Now such things have offensive coordinator Noel Mazzone asking himself questions.
"Good ones," Mazzone said.
Such as?
"How many snaps in a game can we get him?" Mazzone said.
Lee, 5 feet 11 and 185 pounds, has had an eye-opening spring.
He was an actor last fall, playing whatever running back the Bruins were about to face. He certainly had the chops for the role.
Lee gained 1,787 yards and scored 20 touchdowns as a senior at Redlands High in 2012. But as important as the scout team was to the Bruins' preparation, "The plays weren't mine," Lee said. "So trying to get back into the flow with our stuff was pretty hard at times. Right now it's pretty easy."
That has been clear since the first week of spring practice. Lee showed quickness and getaway speed the first two days. But the Bruins were not in pads.
"He flashed," Coach Jim Mora said. "We wanted to see what he did in pads. He didn't look any different."
Lee had been waiting months to show off.
"It was tough," Lee said. "I had never sat on the sideline before."
He was slower to pick up the Bruins' offense, like other scholarship players on the scout team. They had to spend time learning each opponent's offense.
"They went almost the entire year not playing in our offense," Mora said. "They sat in meetings, they heard the verbiage, but they didn't get to practice our offense."
Lee, Mora said, "has a couple weeks under his belt and you're seeing him start to take off."
Running with the scout team did provide some lessons.
"It taught me how fast holes close in college," Lee said. "Those guys are fast and they hit me … a lot."
Where Lee will fit in the fall remains to be seen. The Bruins have numbers in the backfield with three experienced running backs — Jordon James, Paul Perkins and Steven Manfro.
James was the starter last season and had 534 yards rushing, 424 before a severely sprained ankle in the fourth game. Perkins had 573 yards rushing. Manfro, who also battled injuries, had 107 yards.
Mazzone said he will probably rotate backs this season. Lee appears to have won a spot on that committee.
"He has shown me the willingness to learn and understand the offense," Mazzone said. "There is a lot more to playing running back in this offense than running with the ball. You have run routes and catch passes. You've got to be able to do pass protection."
Twitter: @cfosterlatimes
---
Get the latest on L.A.'s teams in the daily Sports Report newsletter.
You may occasionally receive promotional content from the Los Angeles Times.