Bruins kicking off spring practice looking to build upon positive signs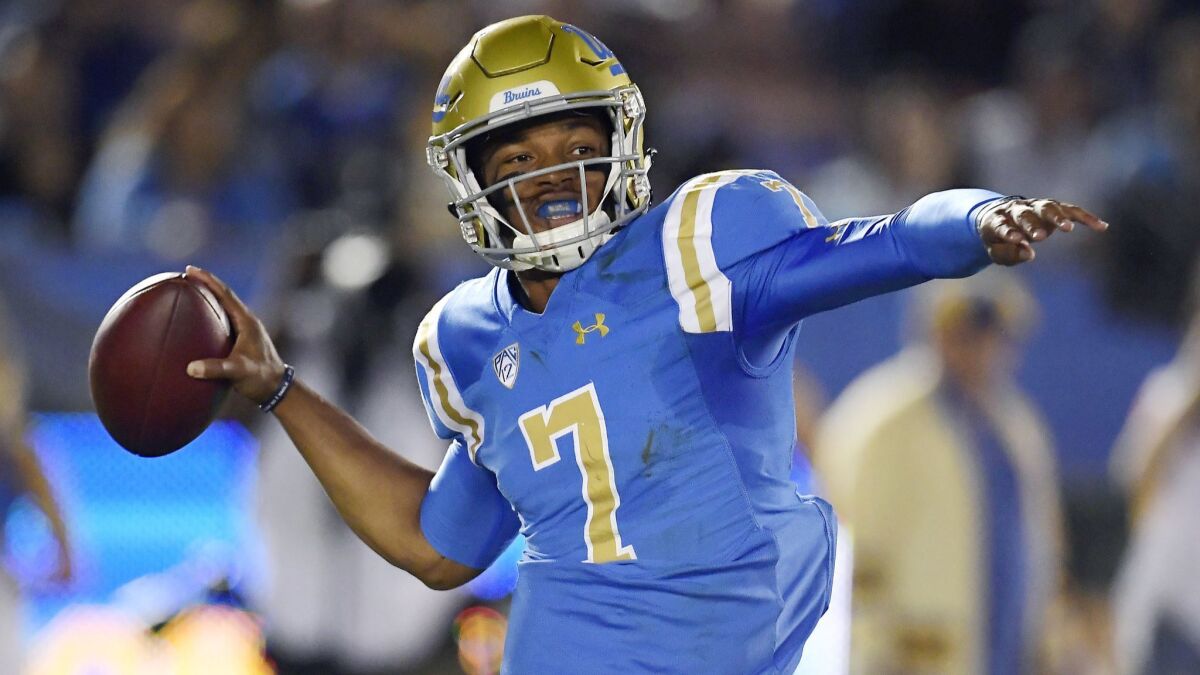 It was the 3-9 football season that nobody wanted to end.
UCLA may not have won many games by the close of coach Chip Kelly's debut season, but the Bruins clearly stumbled upon … something.
They defeated USC, were a couple of false starts away from possibly topping Arizona State and made the Rose Bowl literally shake with excitement in the final minutes of a close loss to Stanford.
Hey, it's a start.
An offense that had trouble generating a first down over the season's first month was nearly unstoppable by late November. The defense was giving up points but getting needed stops. Kelly always seemed to be one step ahead of his counterparts in his play-calling.
The Bruins sensed they were on the verge of success, if not greatness.
"We came up short several times," cornerback Darnay Holmes said after the season-ending loss to Stanford, "but next year, those little setbacks are not going to be setbacks, they're going to be 'W's.'"
The quest to continue the upward trajectory starts in earnest Tuesday with the first spring practice.
Here are the biggest questions confronting the Bruins heading into the spring:
Who will emerge at quarterback?
By midseason, freshman Dorian Thompson-Robinson looked like the runaway winner in his battle with graduate transfer Wilton Speight to become the Bruins' full-time quarterback.
He had completed 45 of 61 passes (73.8%) over a three-game span that included a narrow loss to Washington and a runaway victory over California.
Then came a shoulder injury against Arizona.
Speight reclaimed the job and let go only briefly, giving way to Thompson-Robinson for an ineffective start against Oregon, before closing the season as the clear No. 1 quarterback.
Speight's departure opens the door once more for Thompson-Robinson, though a new competitor has arrived in time for spring practices intending to slam it shut. It will be a homecoming for freshman Chase Griffin, who was born at UCLA Medical Center in Santa Monica and lived in Beverly Hills until moving to Texas when he was 5 years old.
Griffin, the consensus Texas high school player of the year in 2018, is eager to show that the poise and precision that led to 51 touchdown passes and only five interceptions as a senior can offset another set of numbers that scared off most major colleges — his 5-foot-10, 185-pound build.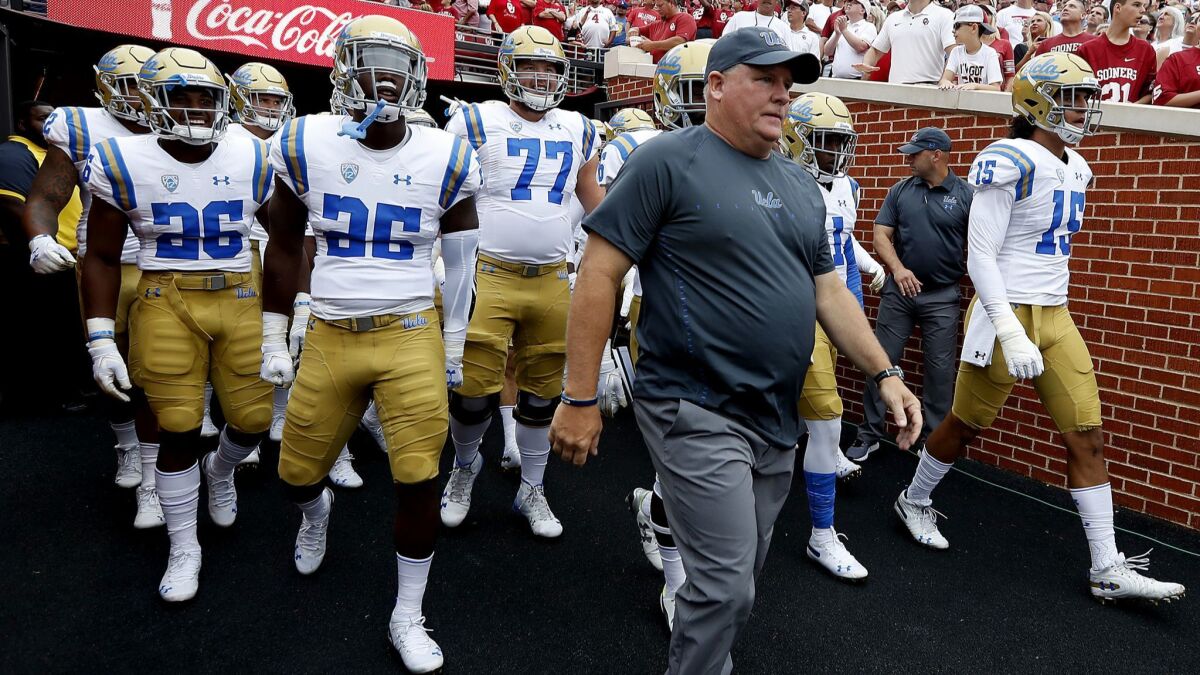 What will the rest of the offense look like?
The shift from the spread to the pro style to one version of the multiple and then another is over.
UCLA is bringing back the same offense from the previous season for the first time since 2015, but there will be changes.
Justin Frye is the new offensive coordinator, at least in title, though his role in the play-calling remains unclear. Spring practices could provide the first glimpse of how much input will come from the assistant who's considered the fastest rising star of Kelly's staff.
Frye also will continue to oversee an offensive line that is returning four of five starters but needs a new left tackle. The candidates include Jake Burton, who could move over from right tackle, as well as reserve Alec Anderson and highly touted freshman Sean Rhyan, who won't arrive until fall camp.
The running game returns mostly intact with breakout star Joshua Kelley back for his senior season and backups Martell Irby and Kazmeir Allen seeking more carries. Theo Howard should be the go-to receiver after a season in which he didn't drop any passes, according to Pro Football Focus.
If everything clicks, an offense that averaged 34.7 points over the last three games of last season could be even more productive in 2019.
Is there another Kelley among the walk-ons?
He may forever be the blue-and-gold standard among UCLA walk-ons after piling up 289 yards rushing against USC, more than any other running back in the history of the rivalry game.
Kelley had been awarded a scholarship by then, but his rise could inspire a new wave of walk-ons seeking to capitalize on a host of opportunities.
The Bruins will start the spring with 76 scholarship players, nine short of the allowable amount, amid a slew of defections and recruiting misses. Further thinning their ranks is that the bulk of the freshmen won't arrive until fall camp.
That should provide openings for walk-ons to contribute at multiple positions. Among the current walk-ons, offensive lineman Sam Marrazzo, linebacker Jayce Smalley and defensive back Shea Pitts had worked their way into the rotation by the end of last season.
Will the young defensive line deliver the lumps it took last season?
Freshman defensive linemen Atonio Mafi, Otito Ogbonnia and Tyler Manoa, who combined for nearly 1,000 pounds of bulk, were close to an immovable mass by season's end.
Mafi started nine games, Ogbonnia started six and Manoa was a top reserve. They combined for 63 tackles, including two for losses, but contributed no sacks as part of a lagging UCLA pass rush that generated only 15 sacks all season.
Improvement in 2019 would involve harassing the quarterback and at least a handful of sacks.
Mafi, who started college well above 400 pounds, has continued to slim down in his efforts to become more mobile. Manoa might sit out next season if he begins a Mormon mission but has not announced his intentions.
Can the special teams be at least average?
The game footage of UCLA's special teams last season resembled one continuous blooper reel.
There was a dropped punt, a failed onside kick, a missed tackle on a fake field goal, a false start leading to a missed field-goal attempt and blown punt return coverage leading to a touchdown.
And that was just against Oregon.
Derek Sage has replaced the departed Roy Manning as special teams coordinator, giving the Bruins a do-over of sorts. His first order of business will be to find a new punter after the graduation of Stefan Flintoft, the rare reliable part amid a largely sputtering operation.
---
Get the latest on L.A.'s teams in the daily Sports Report newsletter.
You may occasionally receive promotional content from the Los Angeles Times.