Mick Cronin and father Hep weren't going to miss a chance at reuniting after UCLA win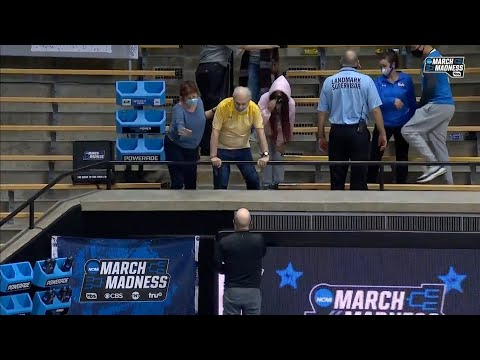 UCLA coach Mick Cronin reunites with his dad after the Bruins' win over Michigan State in the First Four of the NCAA tournament on Thursday.
INDIANAPOLIS —
The reunion wasn't planned, Hep Cronin milling about inside Mackey Arena after his son Mick's UCLA team had rallied to win its NCAA tournament opener against Michigan State.
As Hep celebrated the overtime victory in a First Four game with a handful of family members late Thursday night, somebody told him that Mick was headed his way. Hep navigated the steep steps toward a railing above the court when a security guard tried to stop him, mindful of safety restrictions intended to protect players and coaches from fans amid the pandemic.
Just like his son's team, Hep would not be denied.
"I said, 'No, I'm not stopping. I'm seeing my son,' " Hep recalled Friday during a telephone interview with The Times. " 'I haven't seen him in one year, you're not stopping me.' "
Updates, scores and results from Sunday's second-round games at the NCAA men's basketball tournament in Indiana.
They had not been together since the Bruins defeated Arizona State in late February 2020 at Pauley Pavilion, only two weeks before the COVID-19 crisis led to a premature ending to the season.
Hep, who turns 80 in August, contracted the virus around Thanksgiving but said he didn't have a severe case and felt much better after an infusion of drugs. He received his first vaccination shot this month, emboldening him to make the three-hour drive from Cincinnati to West Lafayette, Ind.
A party of nine that also included Mick's brother, Dan, celebrated after the game at a nearby steakhouse. Hep, a retired high school basketball coach who has served as Mick's lifelong mentor, speaks with his son four or five times a week, sometimes twice in a day and sometimes none.
"The none's usually after a loss," Hep said. "If they lose on a Saturday, I'm probably not going to talk to him until Monday."
Mick routinely teases his father about being stuck in frigid Cincinnati during morning conversations while driving to work in Westwood.
"I explain to him the sun's already coming up over the Santa Monica Mountains so I've got to put my sunglasses on," Mick said. "I mess with him every day."
In a normal NCAA tournament, Hep would accompany the Bruins to practice and spend as much time around the team as possible. Now, with attendance capped at only a small fraction of capacity and teams sequestered on their own floors inside hotels, any exchanges must come at a safe distance.
The TBS cameras repeatedly captured Hep's reactions during UCLA's 86-80 victory over the Spartans. Some of the first shots showed him with his head in his hands as UCLA fell into a 14-point hole, before the mood shifted dramatically in the second half. There was footage of him pumping his fists while rising from his seat as the Bruins completed the comeback.
Then it was down the steps for the impromptu visit. Quick-witted, just like his father, Mick pulled out a one-liner famous among coaches.
"Dad," Mick said, "We had them the whole way."
Hep could only laugh.
"I said, 'Yeah,' Hep recalled. " 'We sure did.' "
Get the latest on L.A.'s teams in the daily Sports Report newsletter.
You may occasionally receive promotional content from the Los Angeles Times.