Johnny Juzang returns from ankle sprain, lifts UCLA over BYU in NCAA tournament
INDIANAPOLIS —
The ball came off the rim and UCLA's Jaime Jaquez Jr. powered his way toward it, ripping it away from the counterpart who held a nine-inch height advantage.
Matt Haarms, Brigham Young's overmatched 7-foot-3 center, fell to the court in agony along the baseline. Jaquez and the Bruins were on the attack once again, taking it to another team that was supposed to end their season.
After taking a double-digit halftime lead thanks to Johnny Juzang's epic shot-making in his return from a sprained ankle, UCLA prevailed Saturday night at Hinkle Fieldhouse thanks to the toughness of Jaquez and others who countered every late run by the Cougars.
Evan Mobley had 17 points and 11 rebounds, and USC opened the gap in the second half to beat Drake 72-56 in the first round of the NCAA tournament.
Shrugging off a horrid start in which he had missed 10 of his first 11 shots, point guard Tyger Campbell buried a floater and drove the baseline for a layup.
Ignoring his game-long foul trouble, forward Cody Riley zipped a pass toward Jules Bernard for a reverse layup.
Having been blanketed by the Cougars after his 19 first-half points, Juzang mostly set screens and helped space the floor for the balance of a game he finished with 27 points.
The team approach resulted in the 11th-seeded Bruins breaking out in a celebratory jig in front of their bench after securing a 73-62 victory over the sixth-seeded Cougars in the first round of the NCAA tournament.
"Everybody on this team, now more than ever," Juzang said, "really trusts each other."
The Bruins' magical mystery tour of storied Indiana venues will last at least two more days.
After moving from one arena where a statue of John Wooden stood outside to another where its legendary coach once played while in high school, UCLA (19-9) will play No. 14 seed Abilene Christian in the second round Monday at Bankers Life Fieldhouse.
For the first time in the tournament, the Bruins will be favored, needing one more victory to reach a regional semifinal for the first time since 2017.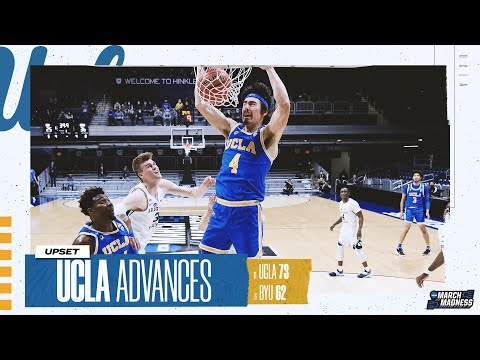 Highlights from UCLA's 73-62 victory over Brigham Young in an NCAA tournament first-round game Saturday night.
Juzang was a straggler to pregame warmups, walking over to a courtside chair to tie his shoes while his teammates started stretching on the court.
There was reason to wonder whether he would get up to join in the exercises or remain an observer.
He had been carried off the court with his ankle injury only two days earlier in a victory over Michigan State, leaving his status in doubt. The uncertainty was answered when Juzang bounded over to the baseline and joined his teammates, moving fluidly and showing no lingering signs of his injury.
In a sign of things to come, Juzang sank a three-pointer less than a minute into the game. He carried UCLA to a 38-27 halftime lead after making eight of his first 11 shots, including three of four three-pointers, helping his team withstand a decided rebounding disadvantage and having all three of their big men in foul trouble.
Riley picked up his second foul less than three minutes into the game and went to the bench. Forwards Mac Etienne and Kenneth Nwuba also picked up two fouls in the first half, but coach Mick Cronin had no choice but to leave Nwuba in the game.
The move worked out when Nwuba backed into his man underneath the basket, clearing a path for Jaquez to drive for a ferocious two-handed dunk that gave the Bruins a 38-25 lead.
"It's March Madness," Juzang said after crediting trainers' around-the-clock efforts for speeding a recovery that has helped him pile up 50 points in his first two NCAA tournament games. "It's do or die. I mean, I knew I was playing. … It felt great."
UC Santa Barbara barely misses out on winning its first NCAA tournament game since 1990 when a late shot fails to drop in a 63-62 loss to Creighton.
Juzang received plenty of help from a team that's showing an increasing array of reliable options. Bernard scored 16 points and Jaquez added 13 points and eight rebounds in 37 minutes, nearly playing an entire game for the second time in three days.
"Just our effort and our toughness was there all night and it had to be," Cronin said after his team limited the Cougars to their second-lowest scoring output of the season, "because they're really hard to play defense against."
Brigham Young's Alex Barcello scored 20 points, but the Cougars (20-7) made only three of 17 three-pointers (17.6%) and committed six more turnovers than the Bruins.
UCLA completed a clean sweep of the first round for the Pac-12 Conference after Colorado and USC won earlier in the day and Oregon advanced after Virginia Commonwealth was forced to withdraw because of COVID-19 issues.
No. 13 UCLA, a two-time defending champion, struggles on the balance beam and places third in the Pac-12 championships Saturday. No. 6 Utah wins the title.
Notching a comeback victory over Michigan State two days earlier had erased any worry the Bruins would close the season on an extended losing streak and wipe out the progress they had made under Cronin in his second season.
Now, it seems as if the Bruins might just be getting started.
"Nobody's satisfied," Juzang said. "We want to keep this going and we don't plan on going home."
Get the latest on L.A.'s teams in the daily Sports Report newsletter.
You may occasionally receive promotional content from the Los Angeles Times.