UCLA defeats top-seeded Michigan to go from First Four to Final Four
UCLA players celebrate after an Elite Eight game against Michigan in the NCAA men's college basketball tournament at Lucas Oil Stadium in Indianapolis on Tuesday night.
(Darron Cummings / Associated Press)
Tyger Campbell and Jaime Jaquez Jr. (4) celebrate UCLA's defeat of the Wolverines. The Bruins won 51-49.
(Tim Nwachukwu / Getty Images)
UCLA players and coaches celebrate.
(Darron Cummings / Associated Press)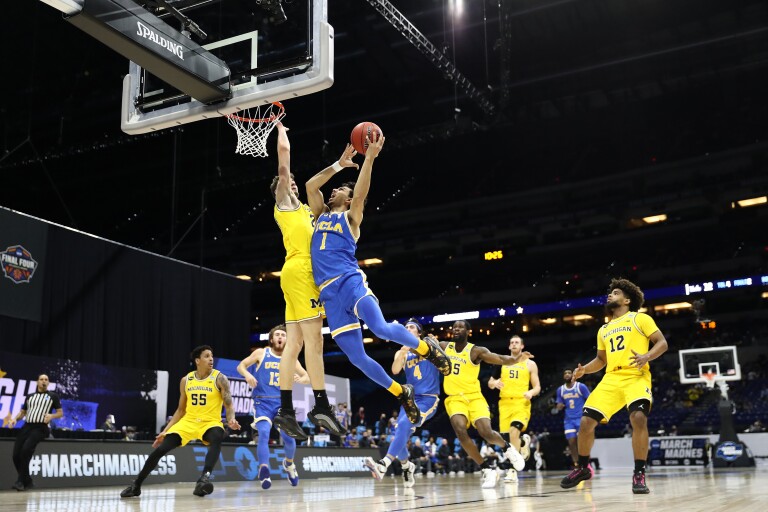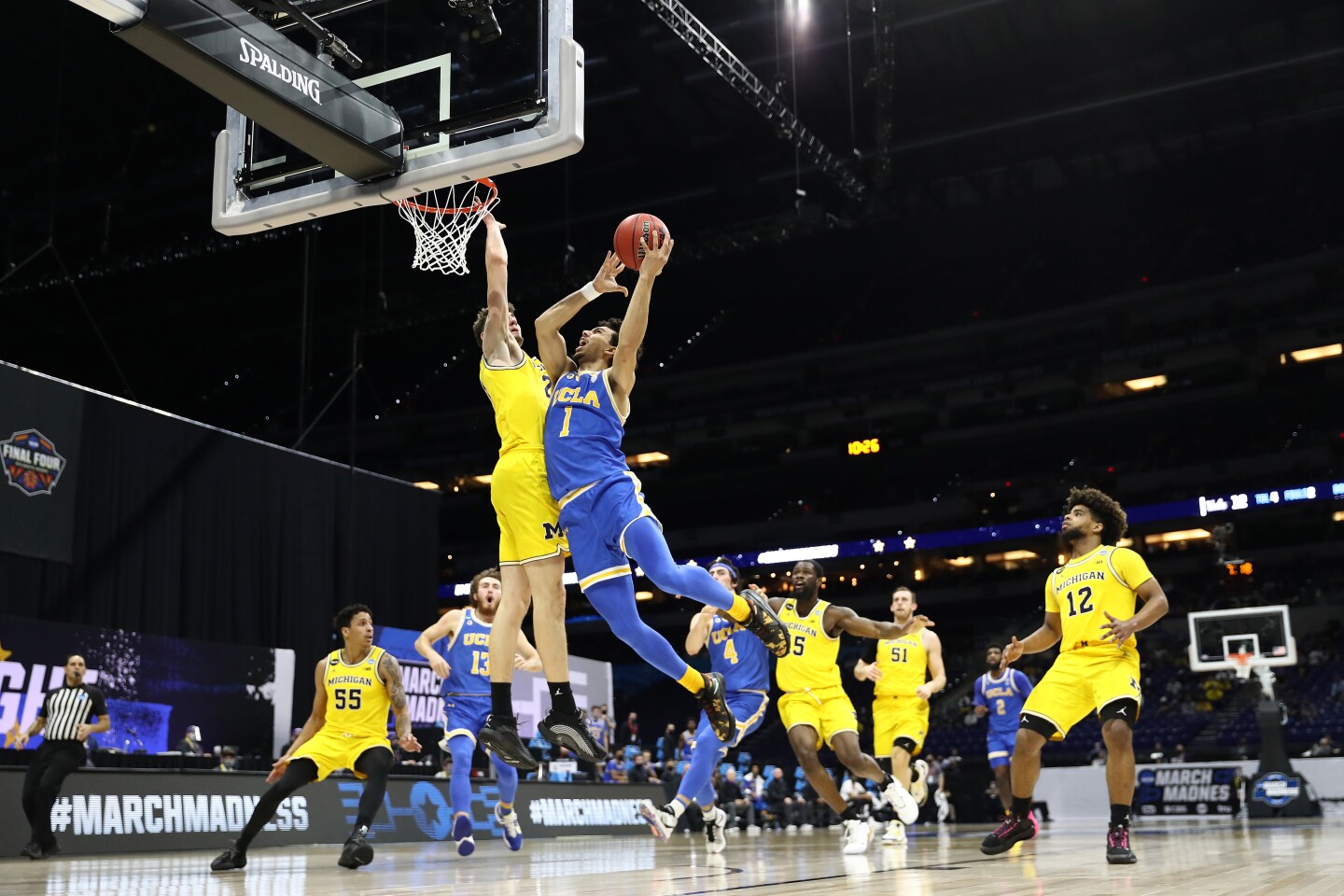 Jules Bernard drives to the basket against Franz Wagner of the Michigan Wolverines during the first half of Tuesday's game.
(Tim Nwachukwu / Getty Images)
Jaime Jaquez Jr. looks to pass over Michigan guard Mike Smith during the first half.
(Michael Conroy / Associated Press)
UCLA guard Johnny Juzang shoots over Michigan guard Mike Smith.
(Michael Conroy / Associated Press)
INDIANAPOLIS —
From the moment his team commenced this pulsating run, becoming the underdog that always found a way, Mick Cronin insisted it wasn't about winning a few games to put a lovely bow on the season or to show promise for what's to come.
Achieving an upward trajectory, nudging his team back into national prominence and quieting the doubters were not among the reasons Cronin came to UCLA.
As the team's 11 national championship banners reminded him daily, there was only one acceptable finish for a team with this kind of history on college basketball's biggest stage, and that was winning it all.
In what has felt like an improbable instant under their fiery coach, the Bruins are almost there.
With UCLA winning over Michigan Tuesday night, Pac-12 has now broken the record for most upsets by a conference.
In only his second season, missing two of his best players, Cronin has pushed every needed button in the NCAA tournament, his team slaying every heavy favorite, coming within two victories of the school's first national title since 1995.
That doesn't mean what happened Tuesday night against Michigan inside Lucas Oil Stadium was any easier than any of the breathless finishes that preceded it.
Eleventh-seeded UCLA held off the top-seeded Wolverines 51-49 in the East Regional final after surviving its most feared nemesis: an inbounds pass in the final second.
It was the sort of situation that had haunted the Bruins for months after Stanford and USC downed them on similar plays. But Michigan's Franz Wagner will not reside in UCLA's nightmares alongside Oscar da Silva and Tahj Eaddy after he grabbed the inbounds pass and rose for a three-pointer that hit the side of the rim and bounced away, setting off a wild celebration.
The Bruins darted around the court before commencing their postgame dance that's become a tradition these last few weeks. They poured buckets of confetti over each other at midcourt before gleefully sliding around in it.
"Unreal, man. Unreal," UCLA guard Johnny Juzang said after scoring 18 of his 28 points in the first half, then playing much of the second half with a bothersome ankle that briefly forced him out of the game. "I love every single one of these guys."
There were other tender tributes, Cronin mentioning his father, Hep, the team's unofficial good-luck charm after making the drive from his home in Cincinnati for each of the Bruins' five victories as part of his son's deepest postseason run.
"Well, you know, the bubble is wild," Mick Cronin said on the television broadcast, alluding to his team being confined to one floor inside a hotel, "but I wanted to stay another week. I'm gonna fly [Hep] first class to L.A. when this is over. But I wouldn't be here if it wasn't for him. Love you, dad."
Hep Cronin will have to make another drive back here Saturday to see the Bruins (22-9) face top-seeded Gonzaga in a national semifinal after the Bulldogs routed USC in the earlier game, thwarting what would have been the first meeting of the Bruins and Trojans in an NCAA tournament. It will be UCLA's first appearance in a Final Four since the last of three consecutive trips under coach Ben Howland in 2008.
Along the way, UCLA has become only the second team to make it all the way from a First Four to a Final Four, after Virginia Commonwealth also did it in 2011.
Highlights from UCLA's win over Michigan to advance to the Final Four of the NCAA tournament on Tuesday.
"We got some lionhearted guys on this team," Juzang said after having his injured ankle re-taped in the second half and pounding his chest twice before re-entering the game. "We got some warriors, man. So if I've got an injury or whatever, I'm getting right back out there because I'm trying to leave my heart on the floor."
Two days after UCLA had six players in double figures during its upset of second-seeded Alabama, the Bruins had only five players score against the Wolverines (23-5). It was enough thanks to Juzang's big output.
"We rode Johnny as hard as we could with his scoring," Cronin said.
Point guard Tyger Campbell added 11 points for the Bruins, and three other players scored just four points apiece. And that was it.
UCLA prevailed thanks to a defense that held Michigan without a field goal over the last 5:22, the Wolverines missing their final eight shots. Center Hunter Dickinson scored 11 points and was the only Michigan player to reach double figures. The Wolverines also committed 14 turnovers to UCLA's eight.
It all set up another wild finish for a UCLA team that has thrived off them in recent weeks.
The game had been tilting in Michigan's direction after the Wolverines wiped out a nine-point deficit early in the second half, briefly taking a 47-46 lead with 4:30 left. UCLA's Jules Bernard countered with a turnaround jumper and the Bruins never trailed again, though Michigan had multiple chances to retake the lead in the final minutes.
The missed opportunities were already piling up when the Wolverines missed an open three-pointer and a putback. The possession finally ended when Bernard grabbed the rebound and was fouled with 7.1 seconds to go.
Chris Smith, the injured senior guard who has accompanied UCLA to every postseason stop, rose two hands skyward in triumph.
But there was more drama to come.
Michigan fouled Juzang on an inbounds pass with 6.3 seconds left, and he made the first free throw before Wolverines coach Juwan Howard called a timeout in an attempt to rattle him. It worked.
The 90.2% free-throw shooter missed the second free throw. Michigan had the ball and another chance with six seconds to go. Guard Mike Smith took a three-pointer that rattled around the rim before falling out.
UCLA's Jaylen Clark knocked the ball out of bounds with five-tenths of a second left, allowing both teams to devise their plans for the final play. Michigan got another open look, but like the ones that had preceded it, it didn't fall.
The Bruins lingered on the court long after the final buzzer, having slipped on black commemorative T-shirts. Cronin strolled below the pack of fans who remained to soak it all in, repeatedly pumping his fist.
Those fans replicated the roll call that's a pregame tradition inside Pauley Pavilion, something that didn't happen this season amid the pandemic. As one player after another walked past on his way toward the locker room, his name echoed through the cavernous arena.
"Jaime Jaquez! Johnny Juzang! David Singleton!"
Amid a once-in-a-century pandemic, it was a familiar sound, a team accustomed to being on top finding its way back.
---
Get the latest on L.A.'s teams in the daily Sports Report newsletter.
You may occasionally receive promotional content from the Los Angeles Times.