Amari Bailey bails out Jaylen Clark-depleted Bruins in comeback over Colorado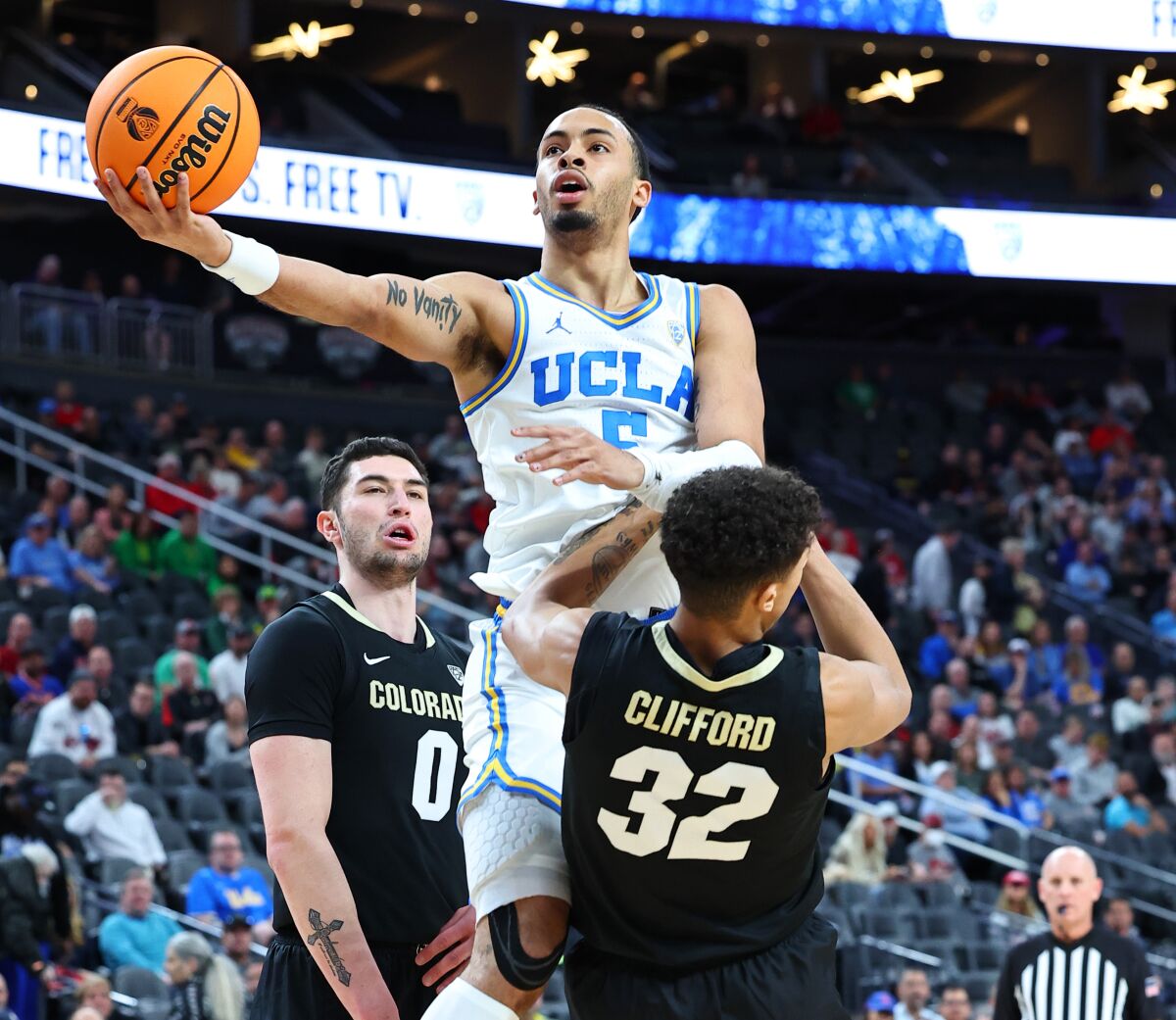 LAS VEGAS —
Life without Jaylen Clark is going to be tough. Amari Bailey made sure it wasn't unbearable.
In UCLA's first game without its most relentless defender, it got an offensive barrage from its star freshman guard to ward off a huge upset.
Bailey found an early rhythm on the way to a career-high 26 points Thursday afternoon and the Bruins did their usual thing in pulling away late at T-Mobile Arena. It was just enough.
Second-ranked and top-seeded UCLA held off ninth-seeded Colorado for an 80-69 comeback victory in a Pac-12 tournament quarterfinal after scoring 20 of the final 28 points.
"Our guys, as usual, get tougher as the game goes on," Bruins coach Mick Cronin said after his team notched its 11th consecutive victory on the way to a semifinal showdown Friday against fourth-seeded Oregon. "That's what happens when you got winners on your team."
If the NCAA tournament selection committee was watching to see how UCLA (28-4) would look without Clark, who suffered a lower-leg injury last weekend against Arizona, the answer was a lot like it did before.
A strong showing in the Pac-12 tournament in Las Vegas could presage a return trip for UCLA in two weeks, for the NCAA tournament's West Regional.
The Bruins fell behind early. They endured some defensive lapses and sloppy stretches. In a startling development, Pac-12 player of the year Jaime Jaquez Jr. got yanked for a few minutes early in the second half after committing back-to-back turnovers.
Through it all, the Bruins remained resolute. They tightened their defense. They were the tougher team in the final minutes.
There were still more than a few queasy moments after Colorado (17-16) made 10 of 23 three-pointers, including one from Tristan da Silva (17 points) over Jaquez that gave the Buffaloes a 61-60 lead with a little more than five minutes left.
Jaquez countered with his own three-pointer, sparking a 9-0 push for the Bruins. UCLA could finally exhale after Jaquez followed a steal with a give-and-go exchange with Tyger Campbell ending in a Jaquez layup in which he was fouled. He made the free throw, extending the Bruins' advantage to 73-65 with 1:21 left.
Frustrations soon boiled over for Colorado coach Tad Boyle, who picked up two technical fouls for yelling at officials and was ejected with 54 seconds left. Campbell made all four free throws to finish with 18 points and seven assists. Jaquez tallied 16 points and nine rebounds.
UCLA's veteran stars were happy to be overshadowed by their freshman teammate. Bailey scored in a variety of ways, making eight of 12 shots and eight of nine free throws after continually getting fouled on drives to the basket.
Bailey said his focus was on the defensive end knowing how much the Bruins would miss Clark's presence. He finished with one of his team's nine steals, slightly exceeding its average of 8.7 entering the game.
"I just wanted to come in and just try to make at least some of it up," Bailey said, "and just play as hard as I can on defense."
The only thing that could stop Bailey in the first half was foul trouble, Bailey heading to the bench with 12 points for the final 8½ minutes after picking up his second foul.
"I know he's got that in him, and I've been trying to figure out how to get it out of him," Cronin said of the offensive production. "It hasn't been his fault, it's been mine. We're trying to figure out ways to get his confidence going."
As expected, Cronin started David Singleton in Clark's place and gave Will McClendon and Dylan Andrews extra minutes off the bench. Singleton scored six points, making just two of eight shots. McClendon and Andrews combined for one point while playing solid defense.
Cronin said he considered starting McClendon to get an offensive boost from Singleton off the bench but decided against it because of Singleton's value to the team in being "the most loyal player I've ever coached." Singleton showed it again by taking a charge in which he banged his right elbow, requiring a bag of ice after the game.
Clark remained in Southern California after suffering the injury that will keep him out through at least the Pac-12 tournament. A day after multiple reports stated that Clark would miss the rest of the postseason with an Achilles injury, Cronin reiterated that he had addressed Clark's status as clearly as the law would allow.
"There's a little thing called HIPAA, OK?" Cronin said, referring to the Health Insurance Portability and Accountability Act that protects patient health information from unauthorized disclosure. "As far as the [selection] committee, absolutely I would share anything with them. But, you know, I think people thinking they have a right to know everything is ridiculous."
In a nod to their best defender, the Bruins got the stops they needed late and scored 24 points off turnovers for the game. They know they'll need to be even better.
"We've got a long ways to go," Campbell said, "to replace a player like that."
Get the latest on L.A.'s teams in the daily Sports Report newsletter.
You may occasionally receive promotional content from the Los Angeles Times.