UCLA's senior trio has persevered in restoring the Bruins to national prominence
The point guard was slow and small, that mound of dreadlocks notwithstanding.
The small forward, for all his toughness, doubted himself amid repeated mistakes and the nonstop yelling from his coach.
The shooting guard didn't offer much besides a singular skill that could be offset by his inability to get his own shot.
Four years later, on the eve of what could be their final home game, the only thing that remains unchanged about the trio of seniors is that mound of hair.
Point guard Tyger Campbell has become one of the best playmakers in the country. Small forward Jaime Jaquez Jr. could be the Pac-12 Conference player of the year. Shooting guard David Singleton has become a star sixth man on one of the nation's top teams.
"We built something really special here," Jaquez said Thursday night as he contemplated his farewell inside Pauley Pavilion.
Jaime Jaquez Jr. finishes with 26 points as UCLA defeats Arizona State 79-61 to keep their bid for a top seed in the NCAA tournament very much alive.
The tears could flow both on and off the court before the No. 4 Bruins (26-4 overall, 17-2 Pac-12) face No. 8 Arizona (25-5, 14-5) on Senior Night, fans saying farewell Saturday to Campbell, Jaquez and Singleton alongside fellow seniors Kenneth Nwuba and Russell Stong IV.
Recruited by Steve Alford, they were the perfect players for Mick Cronin. Tough. Fearless. Eager to improve.
That's not to say it was easy amid their new coach's unapologetically demanding style.
"People say, 'You're so hard on them,' " Cronin said of an approach that has the Bruins on the verge of what might be their first No. 1 seed in the NCAA tournament since 2008. "Well no, no, I'm the way you should be. The kids haven't changed, the problem is adults have. So I just try to do what I think is right for them, teach them right from wrong, teach them accountability, teach them what's gonna be required from them in the real world."
Early in their careers, Campbell, Jaquez and Singleton could have sulked. They could have rebelled. They could have transferred.
Instead, they embraced every shred of criticism, no matter how pointed or earsplitting. The baseline expectations were effort, rebounding and defense.
"He really tried to teach us his way of basketball," Campbell said of Cronin, "and that's winning basketball."
No. 4 UCLA clinched the Pac-12 regular season title, but the Bruins know the job isn't finished and hope to clinch a No. 1 West seed come NCAA tourney time.
Each player dealt with devastating injuries. Campbell lost his freshman season to a torn knee ligament. Singleton was recovering from a broken foot when Cronin arrived in April 2019. Jaquez's junior season was hampered by bothersome ankles.
They stuck it out, endearing themselves to fans eager to connect with their heroes over multiple years as opposed to the drive-through careers of one-and-done players.
"For these guys to have stayed back feeling that they've got some unfinished business and we're going to try to get UCLA back into where it has been — a heralded program — I tip my hat to them and it's really an honor to stand alongside them as fellow Bruins," said Michael Warren, the point guard who won two national championships with the Bruins in the 1960s under coach John Wooden.
"For these guys to have stayed back feeling that they've got some unfinished business and we're going to try to get UCLA back into where it has been — a heralded program — I tip my hat to them."
— Michael Warren, former UCLA guard, on the Bruins' senior leaders
The best illustration of how little the momentary Bruins resonate came during a recent home game when Peyton Watson, who spent one season with the team on the way to the NBA, was greeted with awkward silence when shown on the Pauley Pavilion videoboard.
Contrast that with the cheers and tears that are sure to flood the place Saturday. Jaquez couldn't even get out of class earlier this week without another student asking to take a selfie with him.
"That was probably the funniest thing to happen to me this week," Jaquez said.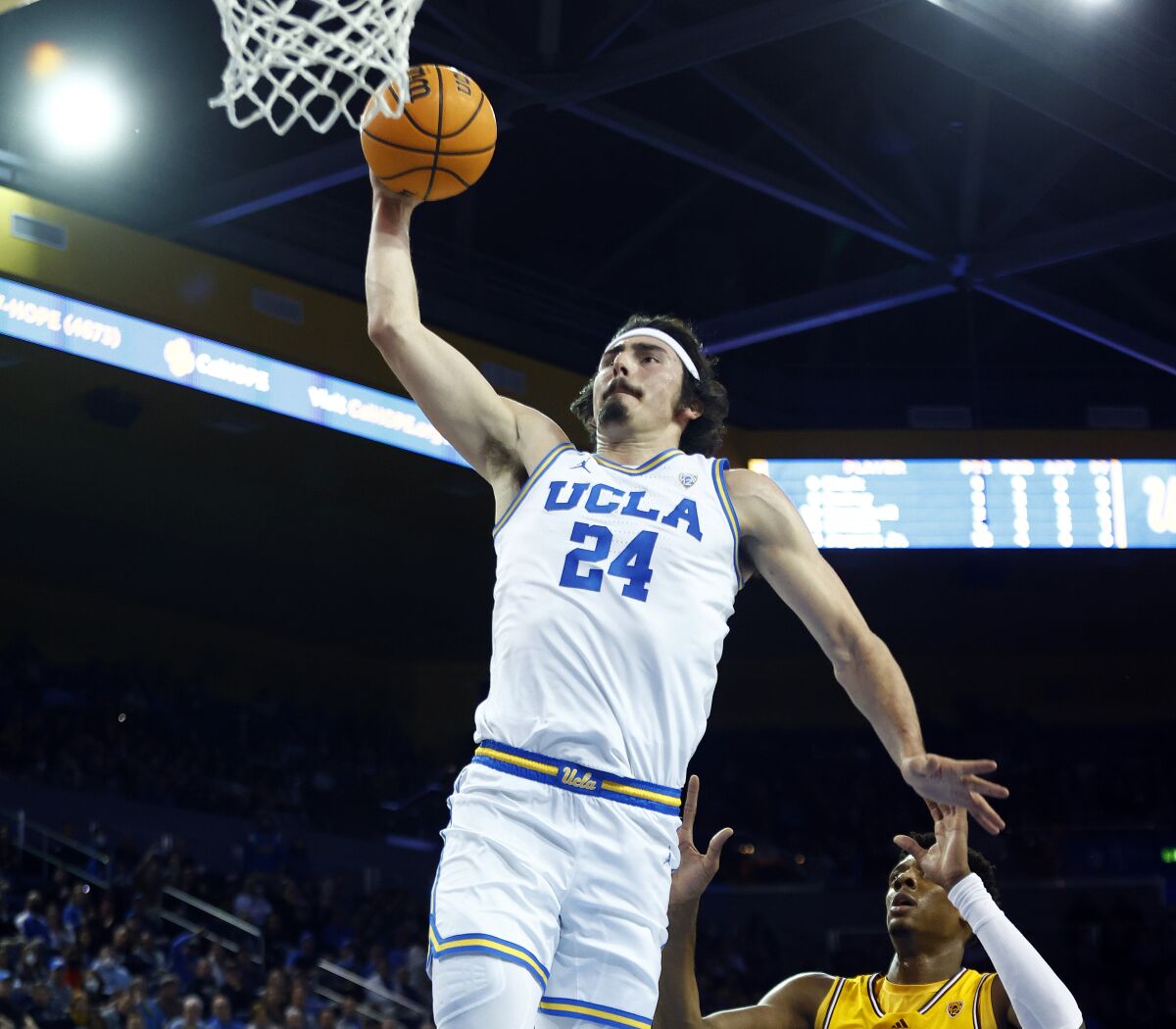 Classmates aren't the only ones who have savored the seniors' ability to maximize their talents while elevating their team.
"It's the ideal of college basketball," said Jamaal Wilkes, the former Bruins forward who was described as the ideal player by Wooden when he went by Keith Wilkes on his way to the Naismith Memorial Basketball Hall of Fame. "All those guys, none of them complain, they put the team first, they want the team to win."
As someone who attends the Bruins' practices as well as games, Warren has become a purveyor of Jaquez's "exquisite" footwork and Singleton's commitment to extra shooting. Warren has developed a particularly tight bond with Campbell given their identical positions, height — both are 5 feet 11 — and Midwestern roots. Campbell's inquisitiveness about the way Warren handled certain situations on the court has been among the many ways he's impressed his predecessor.
L.A. Times college basketball experts Ben Bolch, Ryan Kartje and J. Brady McCollough project the Pac-12 tournament and national championship winners.
"From my point of view," Warren said, "he has lived up to and surpassed every expectation that I've put on him in my own mind, the way he runs the team as an extension of Mick on the court."
Another UCLA legend resided in the Bruins' corner last week when Gail Goodrich sat behind the team bench during a road victory over Utah. After talking to Singleton and learning he's from Inglewood, where Goodrich won a championship with the Lakers in 1972, he watched Campbell and Jaquez make the plays needed to close out the Utes.
"One thing you cannot take away from these three, they give you 100%, they go all out, and UCLA has to be very, very proud of that because there's no quit in these guys," Goodrich said. "Even when they don't play particularly well, they find a way to win and that's the mark of a championship team."
Regardless of what happens over the next month, UCLA's record book will include multiple references to its seniors. Singleton has played in a school-record 157 games. Campbell and Jaquez could be UCLA's first three-time All-Pac-12 players since Darren Collison from 2007 to 2009. Jaquez could be the Bruins' first conference player of the year since Kevin Love in 2008.
Not that any of those personal achievements matter to Jaquez.
"I have three awards on my checklist," Jaquez said after the Bruins clinched the Pac-12's regular-season title, with the conference and NCAA tournaments rapidly approaching. "So I already got one, now I'm looking for two more."
Get the latest on L.A.'s teams in the daily Sports Report newsletter.
You may occasionally receive promotional content from the Los Angeles Times.