USC is media's default choice to win Pac-12, but are Trojans good enough?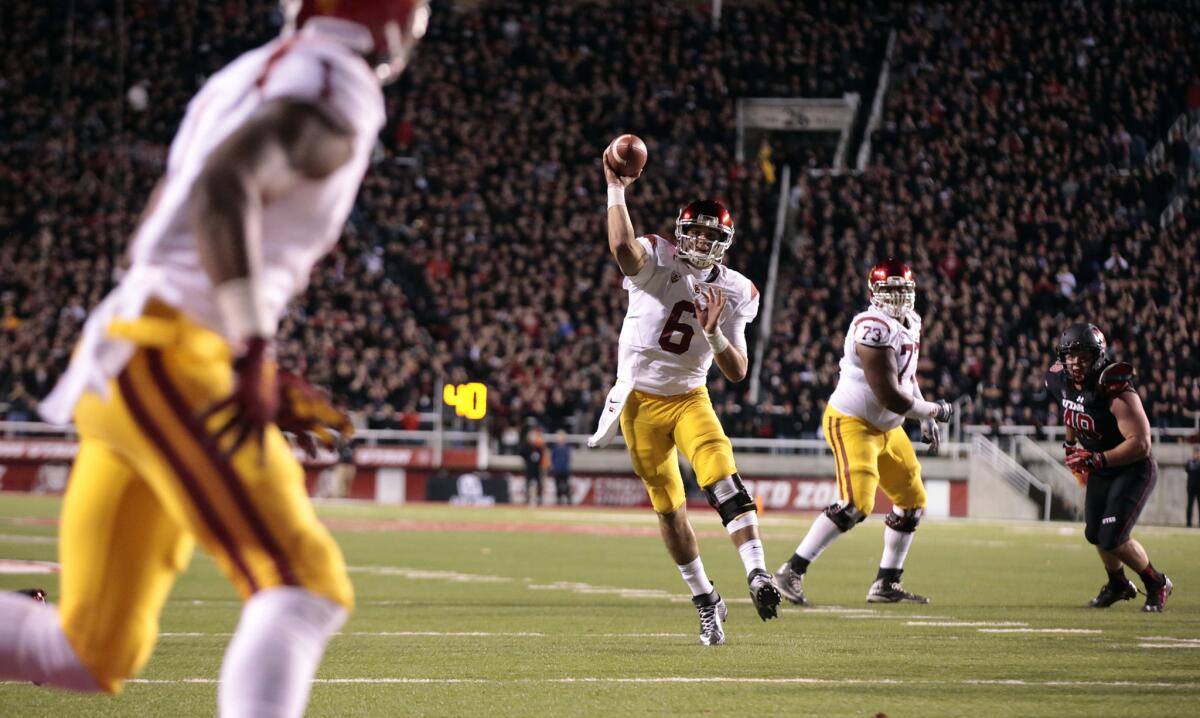 The Times' annual college football countdown continues its march toward No. 1 with our pick for No. 9.
The Fourth Estate raised a white flag with the release of last month's Pac 12 football media poll. The message: We Give Up.
The Times no longer allows its writers to vote in polls or for awards, even the Heisman Trophy, so yours truly was not involved in the tabulation that tabbed USC to win the conference.
For what it's worth, I would have picked defending champion Oregon, but everyone knows I snort kale, wear Birkenstocks and quack when squeezed.
The sentiment for USC, though, is understandable.
No other school, frankly, can be trusted with the responsibility of getting the job done. Picking USC is like a golfer with the yips going back to his old putter, or California going back to Jerry Brown.
The Trojan V-12 has been, historically, a reliable engine that doesn't choke in cold weather. Paging through USC's door-stopper media guide is the closest thing someone in the West can feel to living in the SEC East.
There's USC bragging on almost every page, but it's not bragging if you've done it.
Since 1953, the other schools in the Trojans' conference have combined for exactly two national championships, and only partial ones at that (we don't count the title Colorado won before joining the Pac-12).
UCLA claimed the coaches' share in 1954 and Washington won half a slice in 1991. USC, in that span, has won seven national titles of various poll sizes and colors.
My guess is Pac-12 media voters got tired of waiting around for someone else to ring the bell.
Arizona once made a Sports Illustrated cover with its "Desert Swarm" defense under Dick Tomey, yet is still looking to swarm into its first Jan. 1 Rose Bowl.
Arizona State thought it won the national title in 1996 after quarterback Jake Plummer snaked into the end zone against Ohio State in the Rose Bowl.
The defense couldn't hold, though, and the Sun Devils let destiny slip to Steve Spurrier's Florida Gators.
California, in 2007, was 10 yards from becoming No. 1 in the country when its quarterback failed to stop the clock for a possible tying field-goal against Oregon State.
That moment was punctuated with Cal coach Jeff Tedford slamming his headset so hard into the Memorial Stadium turf it recorded a 2.1 on the campus Richter scale.
Stanford was kept out of the BCS title mix a few years ago because it couldn't gain a couple yards against Utah in Salt Lake City.
Oregon has won several uniform competitions but never worn a No. 1 jersey at season's end. The Ducks did finish No. 2 in both polls in 2001, and lost title games following the 2010 and 2014 seasons.
UCLA needed one tackle against Miami to play for the first BCS title game of 1998 — but couldn't make it.
In essence, what the media is saying is: USC, it's up to you.
Oregon and UCLA might have more talent, but no school has more pride, history and know-how.
The biggest concern facing USC, it seems, is the legitimacy of Coach Steve Sarkisian, forced to issue an apology Sunday for his night-before language and behavior at a Trojans event that included parents and players.
This is no time, at USC, to be singing Kris Kristofferson: "Sunday Mornin' Comin' Down."
Sarkisian's edited and approved mea culpa came moments before the Trojans debuted at No. 8 in the Associated Press preseason poll.
This stuff is raw meat to USC fans already critical of the Sarkisian hire. The last thing Athletic Director Pat Haden wanted to do Sunday was issue a statement ending with "I am confident he heard my message loud and clear."
The Trojans are not yet back to the full allotment of 85 scholarships, but are close enough to be worthy of top-10 consideration. They return a star at quarterback in underrated Cody Kessler, who got overshadowed by Marcus Mariota (and others) last year despite throwing 39 touchdown passes with only five interceptions.
The returning offensive line should provide a fortress for Kessler, and three-position star Adoree' Jackson appears poised for a breakout season.
The defense, led by linebacker Su'a Cravens, should be solid.
USC is at a competitive disadvantage, most years, because it plays nine league games in addition to two quality nonconference opponents.
This year's schedule gives the Trojans a break, though, with Arkansas State and Idaho joining Notre Dame.
Next year, USC plays Notre Dame and Alabama, with Texas on deck in 2017.
So, there is a window of opportunity in 2015, provided USC is as good as everyone thinks and Sarkisian stops making the wrong kind of headlines.
The Pac-12 opener Sept. 19 against Stanford, at the Coliseum, will be a critical early-season indicator. Haden will be watching closely, possibly chained to a press box stool to keep him from storming another field against Stanford.
Other obstacles include trips to Arizona State, Notre Dame and Oregon, with scary home dates against Utah, Arizona and UCLA.
USC, the program, has always embraced the challenge and the spotlight.
The Pac-10 used to be known as "USC and the Nine Dwarfs."
The Pac-12 still counts on USC to lead, but can you trust a team but not its coach?
Miami won a national title with Larry Coker and Auburn did it with Gene Chizik.
So yes, anything is possible.
Top 25 so far: 25. Michigan; 24. Nebraska; 23. Utah; 22. Missouri; 21. Arkansas; 20. Tennessee. 19. Boise State; 18. Oklahoma; 17. Notre Dame; 16. Wisconsin; 15. Georgia Tech; 14. UCLA; 13. Arizona; 12. Florida State; 11. Arizona State; 10. Georgia.
Get the latest on L.A.'s teams in the daily Sports Report newsletter.
You may occasionally receive promotional content from the Los Angeles Times.