USC beats Middle Tennessee, advances to title game at Diamond Head Classic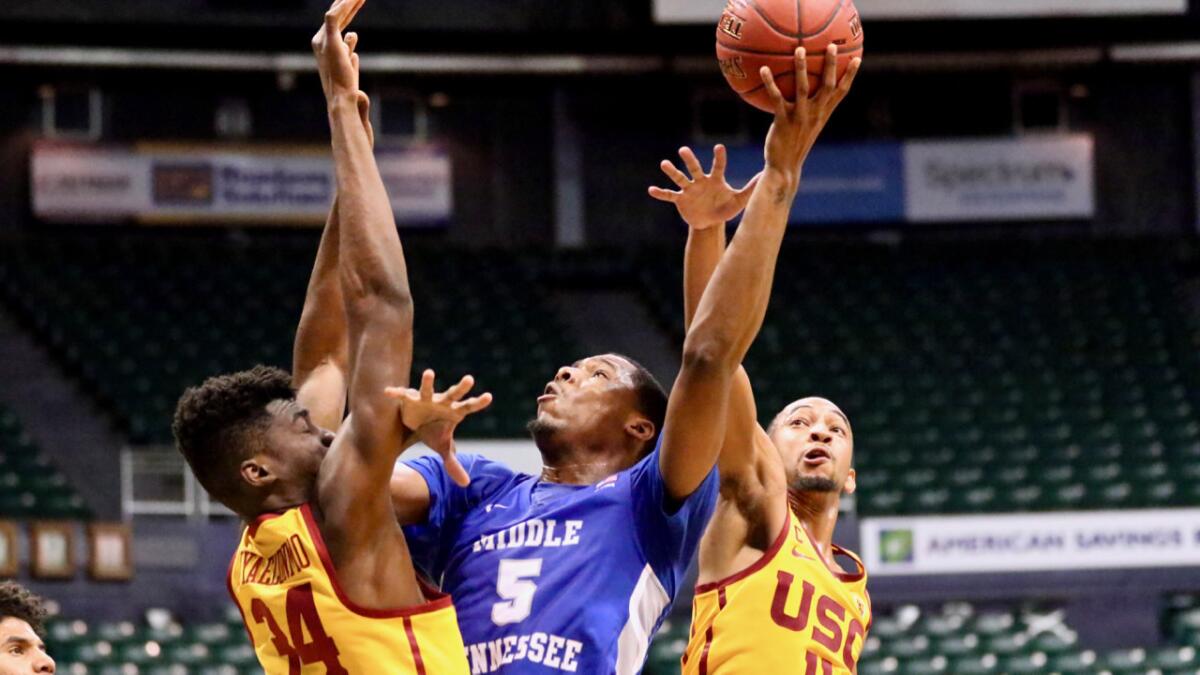 Reporting from Honolulu —
Shaqquan Aaron passed the ball and cut through the Middle Tennessee defense. He sat in the right corner and waited.
USC was overloading the right side in an attempt to get Aaron or Bennie Boatwright an open shot against the Blue Raiders' zone. When Boatwright caught the ball, a defender immediately closed out on him. He swung the ball to Aaron, who lined up a shot and fired.
It swished through the net.
"They left me open, so I had to hit the shot, Aaron said. "It was down the stretch. I love these moments."
The next time down the floor, the Shaqquan sequence repeated. The Trojans' two-point lead had been expanded to six with two minutes remaining. They held on for an 89-84 victory Saturday afternoon at the Stan Sheriff Center to advance to the Diamond Head Classic championship on Christmas Day.
Boatwright and Chimezie Metu combined to score 50 points for USC (8-4), but both credited Aaron with winning the game.
"He came in off the bench and he gave us great intensity on defense," Metu said. "He helped us get out [in transition]. He made some big shots down the stretch. I think he's the main reason why we won tonight."
Aaron scored 10 points on four-of-five shooting and added two assists, two rebounds and a steal with no turnovers.
USC needed someone to step up as it was forced to start a different lineup for the sixth straight game due to injuries. Guard Jonah Mathews sat on the bench with a walking boot. He reinjured a sprained ankle when he was stepped on by a defender during Friday's win over Akron. Mathews went through early warmups with the team but was visibly hobbled.
"It's kind of comical," coach Andy Enfield said. "When we show up, we don't know who is going to play and who's not."
Enfield did have Boatwright back for a full game for the first time in four games. Boatwright missed two games because of a plantar wart and was ejected in the first half Friday after being called for a flagrant-2 foul.
He returned with a vigor and aggressiveness he hadn't displayed previously this year. Boatwright said he stopped worrying about if he was making shots and focused on competing every possession. He only made four of 11 field goals but he finished with 23 points by repeatedly getting to the free throw line. Boatwright also had a career-high six assists with six rebounds and two blocks.
"I thought he was great. He was efficient. He made the right decisions," Enfield said. "He got to foul line 16 times, so he put the ball on the floor when he had to. He drove it hard. He posted up and then he made threes when he was open."
As it is apt to do, USC fell behind early in halves and rallied. Middle Tennessee (8-3) jumped out to a 12-5 lead in the first three minutes and held a one-point lead at halftime. The Blue Raiders opened the second half with an 8-0 spurt, but USC answered with a 13-3 run to take its first lead of the second half with 11:54 remaining.
The Trojans pushed their lead to as many as seven, but Middle Tennessee quickly whittled it down to two before Aaron's pair of three-pointers.
Both teams played stellar offense. USC shot 57.8%, including 15 for 22 (68.2%) in the second half, while the Blue Raiders hit 49.2% of their shots. Nick King had a game-high 28 points and 11 rebounds.
Get the latest on L.A.'s teams in the daily Sports Report newsletter.
You may occasionally receive promotional content from the Los Angeles Times.