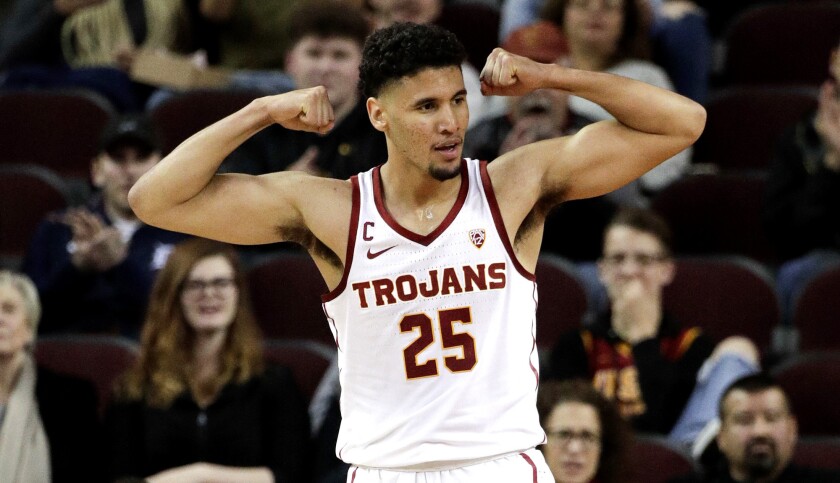 In the seconds after Fred VanVleet's three-pointer gave the Toronto Raptors the lead over Golden State in their Game 6 clinching victory of the NBA Finals, Bennie Boatwright became inspired.
Boatwright, the USC senior forward, took to Twitter to write, "UNDRAFTEDDDDDD."
It was VanVleet, a former Wichita State star, who took to Twitter three years ago after not being selected in the 2016 NBA draft to write, "Bet on yourself." Today, T-shirts emblazoned with that catch phrase are now flying off the shelves in Toronto thanks to VanVleet's 22-point night that helped the Raptors win their first NBA championship.
VanVleet's inspiration came at a perfect time for Boatwright, who has not generated much pre-draft buzz despite coming off a final season for the Trojans in which he was first-team All-Pac-12 Conference. As a 6-foot-10 forward who can dependably score from three-point range, Boatwright offers an intriguing combination of size and skill. But his injury history and age — he turns 23 next month — have put him in a position where he is unlikely to have his name called Thursday night at the Barclays Center.
When Boatwright came to USC, he would not have imagined such a scenario. But it hasn't dampened his enthusiasm for draft night. He could still go in the second round, having worked out for the Phoenix Suns, Golden State Warriors, Sacramento Kings and Brooklyn Nets, and he expects to watch the draft from the luxurious 40/40 Club in Manhattan with his representatives and other clients of Jay-Z's Roc Nation Sports agency.
"Right now I'm just controlling what I can control as far as taking care of myself and getting better every day," Boatwright said. "The draft, of course it flips through my mind; it's something you've been waiting for your whole life. But I try not to focus on it until the time comes."
While the Mission Hills native would love to be drafted like any prospect, he knows that either way, he'll be in Las Vegas for the NBA Summer League, trying to prove that he is deserving of a spot in a training camp that could lead to a roster spot or a two-way contract between the NBA and the G-League.
Boatwright's senior season at USC did not go the way he would have wanted for the team, but personally, he flourished once he had fully recovered from offseason knee surgery. In Pac-12 play, Boatwright averaged 20.1 points and made 46.1% of his threes, demonstrating a role he could play immediately off the bench as a pro.
"It was a big confidence booster especially from the Pac-12 on, being able to perform and the coaches allowing me to play at that level was important," Boatwright said. "Especially going into this process, it's given me a lot of confidence going into these workouts."
Sign up for our daily sports newsletter »
The key for Boatwright is to stay healthy to prove he is not an injury liability.
"That's always a question mark, being that I was injured a couple times while I was at USC, so it's natural to ask that question," Boatwright said. "I've just got to continue to work on my body, stay focused on eating and sleeping and prepare myself the right way."
As the rare four-year college player with NBA size and ability, Boatwright should have a chance to follow in VanVleet's footsteps and create his own story of patience turning into a payday.
"Things sometimes don't go as you planned, but you've got to adapt," Boatwright said. "I feel like I learned a lot, just staying in college for four years and getting my degree. Just the experiences on the court, off the court, it does nothing but help you. It was crucial to my development as a man."
Twitter: @BradyMcCollough
---