USC, Northridge women are living the dream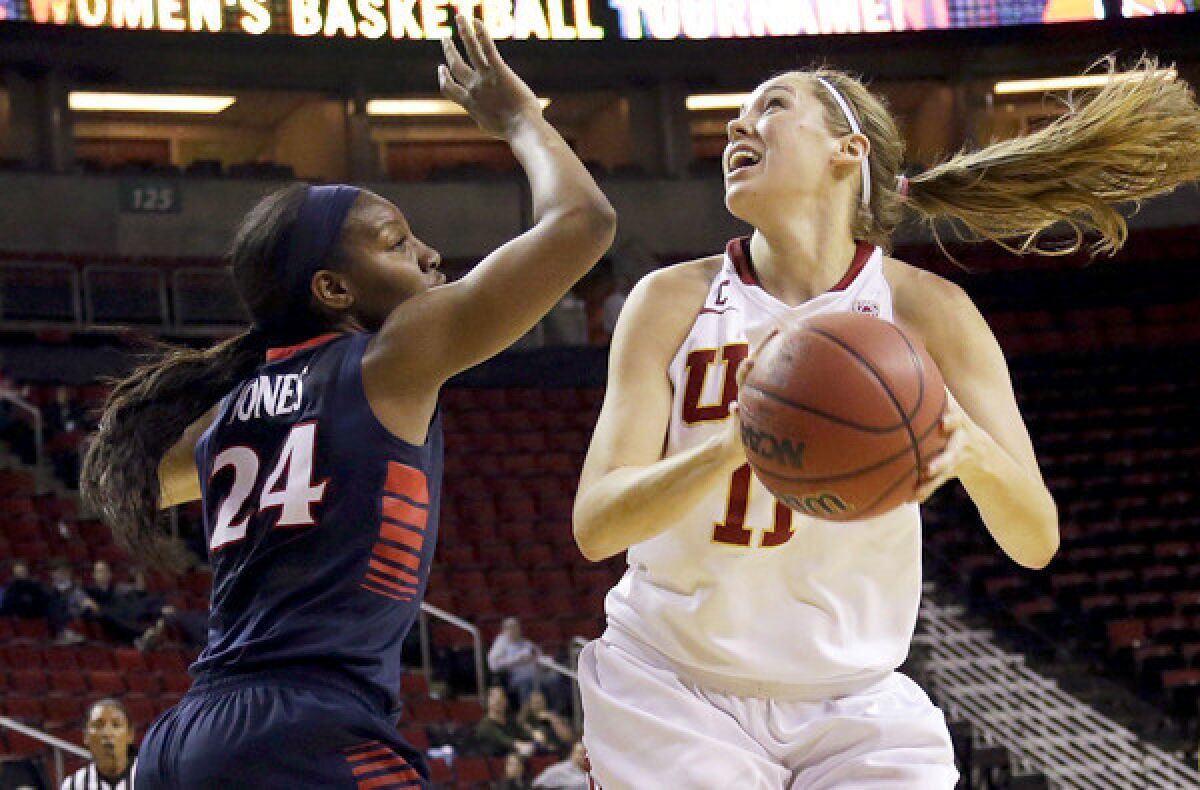 USC's women's basketball team gathered Monday among family, fans and athletic department personnel to learn its NCAA tournament opponent and destination.
A stirring run to win the Pac-12 Conference tournament March 9 ensured there would be no sense of bubble-induced foreboding, only eager anticipation.
When USC's name flashed during the televised announcement of the 64-team field, the reception room in the Galen Center erupted in cheers and applause.
USC, making its first tournament appearance since 2006, will play St. John's on Saturday in Knoxville, Tenn.
"This is a dream come true," junior guard Ariya Crook said.
Cal State Northridge, making its first NCAA appearance since 1999, also celebrated on its campus after learning it would play South Carolina on Sunday in Seattle.
Connecticut (34-0), Notre Dame (32-0), South Carolina (27-4) and Tennessee (27-5) are the top-seeded teams in a tournament that begins Saturday and ends with the Final Four from April 6-8 in Nashville.
USC Coach Cynthia Cooper-Dyke is familiar with NCAA championship runs.
As a player, she helped lead USC to NCAA titles in 1983 and 1984.
In her first season as USC's coach, she has guided the Trojans back to the tournament.
USC (22-12) is seeded ninth in the Louisville Regional. St. John's (22-10) is No. 8.
"We'll get a great draw of fans there," senior forward Cassie Harberts said of playing at Tennessee's Thompson-Boling Arena. "I think it will be a great place to play."
If USC defeats the Red Storm, the Trojans could play top-seeded Tennessee on Monday.
"I like the ninth seed," Cooper-Dyke said. "I don't like the fact that if we win, then we get the No. 1 seed in the second round, but in order to be the best you have to beat the best."
USC showed its mettle by winning four games in four days to earn the Pac-12's automatic bid. The Trojans upset Stanford in the semifinals and defeated Oregon State for the championship.
"We learned that we have a level of toughness that we didn't even know we had," Cooper-Dyke said.
Cooper-Dyke said she does not spend time telling her players about USC's past.
"It's about them carving their own name into the history books of USC women's basketball," she said.
But Harberts is well aware of Cooper-Dyke's contributions.
"You can kind of use that history as a reference of what kind of team we want to be," Harberts said, adding that Cooper-Dyke "knows what it takes. She knows what we need to be back at the top of women's basketball."
Northridge (18-14) won the Big West Conference tournament to earn its second NCAA tournament bid since moving to Division I, its first under fourth-year Coach Jason Flowers.
Northridge, led by junior guard Ashlee Guay, is seeded 16th in the Stanford Regional and will play South Carolina at Alaska Airlines Arena in Seattle.
"We figured we'd be a 16 seed — that's just the reality," Flowers said, noting that several No. 15 teams have more than 20 victories.
"It will be a great measuring stick for us, to find out where we are against the best."
Northridge won the Big West regular-season title and then earned the conference's automatic NCAA bid by defeating Cal Poly in the Big West tournament.
Northridge drew a South Carolina team that won the Southeastern Conference regular-season championship but lost to Kentucky in the semifinals of the SEC tournament.
"There's not going to be anybody in the group, regardless of who we play, that will be intimidated or scared," Flowers said.
Two first-round games of the Lincoln Regional will be played at Pauley Pavilion.
Fourth-seeded Nebraska (25-6) plays No. 13 Fresno State (22-10) on Saturday at 1 p.m. Fifth-seeded North Carolina State (25-7) plays No. 12 Brigham Young (26-6) at 3:30.
Twitter: @latimesklein
Get the latest on L.A.'s teams in the daily Sports Report newsletter.
You may occasionally receive promotional content from the Los Angeles Times.