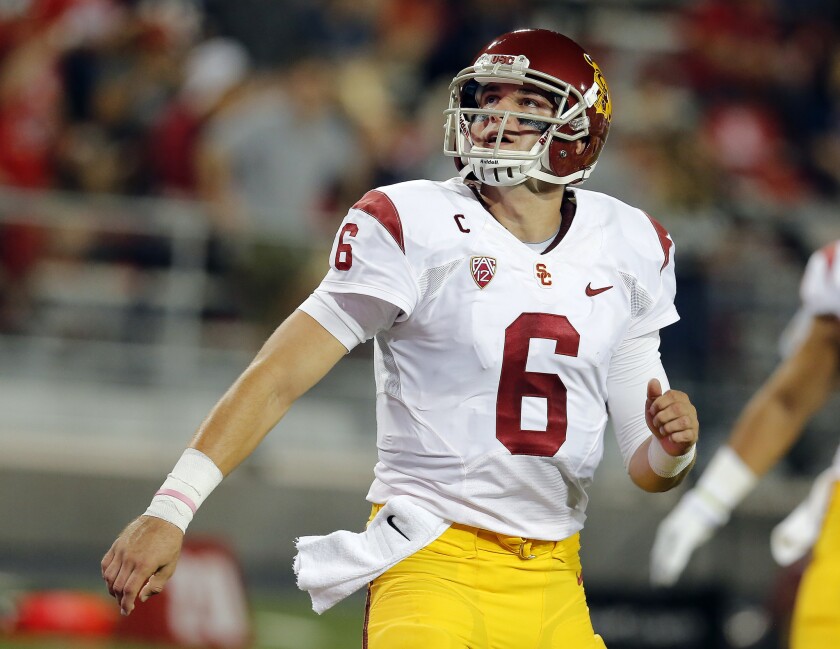 A great quarterback has to lead in the clutch, in the closing minutes, with everything on the line.
And that's what USC senior Cody Kessler has done in the minutes, hours and days since his head coach, Steve Sarkisian, left the stage Saturday night during the team's annual "Salute to Troy" event.
Kessler was already set to speak at the function, but the game plan changed dramatically after an impaired Sarkisian made a mess of the pep rally in front players, parents, donors and Twitter.
USC needed an audible to rescue the night, and maybe the season, and Kessler provided it.
The event was closed to the media, but witnesses say Kessler, showing great poise in a difficult position, stepped into the leadership void and closed out the evening on a high note.
Then, on Tuesday, he executed a brilliant three-minute drill during a short news conference in which he put the program on his back.
Kessler, standing alongside linebacker Su'a Cravens behind a phalanx of microphones, proved that, if need be, he probably could step in and take over as interim head coach.
Kessler, as a speaker, worked as confidently as John Elway did years ago when leading the Denver Broncos down the field in a playoff game against Cleveland. He deflected pressure from Sarkisian while deftly reassuring the Trojans faithful.
On the first play, coming at 0:01 on the recorded YouTube video, Kessler hit a wide-open question over the middle.
"The bottom line for us is that he's our head coach," Kessler said of Sarkisian. "We're going to support him. No matter what. Mistakes happen. Stuff happens. At the end of the day, as a team, we've moved on. We put it past us."
Seconds later, Kessler stood firm in the pocket and picked up another leadership first down.
"He came to us as a man," he said of his coach, "apologized, looked us in the face, told us some things, and that's hard to do."
Working without a timeout, and with sports information director Tim Tessalone standing close by ready to pull him from the stage at any second, Kessler went into hurry-up mode.
"I think he earned more respect from us, and the team," Kessler said of Sarkisian. "I think it brought us closer together. Today, everybody couldn't wait to get out to practice."
Nearing the minute mark in the interview, Kessler spoke of the uneasiness in witnessing his coach fall apart at Saturday's event.
"We saw it," Kessler said. "We knew something wasn't right. We know how he is in a normal state. We didn't know the full story, but he came up to us the next day and apologized immediately. It wasn't like he tried to hide it, or tried to deny it."
The player-coach relationship between Kessler and Sarkisian is closer than most. When he was the coach at Washington, Sarkisian tried to recruit Kessler out of Bakersfield Centennial High.
It was a happy reunion when Sarkisian was hired as USC coach late in 2013.
Sarkisian's first words to him, Kessler recalled last month at Pac-12 media day, were "I finally got you!"
It's not surprising now that Kessler has his coach's back.
Kessler is a fifth-year senior who has seen it all during USC's run through NCAA probation and Lane Kiffin's firing.
Not long ago, he was just a name on USC's quarterback depth chart. But he stuck around long enough to become one of the most important quarterbacks in school history.
At the 2-minute 14-second mark in his part of Tuesday's news conference, Kessler spoke of the Team Leadership Council invoking "hard lessons" on Sarkisian, the kind of punishment usually doled out by coaches to players.
Sarkisian was ordered to do "up-downs" and "gassers" in searing heat and humidity.
"He came in just drenched," Kessler said, sounding somewhat pleased.
With about 20 seconds left, Kessler put the interview in the end zone and left no doubt who was leading USC into the 2015 season.
"We're ready to just get back to football," he said. "Coach Sark is the guy we want coaching us. And there's no one else in the country we want as our head coach."
The question now is whether Kessler can transfer his off-field leadership to the field.
His statistics already rank him among the best USC quarterbacks ever. In two seasons as the starter, he has completed almost 70% of his passes, with 59 touchdowns and only 12 interceptions.
The knock on Kessler is that he has not been a more vocal leader, someone who commands the situation. Think of Denver quarterback Peyton Manning screaming "Omaha" at the top of his lungs as the play clock winds down.
But maybe this ugly Sarkisian incident is also a life changer for Kessler.
Maybe it gave him the full-throttled clearance to commandeer the locker room.
Maybe we'll remember late August 2015 as the moment this became Kessler's time, Kessler's team and Kessler's town.
He did what leaders do. He stepped up when his coach and team needed him most.
"Everything I said yesterday I meant," Kessler reiterated Wednesday. "Their mind-set is in a great place. This team makes it a lot easier for me to do that. I don't have to sit up there and lie and say, 'Oh, these guys are in a great place,' and really they're not. These guys are in a perfect place."
Kessler, it seems, is too.
Staff writer Gary Klein contributed to this report.
---