Recipe: Bistecca fiorentina (Tuscan steak)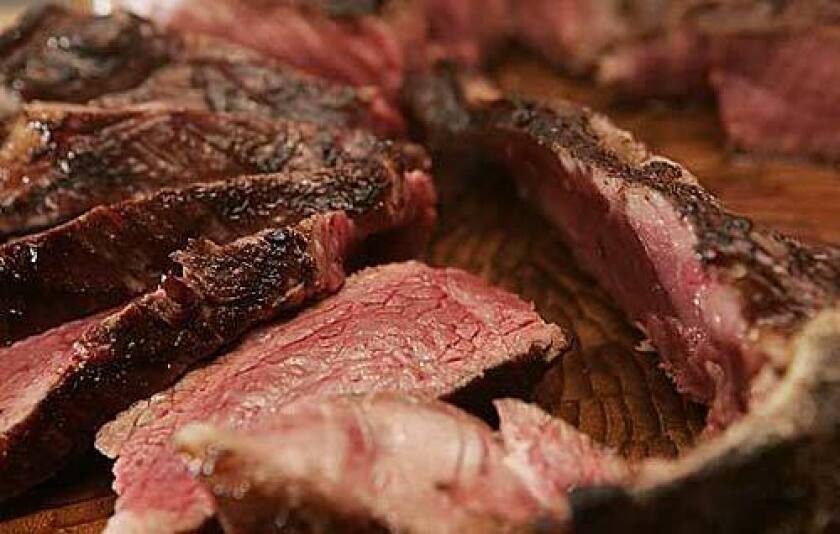 Recipe: Bistecca fiorentina (Tuscan steak)
Total time: 35 minutes, plus 5 to 6 hours for the steak to reach room temperature Servings: 3 to 4
Note: Allow the steak to sit out in a cool place, loosely covered, for 5 to 6 hours to come to room temperature. You can order this especially thick cut of steak in advance from any fine meat counter or butcher, such as Guss Meat Co., 949 S. Ogden Drive, Los Angeles, (323) 937-4622.
1 (2-inch-thick) porterhouse steak (about 2 1/2 pounds), cut from the small end of the loin, at room temperature
1 teaspoon best-quality olive oil, plus additional for oiling the rack
1/4 teaspoon coarse salt, or to taste
Freshly ground black pepper
1. Heat a grill over medium-high heat. (It will be hot enough when you can hold your hand an inch over the grill for only 5 to 6 seconds.) Lightly oil the grill, and place the steak on the grill. Grill the steak for 5 minutes, then flip over and grill the other side 5 more minutes.
2. Carefully place the steak vertically on the grill, so it is resting on the flat part of the T-bone. Continue to cook, allowing the heat to transmit through the bone to the meat. Cook an additional 15 to 25 minutes (this will depend on the heat of your grill) until a thermometer inserted reads 125 degrees for medium-rare. Remove the steak from the grill to a plate and allow it to rest for 2 to 3 minutes.
3. Lightly season the steak with the salt and a couple grinds of pepper, then drizzle the olive oil over it. Slice the steak away from the bone, and then crosswise into strips. Serve immediately.
Each of 4 servings: 321 calories; 38 grams protein; 0 carbohydrates; 0 fiber; 18 grams fat; 6 grams saturated fat; 91 mg. cholesterol; 246 mg. sodium.
---
The essential weekly guide to enjoying the outdoors in Southern California. Insider tips on the best of our beaches, trails, parks, deserts, forests and mountains.
You may occasionally receive promotional content from the Los Angeles Times.