Keep the oven off and enjoy: granita, berries jubilee and rose wine jelly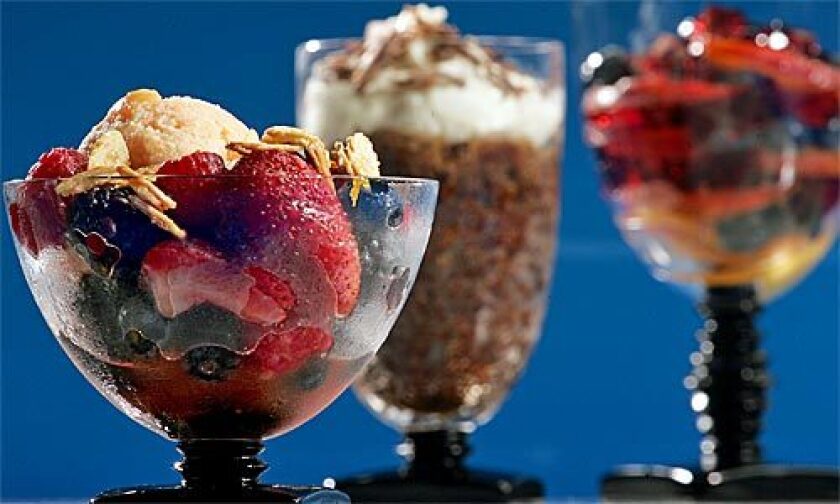 Special to The Times
PARIS —
WHEN I lived in San Francisco, I was used to the summer fog, which kept things pretty cool. Moving to Paris, I imagined idle afternoons enjoying the gentle breezes of summer, sipping my citron pressé in cafes by the Seine. Instead I'm sweating it out in a top-floor apartment. While it's très parisienne, the charming zinc roof just overhead turns the place into a raging four d'été: a summer oven. So don't complain about how hot you are until you've spent August at my place.
But wherever you are, even if the oven stays off, it's still nice to finish backyard barbecues and outdoor dinners with something sweet -- a rich espresso granita maybe, or a sophisticated rosé jelly with nectarines and blueberries, or luscious berries jubilee with peach sorbet.
In the summer, I do what little cooking I can on the stove top. But it's not a problem, because it gives me the opportunity to use the abundance of fresh fruit that's overflowing at the markets.
Slices of ripe nectarines and blueberries get layered in goblets with a retro-style rosé jelly, and baskets of plump, luminous berries get jumbled together in an updated berries jubilee, a cool twist on the classic.
The berries macerate briefly in an orange liqueur such as Grand Marnier, and, keeping it simple, I skip the traditional flambéing and use my ration of time by the stove to quickly caramelize some salted and sugared almonds to scatter on top. (Leftovers are terrific tossed with salads and summer slaws.)
And is there anything more appealing during the broiling heat of summer than icy peach sorbet scooped from the machine, made from fragrant, juicy-ripe peaches with a big helping of those berries?
Well, yes, there is something that's almost as appealing: an air conditioner. And last year I decided to investigate getting one. In the United States, they're pretty standard fare.
But although the French are the masters at taking liberties with something from another culture and making it their own (which is why you might find a pile of mozzarella, or morsels of quail, in your Caesar salad), they haven't kept pace regarding effective methods for cooling down. In addition to air conditioning, fans are taboo.
So I churn up lots of ice cream and sorbets and keep my freezer jampacked with what often seems like more than 31 flavors in there.
If you don't have an ice cream maker, not to worry: Granita is easy to make in any home freezer. The bulk of the work is done by raking the mixture with a fork as it chills, until it becomes a mountain of intensely flavored crystals. A dollop of white chocolate cream acts as a creamy counterpoint to the frozen crystals of espresso granita.
With a flurry of chocolate curls, it will satisfy the most hard-core coffee lover. (If you're not up for enjoying the late-night revelry that the long days of summer inspire, feel free to use decaf.) And because you're keeping a lid on the oven door, feel free to let your local baker take the heat, so to speak -- no need to turn your nose up at store-bought crispy cookies, which you can serve alongside.
Unfortunately for them, too many people turn up their noses at rosé, confusing it with similarly colored wines, which can be sweeter than candy, and not so refreshing. Since a hearty red wine is out of the question when it's hot outside, glasses of chilled rosé -- ones on the dry side, thank you -- have a much easier way of going down in the summer months.
Similarly easy to enjoy is a chilled jelly made from rosé, served with whatever combination of summer fruits and berries suits you.
I adore the combination of sliced nectarines along with a handful of ripe blueberries, perhaps because they nostalgically remind me of my mom, who sprinkled them in her fruit gelatins too. (Although mine are decidedly less stiff, and not fluorescent green.)
But unless you're my long-lost sibling, there's no reason you can't veer off with other fruits: Plums, ripe apricots, silky mango slices or cubes of melon can easily be used instead.
Making glasses up in advance so they're chilled thoroughly is a good idea. It not only takes the heat off entertaining but gives me time to polish off any leftover rosé before my guests arrive.
And after surviving summer in this apartment -- even the pigeons, who usually congregate on my window ledge in large numbers, have taken a breather until fall -- I don't think anyone deserves it more than I do.
David Lebovitz's blog, Living the Sweet Life in Paris, is at davidlebovitz.com.
---
The essential weekly guide to enjoying the outdoors in Southern California. Insider tips on the best of our beaches, trails, parks, deserts, forests and mountains.
You may occasionally receive promotional content from the Los Angeles Times.