Santa Monica garden mixes hardy succulents, bright flowers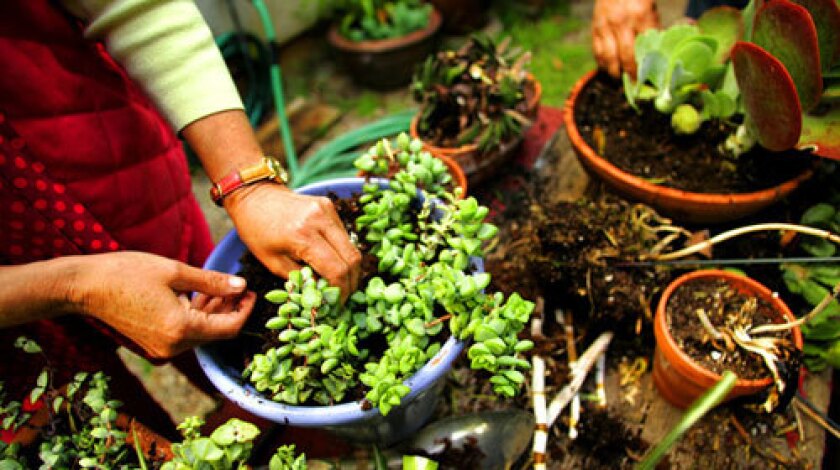 Special to The Times
WHITNEY GREEN'S backyard is a series of colorful and playful vignettes that artfully mix low-water cactuses and succulents with fruit trees and roses. The Santa Monica garden, designed by Stephen Gabor of Gabor + Allen Inc., offers ideas for using desert plants for accents and drama without the backyard looking like the Mojave.
"We wanted drought-tolerant without creating a cactus garden and still have flowers for cutting," Gabor says, adding that function remained paramount. Every tableau reflects Green's love of color, succulents, hummingbird plants and flea market finds. The back staircase is decorated with pots of succulents and cactus. The kitchen opens onto the patio, where a mix of urns and smaller pots brim with the dramatic and powerful structure of kentia palms and a huge flax, which add a warm beauty to the outdoor living space.
The swimming pool is surrounded on three sides by flowering perennials mixed with edible fruit trees, including three varieties of citrus. Flanking the rear cottage, espaliered Fuji and Anna apple trees are interspersed with roses and succulents. "I think it's crucial in the composition of the garden to have fruits mixed together," Gabor says. "Let them be elements of surprise and speckle the fruits and roses throughout the garden."
---
The essential weekly guide to enjoying the outdoors in Southern California. Insider tips on the best of our beaches, trails, parks, deserts, forests and mountains.
You may occasionally receive promotional content from the Los Angeles Times.