Housewares treated as art
Cynics might call it stunt retailing, but industry watchers see a method in the madness witnessed at some of Los Angeles' home furnishing stores. In the no-longer-bulletproof luxury decor market, some showrooms are experimenting with ways to attract and keep customers. One of the newcomers on the scene is Limn, a San Francisco-based operation that recently opened its first L.A. store on La Brea Avenue. Among the things shoppers will see: a red velvet rope preventing access to VIP client meeting rooms.
(Annie Cusack / Los Angeles Times)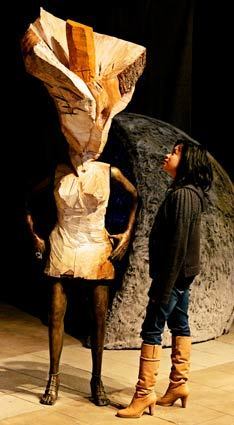 Limn is one of several showrooms to market home furnishings as art and to stage the spaces like a museum. Here, "Kiss Me Kate," made of pine and bronze by Harry Siter.
(Annie Cusack / Los Angeles Times)
The velvet rope at Limn.
(Annie Cusack / Los Angeles Times)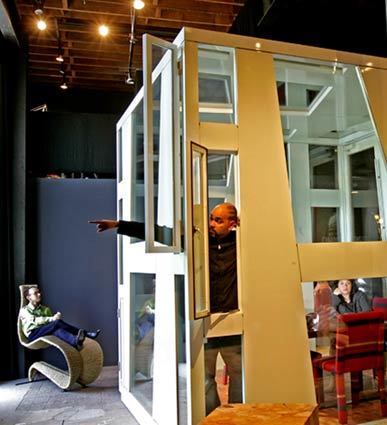 Limn's installations include the "Magic Box" by Jun Ueno. The 1,000-cubic-foot glass-and-steel piece sells for $95,000.
(Annie Cusack / Los Angeles Times)
At Twentieth, long considered one of Los Angeles' most exclusive showrooms, the owner has selected certain designers for extra attention. Here, a horse lamp and custom sofa by the Dutch design collective Moooi.
(Brian Vander Brug / Los Angeles Times)
Twentieth's store-within-a-store concept includes a space to showcase British lighting sensation Tom Dixon.
(Brian Vander Brug / Los Angeles Times)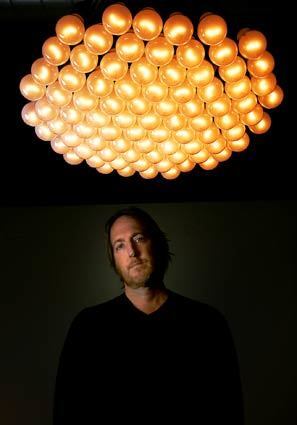 Twentieth store owner Stefan Lawrence, under Droog lighting.
(Brian Vander Brug / Los Angeles Times)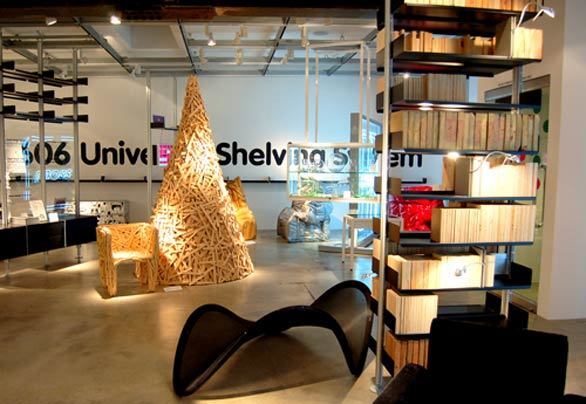 Murray Moss is credited with redefining the high-end furnishings shopping experience. Indeed, his new Melrose Avenue showroom feels more like a museum than a store, complete with please-don't-sit signs in front of the furniture.
(David A. Keeps / Los Angeles Times)
Los Angeles Times Staff Writer
AT the soon-to-open Royal/T showroom for contemporary Japanese art and design in Culver City, a cafe will be staffed by waitresses in uniforms inspired by manga cartoons. The next time British lighting phenomenon Tom Dixon visits Los Angeles, he will be feted at an artist reception inside a special store-within-a-store at Twentieth dedicated to his work. And at the new Limn on La Brea Avenue, shoppers won't miss the "Private Atelier" sign and red velvet rope guarding access to VIP client rooms upstairs.
Cynics might call this stunt retailing, but industry watchers see a method in the madness. As major chains such as Levitz and the Bombay Co. go out of business, and the U.S. Department of Commerce's latest monthly data show spending at furniture stores was down in January even though retail sales overall were up, this city's upscale home furnishing dealers are looking to innovation as a means of survival. In the no-longer-bulletproof luxury decor market -- where shopkeepers call themselves "curators" and furniture displays are "installations" -- originality and even a little pretension can be a competitive advantage.
"Stores with a one-of-a-kind atmosphere based on style and exclusivity stand a much better chance of swaying the design-savvy people with the most disposable income," says Mark McMenamin, editor of Interior Design magazine.
Taking cues from museums, art galleries, restaurant lounges and fashion emporiums, high-profile home decor stores in Los Angeles -- many of them newcomers to the scene -- are raising the bar in a town accustomed to theatricality. As Jaime Rummerfield of Woodson & Rummerfield House of Design says: "I want shopping to be a magic carpet ride, ooh- ing and aah-ing from one room to another."
AT Royal/T, which had a soft opening during the holidays, the space has been conceived as a capsule of contemporary Japanese pop culture -- high and low, old and new. The facade covered in artificial boxwood yields to a picture window occupied by "Puppy," a gigantic white fiberglass canine by Yoshitomo Nara. Inspired by Tokyo toy and anime shops, the gallery has international contemporary art hung behind clear panels and the licensed artist merchandise on acrylic shelves. A VIP room is built of one-way mirrored plastic so the elite can look out, unnoticed, at other customers.
Following the typical museum model, a "gift shop" offers goods -- folded paper lamps, giant squid pillows -- designed by the artists whose work is exhibited in the gallery. However, the Maid Cafe, which will be unveiled at Royal/T's grand reopening this spring, will be nothing like a typical museum restaurant. Here, patrons will be able to dine on Asian comfort food served by waitresses in short-skirted jumpers and knee-high stockings -- the sort of ensemble seen on young women in Tokyo's fashionable Harajuku district.
"It is entertainment," says Lesley Chi, a partner in Goto Design, the New York firm responsible for Royal/T. "But it's also a place you can come to learn about new things from Japan."
During the last two years, Los Angeles vintage design dealers -- notably Reform and Noho Modern in West Hollywood and Ten 10 in Silver Lake -- also have played the education card, refashioning their spaces for temporary museum-like exhibitions of California artists and craftsmen. At some of these shows, art trumps commerce, and some of the furniture on display isn't even for sale.
For many, the key to survival lies in the convergence of the fine art and home decor worlds.
"The ability to provide originals, be it artwork or a sofa or rug that has been customized uniquely for the client, is key," says Susan Dickenson, retail editor of the trade publication Home Accents Today.
New Yorker Murray Moss set the standard for displaying housewares as objets d'art. Since opening his first Los Angeles store last fall on a fashionable stretch of Melrose Avenue, Moss has shown only limited-edition pieces made in designers' studios, not factories. Items such as Fernando and Humberto Campana's Banquete chair, which is made of stuffed pandas on a metal base, bear the polite please-don't-sit signs you'd expect to find on a museum antique, not new merchandise. Here, designer furniture is marketed as art.
"The whole contemporary art scene, which was cooking on a separate burner, suddenly showed up at the doorstep of the design world, buying prototypes and experimental furniture as collectible artworks," Moss says.
THE gallery model is firmly in place at Limn, the San Francisco-based operation whose new Los Angeles store includes architect Jun Ueno's 1,000-cubic-foot glass-and-steel "Magic Box," a $95,000 piece that resembles minimalist sculpture and a walk-in vitrine with limited-edition chairs by Marcel Wanders and Marc Newson. Room settings are dominated by single pieces of furniture, such as a $47,120 Zaha Hadid bench.
Dan Friedlander, who founded Limn in 1981, says he was "absolutely determined to go back to the basic theme of where we first started -- the meeting point between art and design."
Limn's least expensive merchandise are stools and ceramics that start at more than $500, so Friedlander doesn't expect to ring up customers like a traditional retail store. His goal is to create a dialogue with architects, decorators and design fans. And that velvet rope?
"Of course it's dramatic and exciting," he admits. "There's a lot of showmanship in L.A."
Putting on a show may alienate some customers. From a marketing standpoint, however, special events, services and amenities create a sense of privilege that translates to customer loyalty. That has been the case for the Chinatown-based Ford-Brady showroom, which offers by-appointment viewings and draws large crowds to its quarterly cocktail parties. Dickenson contends that such strategies make an art of delivering "a personalized shopping experience that maximizes convenience."
Toward that end, Twentieth owner Stefan Lawrence has devoted significant floor space to the store-within-a-store concept, creating shops not only for Tom Dixon but also for two hot Dutch design collectives, Droog and Moooi. At his Moooi Mutique, fans can select a sofa, choose from four different leg options and dozens of designer slipcovers, and have the finished piece delivered in two weeks instead of the usual 12. The various sofa configurations and upholstery samples, oddly, are the most conventional display in his store. Not that it matters to Lawrence.
"I'm proud of the way this looks, the way things go together, the music we play," Lawrence says. "I love when people call Twentieth a gallery. They can call it whatever they want as long as they keep coming."
---
Life is stressful. Our weekly mental wellness newsletter can help.
You may occasionally receive promotional content from the Los Angeles Times.