Venice artists Nancy Evans and Tucker Strasser build up and turn to glass to create a home-studio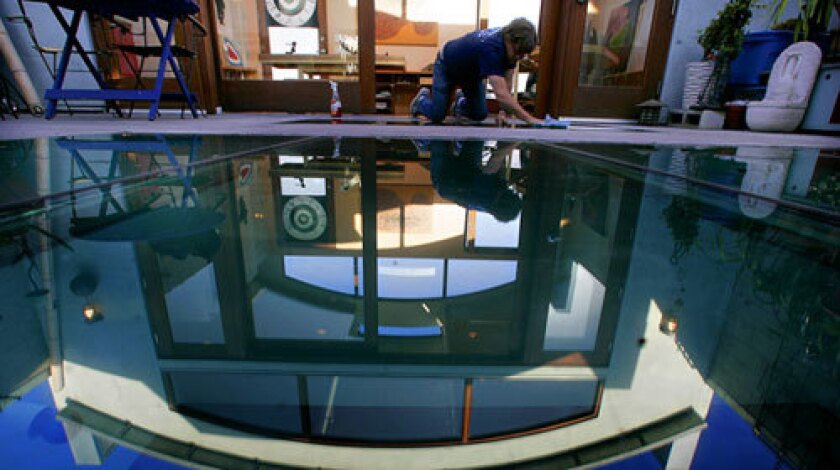 Los Angeles Times Staff Writer
WITH GAS prices what they are, it's not surprising people want a shorter commute. Artist Nancy Evans and woodworker Tucker Strasser now have it: To get to work, they walk down a flight of bright blue metal stairs.
The couple bought a Venice building -- a 25-foot-wide, 80-foot-deep storefront space that was in foreclosure -- on a small street just off Abbot Kinney Boulevard. Under Venice's artist-in-residence ordinance, they could use the existing single-floor structure as their work studios and build a second story as their home.
"We wanted a simple, serene, light-filled living space," Evans says.
But a bevy of bewildering regulations stymied them: Their residence could occupy no more than 30% of the building's total space. High cinder block walls had to surround the structure so that fire could not jump to and from adjacent buildings. Perhaps most daunting for artists who thrive on light: There could be no windows on either side of their dwelling.
It was Evans who devised the ultimate solution: a second floor with an open-air courtyard at its center and large blocks of walkable glass set into that courtyard floor, allowing daylight into the studio below.
"The street was in front, the power lines were in back," Strasser says. "Nancy's suggestion for an outdoor living room in the middle, shielded from the city, was brilliant. It solved our problems relating to air and light."
Their second-floor home consists of a small art gallery in front, as you enter. Glass doors face the courtyard, and across that patio, floor-to-ceiling glass looks into the couple's home.
"It's great for parties," Evans says. "It becomes one big, flowy space that's both indoors and out."
The walls of glass let the sun flood into the gallery and living room. Because the building code prohibited windows in the side walls, the couple constructed an arched ceiling, 12 feet high at its peak, with clerestory windows that deliver even more light and air.
The open-plan living room and kitchen face the patio. Behind the kitchen, a bedroom suite with balcony and concrete bath and steam room face the back. The total living space is about 900 square feet.
"We worried at first whether it would be big enough," Strasser says. "But it seems immense to us now, almost more than we need, because the glass walls extend our living space onto the deck and the gallery beyond."
Strasser built all the doors, windows and cabinets, and he installed the bamboo floors. One friend did the electrical work, another did the heating and plumbing.
"We heat the place with hot water pipes running through the floor," Strasser says. "On very cold nights, I leave my next day's clothes on the floor so they'll be warm in the morning."
Evans chose the interior colors, an off-white and apple green that Strasser initially balked at but now says he loves. The couple debated at length whether to enclose or expose the staircase that leads up from the street to their home.
Evans wanted it enclosed, so that they could roam in private, day or night, between their work and their home. Strasser wanted it exposed, he says, because he favors a distinct separation between the two areas of their lives.
"Going outside, where you see people and cars on the street," he says, "helps establish that separation."
He won, and now Evans agrees that it was the wise choice.
What did the project cost?
"We honestly have no idea," Evans says. "We did the work slowly, over a period of four years. The staircase alone cost $10,000," she says, still sounding amazed. Strasser says he recently calculated the costs to be between $100,000 and $150,000.
They started by bracing the original structure with steel beams, so that the second floor would stand independently even if the first floor crumbled, Evans says. "And we took it step by step from there."
They're ecstatic with the outcome, they say. Their home, five blocks from the beach and blessed by ocean breezes, blends well with Venice's adventurous architecture. They have only one minor complaint, which most people would consider a boon.
"Now that we live above our work, we don't get to drive much anymore," Strasser says. "I kind of miss that."
---
The essential weekly guide to enjoying the outdoors in Southern California. Insider tips on the best of our beaches, trails, parks, deserts, forests and mountains.
You may occasionally receive promotional content from the Los Angeles Times.