THE AGE OF DECADENCE
The fall couture collections in Paris were steeped in decadence, with models draped in elegant fabrics with elaborate additions of feathers and jewels. Jean Paul Gaultier's turban look with feathers and beads conjured silky visions of princes and maharajas.
(Francois Guillot AFP/Getty Images)
A chocolate-hued leather pantsuit, embellished with sparkling embroidery, joined the Jean Paul Gaultier lineup.
(Francois Guillot AFP/Getty Images)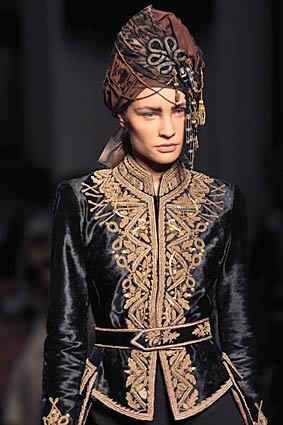 Jean Paul Gaultier continued his regal look with draped headdress and an embroidered black satin jacket.
(Francois Guillot AFP/Getty Images)
A black Lurex lace dress by Jean Paul Gaultier was laser-cut to resemble the wrought-iron work of a palace gate.
(Francois Guillot AFP/Getty Images)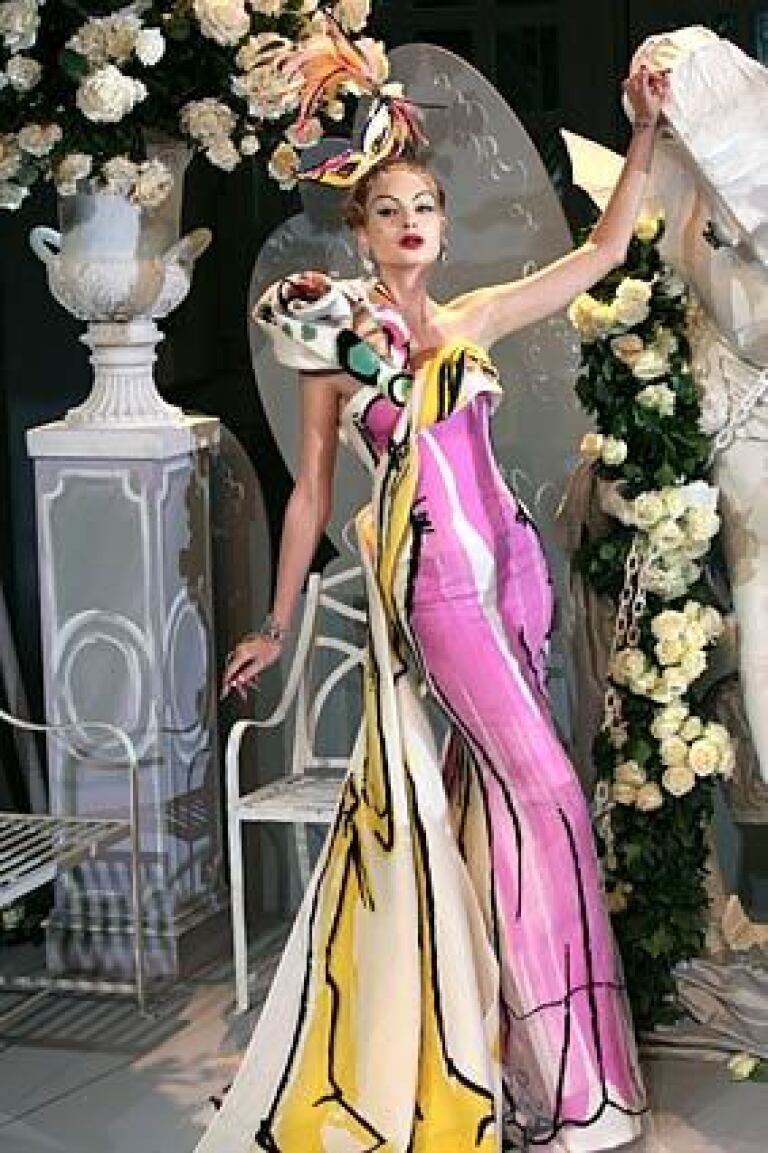 John Galliano for Christian Dior played the romantic, colorfully reimagining a 1940s look of swirling, form-fitting fabric in a show at the Palace of Versailles.
(Francois Guillot AFP/Getty Images)
A white sheath gets a rosy touch, accented with long black gloves, by John Galliano for Dior. On July 2, the fashion house's show at Versailles celebrated its 60th year and Galliano's 10th year as its designer.
(Francois Guillot AFP/Getty Images)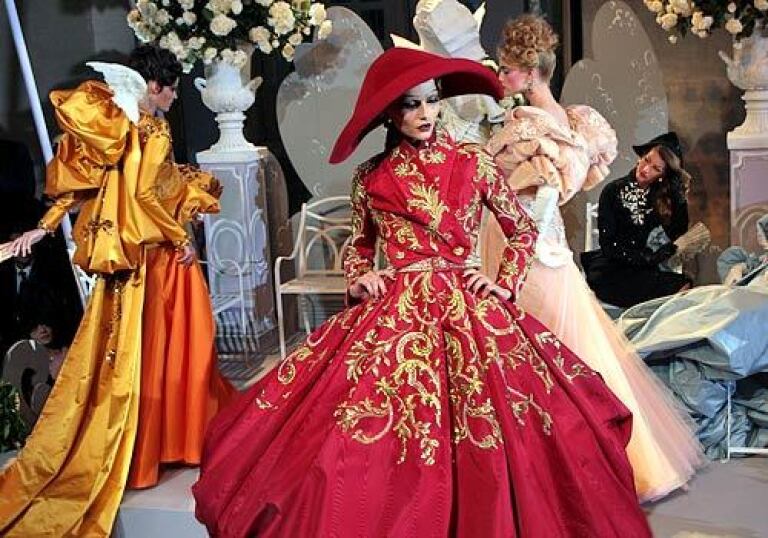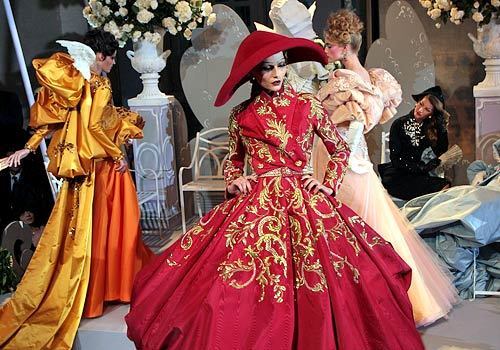 John Galliano's inspired romanticism included a rich rainbow of gowns with embroidery and full skirts.
(Francois Guillot AFP/Getty Images)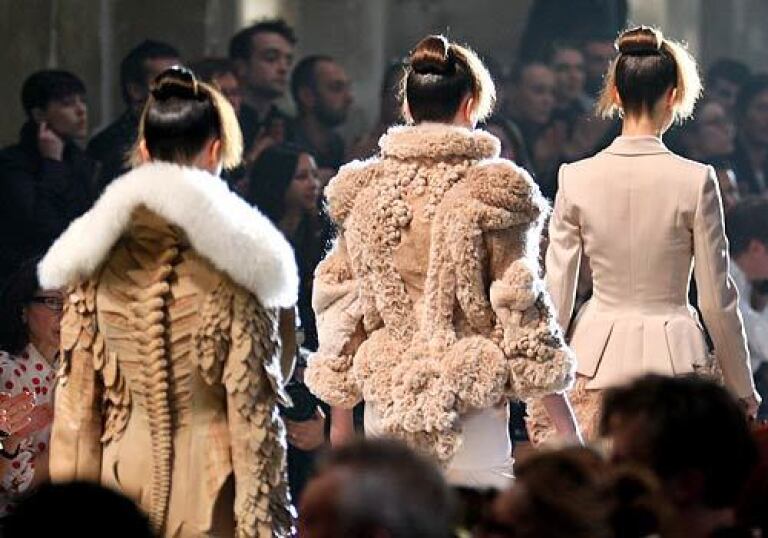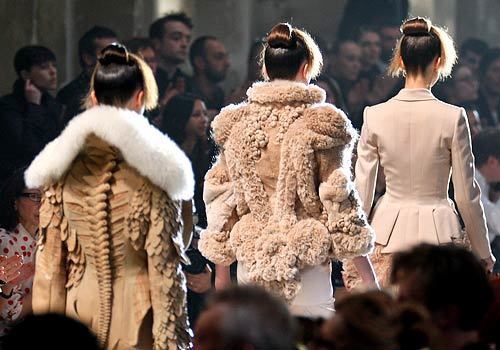 Italian designer Riccardo Tisci for Givenchy showed fuzzy, high-collared coats and one sculpted to resemble a spine.
(Pierre Verdy AFP/Getty Images)
Riccardo Tisci revealed his wild side with an all-over leopard-spotted cat suit with matching helmet.
(Pierre Verdy AFP/Getty Images)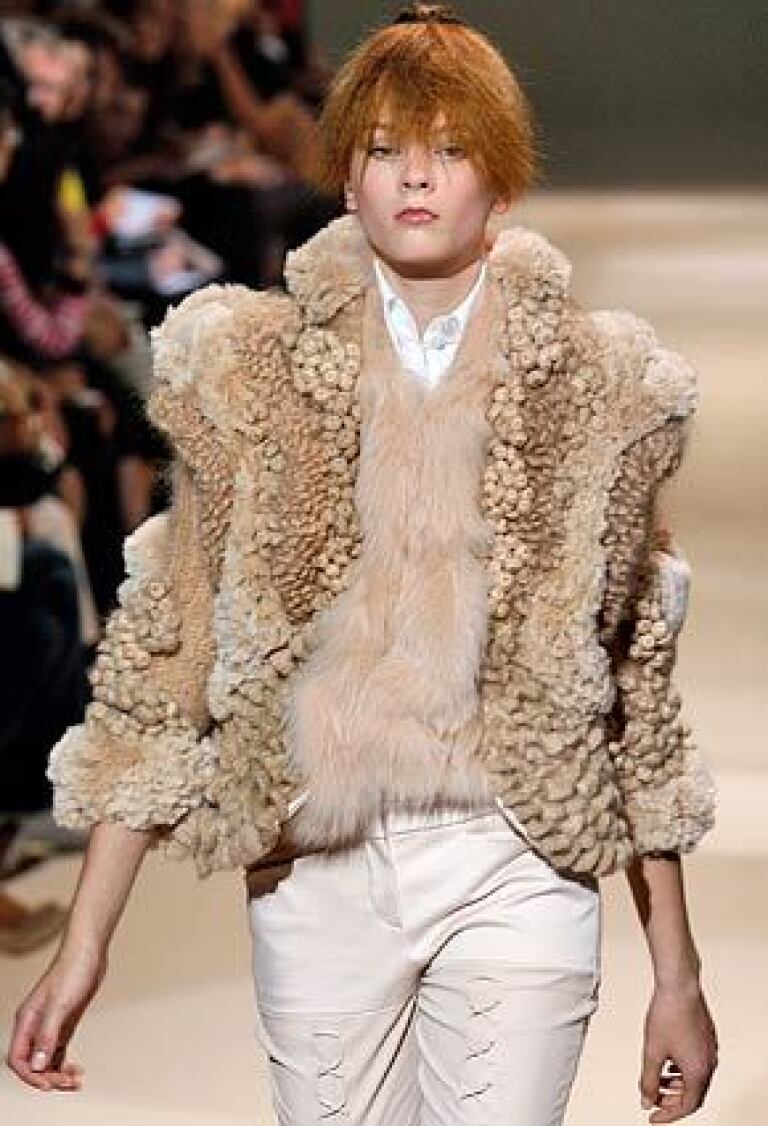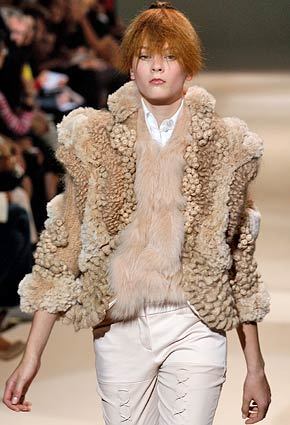 Riccardo Tisci's cozy, embellished jacket topped simple slacks.
(Pierre Verdy AFP/Getty Images)
Karl Lagerfeld outlined his black suit in sparkling metallics, adding feathers to the sides of sunglasses.
(Francois Guillot AFP/Getty Images)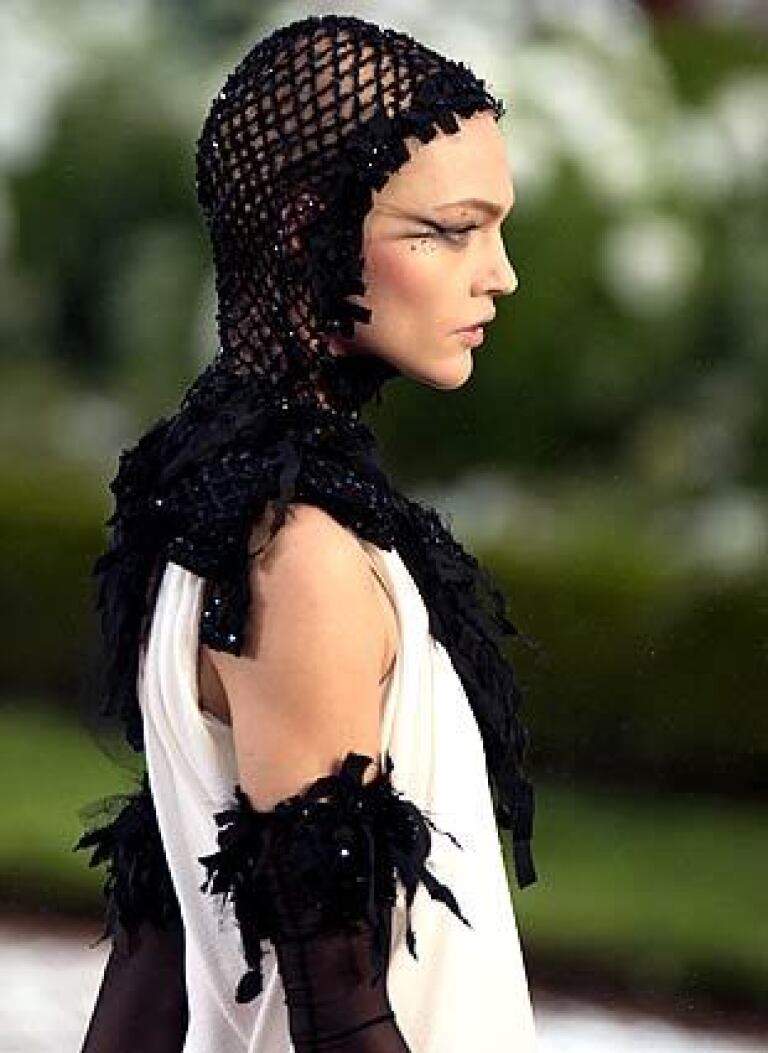 Black feathers and sequins accented Karl Lagerfeld's white gown.
(Francois Guillot AFP/Getty Images)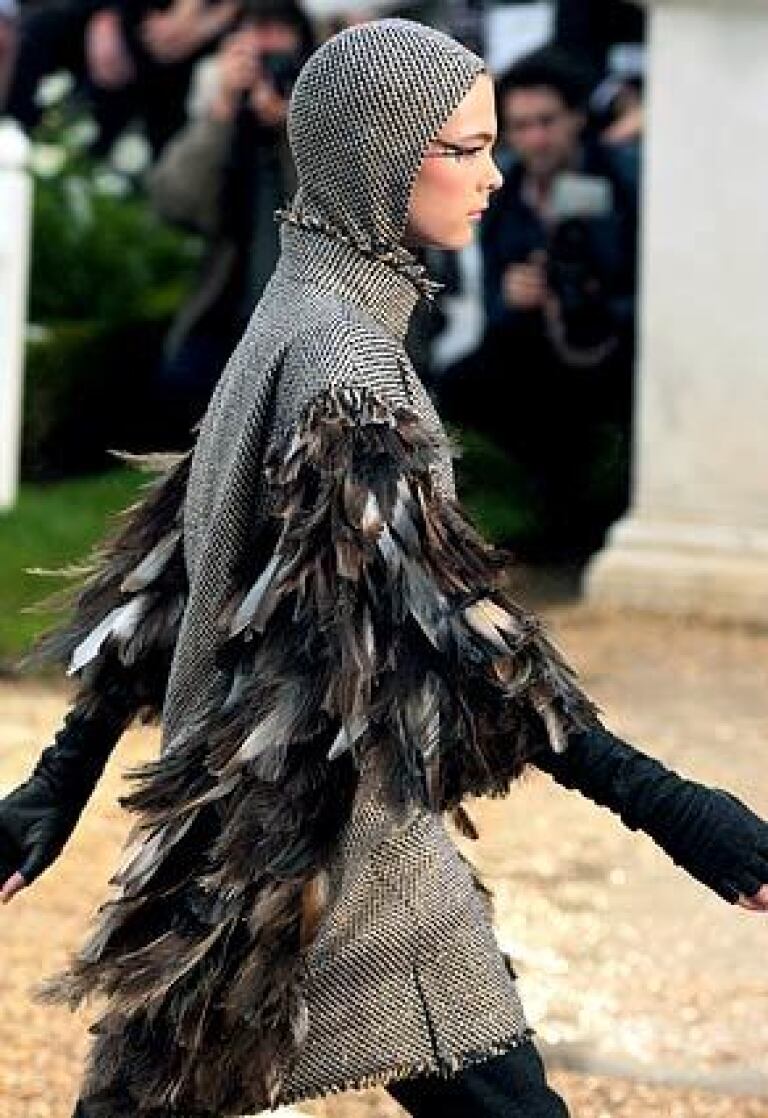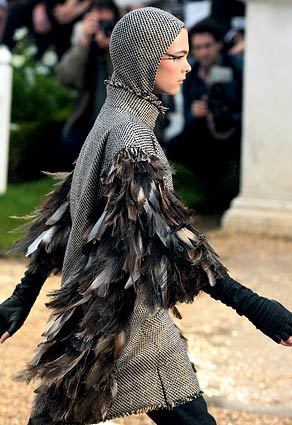 Layers of feathers added a flight of fancy to a textured coat by Karl Lagerfeld.
(Francois Guillot AFP/Getty Images)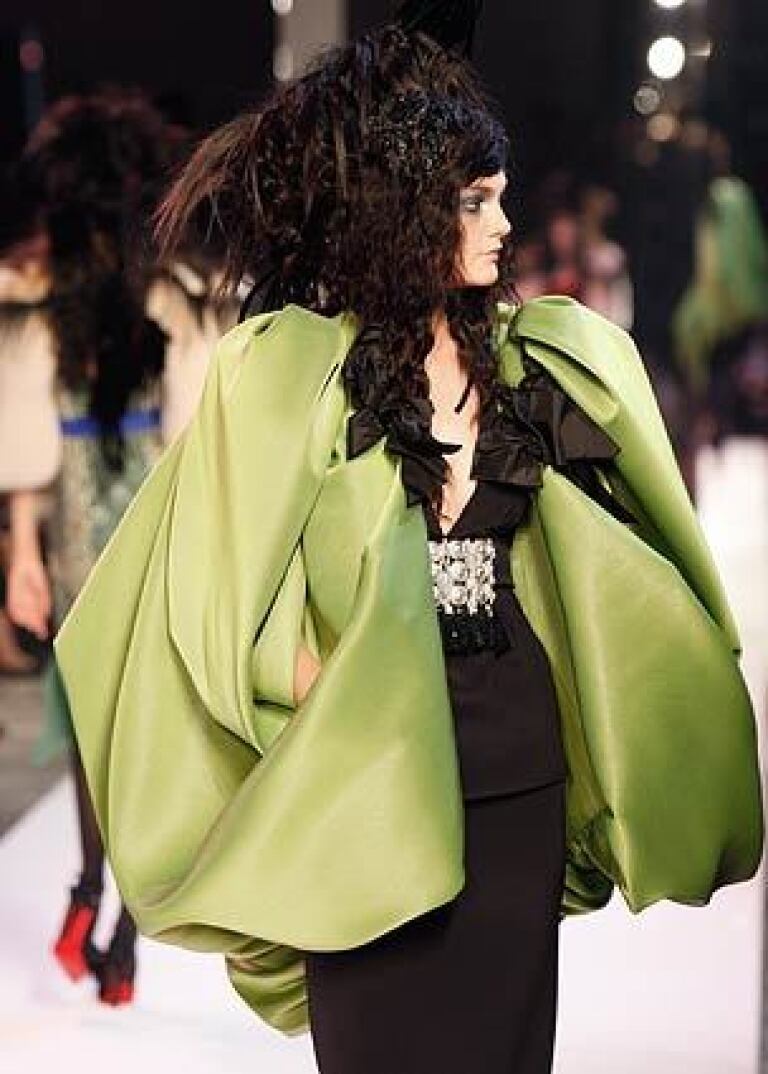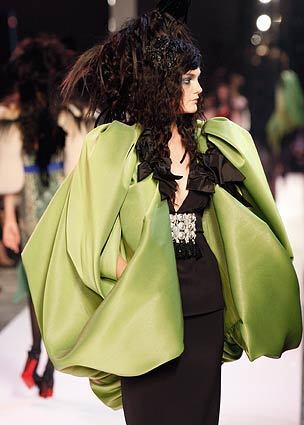 A lime-green cape and brilliant plumage brought the Orientalist theme to a creation by Christian Lacroix.
(Pierre Verdy AFP/Getty Images)
Ornate head wear topped a sumptuous crimson and white coat by Christian Lacroix.
(Pierre Verdy AFP/Getty Images)
Christian Lacroix contrasted fluffy white sleeves with a slinky, shimmering dress in red and green.
(Pierre Verdy AFP/Getty Images)
Times Staff Writer
Paris — PERHAPS the extreme opulence in Paris last week speaks to a world that now has 8.7 million millionaires, for whom a $100,000 made-to-order couture gown is a nice little trifle.
Whatever the reason, the city was dripping with money and fashion spectacle from the Palais de Tokyo to the suburb of Versailles.
You could see it at Dior's blowout at the Orangerie, where 1,000 guests, carbon emissions be damned, had traveled in chauffeured cars to the festivities at Versailles. Jean Paul Gaultier did an about-face from his monastic vision for spring to a full-out princes' and maharajahs' fantasy, with one model as a czar prince with two foxes dangling from her jet-beaded shoulder straps. Even Giorgio Armani, typically the master of tasteful greige, went on a garish tear, showing the kind of clothes that recall the last era of conspicuous consumption, the 1980s, or perhaps signal the beginning of a new one — in India, Russia and China. That fuchsia crocodile jacket fastened with a jeweled corset belt over a flared skirt? Totally Alexis Carrington.
At Dior, no expense was spared. Forty-five of the world's top models were flown in: Naomi, Shalom, Gisele, the whole zero-percent body-fat club. The after-party, held in the gardens, where Bedouin tents were hung with crystal chandeliers, featured roving musicians, chefs serving paella out of Jacuzzi-size skillets and a projection of the fashion show from earlier in the evening onto the spray of a fountain.
Marie Antoinette would have approved.
So often, John Galliano is influenced by sculptural origami folding or raucous street fashion. But this season he played the romantic, drawing on French painters and photographers, Spanish bullfighters and Dior's famous nip-waisted, full-skirted 1947 New Look. The first time around, the New Look spawned post-World War II street protests against the designer's conspicuous use of fabric. Now, 25 meters of silk is a God-given right.
The show began in black and white with a Jean Cocteau pen-and-ink portrait on the bodice of a ball gown, and a white bustier dress swirled into a hand-painted pink rose at the waist. What followed was a color explosion, each look more delightful than the last — a pink trompe l'oeil column dress outlined in brushstrokes, Picasso's harlequin suit done in soft pastels, a fiery crimson dress embroidered in gold like matador's costume.
It was over the top, certainly, but not too much so, a true marriage of Galliano's sense of theater and the house's ladylike elegance.
Not to be outdone, Karl Lagerfeld took over the nearby Parc de Saint-Cloud, where not even the driving rain could keep away the private cars full of Chanel-clad lovelies. They were greeted by handsome attendants brandishing black Chanel logo umbrellas and escorted down the soggy garden path.
On the runway, there was a renewed focus on embellishment, a departure for Lagerfeld from the monastic, unadorned jackets and distressed denim leggings of last fall's couture. He returned to the classic Chanel suit, which looked very 1980s covered in silver sparkles, with squared-off shoulders and a slim skirt. The "Thriller" decade was brought to mind again when a chemise dress appeared with overgrown gold studs running down the sides.
But there was lightness too — a short-sleeve, pastel blue ball gown with a white underskirt and a bodice traced in crystals was the kind of demure thing you could imagine a girl wearing to her coming-out ball, wherever in the world they still have coming-out balls; while the pleated cream chiffon sleeves on a silver cocktail shift looked like angel's wings.
Feathers appear to be the new fur. Everywhere, there was plumage on cuffs and collars, headpieces, even the sides of sunglasses.
At Christian Lacroix, feathers wove themselves into a sumptuous Orientalist theme with loose manteaus, kimono jackets and watteau-back coats in flocked velvets and birds of paradise brocades. The bolero was here, too, in studded satin with ostrich feather balloon sleeves, or simple black crepe topping a cream chiffon skirt with rows of silver embroidery tracing the pleats. Kohl-rimmed eyes, court shoes dangling jewels and toppling wigs completed the decadent picture.
Jean-Paul Gaultier's collection was also steeped in exoticism, stirring up romantic notions of empire with embroidered officer's jackets and riding pants, colorful brocade coats and jeweled turbans. (That's right, they're not going anywhere.)
His princely story of privilege might be a well-worn theme, but not done like this. He traveled to India, Russia, Bavaria and the fairy-tale land of Prince Charming. Even the models' hair was teased into regal crowns atop their heads. A black Lurex lace dress laser-cut to look like the wrought iron work of a palace gate, an emerald green velvet gown with looped fringe sleeves dissolving into bracelets and jeweled velvet leggings were just a few of Gaultier's inspired ideas.
In a season of so much froth, the Givenchy collection was a turnabout, inspired by woodland half-deities, daughters of ancient sea gods, medusas, sphinxes and other fierce creatures. Designer Riccardo Tisci roped in some pretty fierce creatures of his own for the front row, including Liz Goldwyn, Rachel Zoe and Courtney Love.
This man can tailor a jacket fitted perfectly around the waist with curved shoulders like ski slopes, worn here with downy white, Björk-style feather skirts. But it was the white draped jersey finale gown sliced with sequins that stole Love's attention (she wore it to perform at the after-party).
In between, the collection was raw and primitive — a jacket with a molded "spine," an allover leopard-spotted cat suit with matching helmet and shoes, and a crocodile skin tailcoat.
Not exactly clothes fit for a queen, but maybe for a queen of the jungle.
--
---
booth.moore@latimes.com

--

ON THE WEB

Gallery: See highlights from the fall/winter 2007 couture shows in Paris, including Dior, Chanel and Jean Paul Gaultier, at latimes.com/image.
---
The essential weekly guide to enjoying the outdoors in Southern California. Insider tips on the best of our beaches, trails, parks, deserts, forests and mountains.
You may occasionally receive promotional content from the Los Angeles Times.